There is a saying that if the American Medical Association (AMA) did not exist, we would have to invent it. That is just what Dr. Nathan S. Davis did back in 1845 when he called for a national medical convention and laid the foundation for the establishment of the AMA in 1847. This new group would seek scientific advancement, standards for medical education, medical ethics and improved public health. For 170 years, the AMA has brought together specialty societies and state medical associations as the House of Medicine, working to create a healthier future for patients. This includes, recently, partnering with the ACR to create a set of 21 principles for prior authorization reform—just one example of the organization's work helping rheumatologists.1
Amplify Your Voice
Rheumatology is a relatively small subspecialty, but the AMA is the country's largest and most visible physician society. Because we have the ability to help guide the AMA's direction through seats in its House of Delegates, I like to view the AMA as providing rheumatology with a megaphone to amplify our voice at both federal and state levels.
2017 is a particularly critical year for the ACR to have at least 1,000 members of the AMA because we are entering our five-year membership review. To keep our seat in the AMA House of Delegates (HOD) and participate in other activities of the AMA, including the Relative Update Committee (RUC) and the CPT Advisory Committee, at least 1,000 ACR members must be members of the AMA.
We are currently short of this threshold. We cannot afford to be sidelined and lose our voice at this critical juncture. We must protect our members and our subspecialty, as well as our patients' access to care. I am asking ACR members to join the AMA or renew your membership. We should also encourage our friends and colleagues to join or renew their membership in 2017.
There's an old saying that if you don't have a seat at the table, you may be on the menu. Let's protect our seat at the AMA HOD table by having a thriving and active membership in the AMA. This will also ensure rheumatology's participation in the AMA RUC and CPT processes.
As you may know, the HOD is the policy-making arm of the AMA. Delegates represent all 50 states and more than 170 specialty societies, including the ACR. The HOD meets twice a year, and each year the ACR's delegates bring at least one or two resolutions to the table for consideration. Resolutions have the potential to become official policy of the AMA or directives that determine where the AMA focuses its efforts.
The ACR currently has two delegates to the AMA HOD, Gary Bryant, MD, and Colin Edgerton, MD, along with an alternate delegate, Eileen Moynihan, MD, and young physician representative, Cristina Arriens, MD.
Successes
In recent years, the ACR has, through the AMA HOD (and in concert with RheumPAC and the ACR's Government Affairs Committee, with the advocacy of countless ACR members), helped achieve several high-priority goals, such as:
Exempting small rheumatology practices from some parts of MACRA;
Protecting individualized compounding in physicians' offices from the FDA's definition of a compounding facility;
Blocking the Medicare Part B Demonstration Project;
Strengthening policy that states that MOC not be a requirement for medical staff membership and privileging, credentialing or recredentialing, insurance panel participation and state medical licensure;
Having the AMA "directly and openly" ask the American Board of Internal Medicine (ABIM) if it would allow an independent outside organization, representing ABIM stakeholders, to independently conduct an open audit of the finances of both the ABIM and its foundation;
Addressing issues surrounding exorbitant drug pricing and drug shortages due to marketplace issues, restricted distribution systems and delay in FDA approval of generic drugs;
Advancing work to prohibit clinical data blocking by electronic health record vendors;
Strengthening AMA policy regarding electronic record interoperability, costs and relief of penalties related to meaningful use requirements; and
Directing the AMA to actively engage with the new presidential administration and Congress in discussions the future of healthcare reform—in collaboration with state and specialty medical societies—emphasizing the AMA's extensive body of policy.
Dr. Bryant, chair of the ACR's delegation to the AMA HOD, says, "In a year when political uncertainty is the rule, it is imperative that the ACR leverage its advocacy agenda by maintaining its seat at the AMA House of Delegates. The AMA is the largest physician organization and leverages the voices of the rheumatology community on behalf of the specialty and our patients. We wouldn't be able to do that ourselves, given our size. It gives us a seat at the table for making policy."
Personal Benefits
I have renewed my AMA membership for 2017 and encourage my fellow rheumatologists to renew their memberships as well. Apart from shaping public policy and initiatives that benefit the practice of rheumatology as a whole, membership in the AMA has significant benefits for individual practitioners. To start with, a portion of your AMA dues may be considered tax deductible as a business expense, although you should check with a CPA to be certain.
AMA membership dues range from $20 for first-year students to $420 for established practitioners. This investment in the future of rheumatology also comes with access to AMA member benefits and discounts that may save you more than the cost of your annual dues. For example:
Insurance discounts: AMA members are eligible for a variety of life, health, dental, disability, home and auto insurance policies with premium credits and discounts on select plans.
Auto discounts: AMA members can save between $500 and $3,500 on the purchase or lease of a new Mercedes-Benz or Smart Car, up to 25% off Hertz car rentals (with code CDP#11635) and up to 7% off rentals through Dollar Rent A Car and Thrifty Car Rental.
Student loan refinancing: AMA members may be able to save thousands on student debt by refinancing to a lower rate, and will receive a $420 bonus after completing the refinancing process.
Additionally, membership in the AMA provides access to unique continuing medical education (CME) activities, short-term paid and volunteer opportunities, and regular journals and publications. Contact AMA Member Services at (800) 262-3211 with any questions about AMA membership, benefits, products or services. Or you can email a member service representative.
Act Now
ACR members can join or renew their membership with the AMA online or by calling (800) 262-3211. Current members should also cast their ballot and vote for rheumatology and for the ACR to represent them in the HOD. This confirms to the AMA that members want to be counted toward rheumatology's seat at the table.
There's an old saying that if you don't have a seat at the table, you may be on the menu. Let's protect our seat at the AMA HOD table by having a thriving & active membership in the AMA.
As with any organization representing thousands of members, rarely will all of the members agree 100% of the time. This is not a question of whether you always agree with the AMA, it is a question of how much you value rheumatology's seat at the table. If you value having a voice in the decision-making process and if you want to protect the ACR's representation in the AMA House of Delegates, then I encourage you to join me in American Medical Association membership.
Only by having as many AMA members as possible can we speak with a loud voice and protect our patients, practice and specialty. Thank you for your help, and when you join or renew please let us know by sending a quick email message so we can add you to the list. I am personally grateful for your help and assistance.
---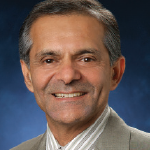 Sharad Lakhanpal, MBBS, MD, is in private practice at Rheumatology Associates and a clinical professor of internal medicine at the University of Texas Southwestern Medical School, both in Dallas, where he has lived and worked since 1986. He is also the 80th president of the ACR (2016–17).
Reference
American Medical Association, American Academy of Child and Adolescent Psychiatry, American Academy of Dermatology, et al. Prior authorization and utilization management reform principles. 2017.