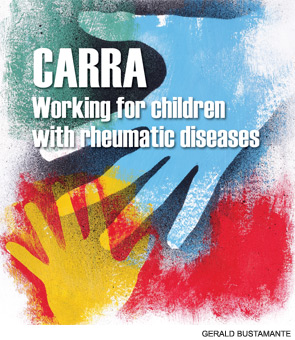 What a difference a decade makes. In the late 1980s and early 1990s, the viability of pediatric rheumatology seemed in doubt. Few fellows were being trained, and medical centers were fortunate if they had even one pediatric rheumatologist on staff. The paucity of trained pediatric rheumatologists created severe access problems for children with disorders like juvenile idiopathic arthritis (JIA) and pediatric lupus. Depending on where they lived, children needing care for a rheumatic disease might be treated by an adult rheumatologist—or no rheumatologist at all.
Explore this issue
May 2011
Also by this Author
Looking at pediatric rheumatology from an academic perspective, research was difficult because many of the diseases are rare and affected children live all over the country and are unable to receive care at research centers. Christy Sandborg, MD, had just moved to Stanford University (Calif.) as a pediatric rheumatologist, and she was worried. "Even though you could do important research in a laboratory, I wondered what good it would do without access to the kids who had these diseases," she says.
Then the combination of some unexpected funding and expert brainstorming led to a new start for this field, and the creation of the Childhood Arthritis and Rheumatology Research Alliance, (CARRA). A small family foundation, The Wasie Foundation of Minnesota, was interested working with the Arthritis Foundation (AF) to contribute to the acceleration of research in pediatric rheumatology. "I was asked to attend a meeting to discuss research needs," says Betsy Mellins, MD, professor of pediatrics at Stanford University. "My own work had made me aware of opportunities for advances through bench research. However, when Brian Feldman [MD, MSc, now professor of pediatrics and head of the division of rheumatology at The Hospital for Sick Children in Toronto, and senior scientist at University of Toronto in Ontario, Canada] suggested the highest immediate impact would come from enhancing infrastructure for cooperative clinical research, I was quickly converted."
With funding from The Wasie Foundation and the Lucile Packard Foundation for Children's Health and organizational support from the AF, Dr. Mellins convened a meeting with experts from active clinical research networks in other specialties, particularly networks of pediatricians. "We wanted to hear about their past experience and their future plans in order to choose features that would be a 'best fit' for pediatric rheumatology," she explains. Importantly, this meeting led to the formation of a committed and energetic Pediatric Rheumatology Research Network Steering Committee, with Dr. Mellins as chair. The goal of the committee was the creation of a network for investigator-initiated studies, thereby complementing the existing Pediatric Rheumatology Collaborative Study Group (PRCSG), which primarily facilitates industry-sponsored clinical trials.
Support from several pharmaceutical companies allowed additional meetings over the next 18 months, during which time CARRA's guiding principles and an initial scientific agenda were defined. Some members of the fledgling group, which soon included 30 pediatric rheumatologists, determined how projects would be vetted through the network, while others worked on organizational structure, criteria for membership, and short- and long-term financial strategies. "The time was ripe because a critical mass of pediatric rheumatologists had developed," explains Dr. Mellins. "This is a young field, only started in the 70s, and we had the second and third generations working at the time of the membership drive. Pediatric rheumatologists knew the questions they wanted answered: What was the natural history of these diseases? The causes? The impact on children's lives? The best way to treat them? But they were working in isolation, without enough patients to study, but also without enough time, resources, or clinical research experience to translate their ideas into robust research projects." The first abstract based on CARRA research was entitled, "Barriers to participation in clinical research within the US pediatric rheumatology community," which appeared in 2002 in a supplement to Arthritis & Rheumatism and underscores her point.1