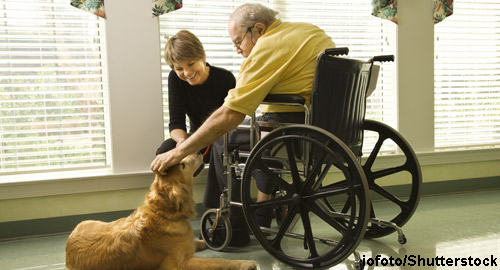 For certain rheumatoid arthritis (RA) patients, having a service dog can provide multiple benefits. Bharat Kumar, MD, MME, RhMSUS, FACP, assistant professor of internal medicine, Division of Immunology, Allergy and Rheumatology at the University of Iowa Hospitals and Clinics, Iowa City, Iowa, has recommended the use of service dogs to patients with fairly severe RA, including those who have difficulty walking, bending or using their shoulders.
"Service dogs can offer physical support to an RA patient when they move," Dr. Kumar says. "Having a service dog can also encourage patients to move more, because they aid with mobility."
Carol Sneath-Zeiders is an administrative assistant for Canine Partners for Life, Cochranville, Pa., an organization that trains service dogs to assist individuals with physical and cognitive disabilities. She says the organization's service dogs are fitted with custom harnesses with handles on top. "This [harness] allows the dog to assist someone with balance and stability when walking," she says, citing feedback from graduates. "With the harness, [a] dog can actually be used instead of a cane or crutch. We have found that individuals tend to fall less with a dog [than with] a cane, because the dog can anticipate when someone starts to lose their balance and help accordingly."
For people with fatigue, a dog can provide a gentle pull that reduces the amount of energy exerted, Ms. Sneath-Zeiders adds. Service dogs are also trained to pick up items off the ground, reducing the owner's need to bend over. Additionally, they can carry items, help patients get dressed or undressed, open and close doors, take out the trash, call for help and retrieve specific items or people from another room.
Because RA is associated with loneliness and depression, a service dog can also offer patients companionship. And Dr. Kumar has noticed an improvement in mood for RA patients who have service dogs. When significant evidence of disability and compromise exists for a patient, Dr. Kumar begins considering recommendations for a service dog. He consults with primary care providers, psychiatrists and other members of the patient's healthcare team to identify patients with emotional challenges. In some cases, the data for using a service dog may be much stronger from a comorbid condition, such as depression, than for RA.
For less severe RA cases, Dr. Kumar may shy away from recommending a service dog because having one may not be necessary for the patient. "Dogs require some upkeep," he says. "The patient has to weigh the pros and cons. No age restrictions exist to qualify for a service dog, but a patient must be able to care for a dog."
The Process
The process of obtaining a service dog varies by organization. At Canine Partners for Life, interested candidates must first complete an application that requires documentation of their diagnosis. "Trainers will review the application, and if they feel an applicant would be a good candidate, they schedule a face-to-face interview," Ms. Sneath-Zeiders says. "During the interview, trainers get to know the applicant, talk about how a service dog could help them specifically and answer their questions. If accepted into the program, candidates wait from one to three years before being matched with a dog."
After the company identifies a potential match, the patient may be asked to come to the facility to see if the dog's activity level and personality are a good match for the applicant. Three weeks of intensive training for the patient and dog follow, which includes basic obedience; use of skills; and legal knowledge of what a service dog may and may not do and where it can go. Basic medical and care knowledge is also reviewed.
A Personal Experience
In 2012, after her rheumatologist approved of her getting a service dog, Sue Peetoom, 67, of Green Valley, Ariz., was matched with a Labrador Retriever named Mina.
"Mina assists me in many ways," says Ms. Peetoom, who suffers from RA, osteoarthritis and fibromyalgia. "Primarily, she supports me and helps me stay balanced when moving, especially on unlevel terrain. She also assists when I just don't have the energy to move myself forward. She's great with various tasks, such as picking up something I've dropped and bringing it to me, unloading my front-loading dryer so I don't have to bend [over] and carrying parcels."
Ms. Peetoom says, "To have a service dog is life changing. Mina's physical and emotional assistance has allowed me to return to a more active lifestyle and helped reduce my pain and tiredness because of the work she does for me. However, it is a tremendous commitment. Once the leash is in your hands, your dog is with you 24/7/365 for the rest of their life."
Mina also helps Ms. Peetoom socialize. "[Mina] is a good initiator of social contact and interaction, stopping me from becoming a recluse," she says. "Many people stop and admire her and ask questions. She gives me confidence. The time, effort and commitment are very worthwhile. Life with a canine partner is a joy."
---
Karen Appold is a medical writer in Pennsylvania.