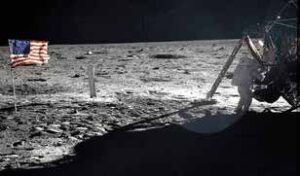 On July 20, 1969, at 10:56 p.m. EDT, American astronaut Neil Armstrong stepped off the lunar landing module, Eagle, and walked on the moon.1
Or so they would have you believe.
ADVERTISEMENT
SCROLL TO CONTINUE
For most, the basic facts are not in dispute: On May 25, 1961, President John F. Kennedy delivered a speech to a joint session of Congress on Urgent National Needs, in which he declared:2
[I] believe that this nation should commit itself to achieving the goal, before this decade is out, of landing a man on the moon and returning him safely to earth. No single space project in this period will be more impressive to mankind, or more important for the long-range exploration of space; and one will be so difficult or expensive to accomplish. … But in a very real sense, it will not be one man going to the moon—if we make this judgment affirmatively, it will be an entire nation. For all of us must work to put him there.
ADVERTISEMENT
SCROLL TO CONTINUE
Eight years later, Neil Armstrong, Buzz Aldrin and Michael Collins entered Apollo 11. Twelve minutes after the rockets began to fire, they were in space, having left the Kennedy Space Center to enter Earth orbit. Three days after that, Apollo 11 was in orbit around the moon.
The astronauts entered the lunar module, Eagle, which Armstrong piloted to the Sea of Tranquility. At 4:17 p.m. EDT, with only 30 seconds of fuel to spare, Armstrong radioed, "Houston, Tranquility base here. The Eagle has landed."3
At 10:56 p.m. EDT, Armstrong exited the lunar module, and announced, "That's one small step for a man, and one giant leap for mankind."4
ADVERTISEMENT
SCROLL TO CONTINUE
Together with Aldrin, he planted an American flag. They also left behind a patch in honor of the Apollo 1 crew that never made it past launch and a plaque that read, "Here men from planet Earth first set foot upon the moon. July 1969 A.D. We came in peace for all mankind."5
As President Kennedy said, Apollo 11 was not the story of three astronauts. It was the story of the 411,000 people who made the project possible.6 Kennedy's speech had inspired legions to seek out NASA, specifically to help put a person on the moon, an event that was witnessed by 650 million people worldwide.7
Are there really people who think the moon landing never took place?
Moon Landing Deniers
The number of people who don't believe in the moon landing is growing. In a 1999 Gallup poll, 6% believed that the moon landing was a hoax. In 2019, that number increased to 10%.8
Not surprisingly, older Americans, who watched as Walter Cronkite narrated humankind's first steps on the moon, are the most likely to believe. Only 3% of those older than 54 years doubted the moon landing, vs. 18% of Americans between 18 and 34 years old.9
What evidence supports the theory that the moon landing was faked? Most non-believers point to the iconic photograph taken by Neil Armstrong. In the photo, Buzz Aldrin is standing in the shadow of the lunar module, against a pitch-black sky. Next to him is an American flag, flying majestically, and surrounded by the boot prints left by the astronauts.10
You see the problem, don't you?
If they are really on the moon, why are there no stars in the photograph? If that's really Buzz Aldrin, why can't we see his face? The boot prints look like they were made in wet sand, but everyone knows that there is no water on the moon. And why does the lunar module cast a shadow to the right while the flagpole casts its shadow to the left? Clearly, the photograph was staged.
And then we get to the flag. In the photograph, the flag is unfurled, fluttering in a breeze. But of course, there are no breezes on the moon. If the photo wasn't staged, what other explanation could there possibly be?
If you truly believe the moon landing was a hoax, then you will not be swayed by mere facts. That said, the facts are as follows: The visor of the space suit was coated with a thin layer of gold, to protect the astronauts from solar radiation, not to protect the identity of a stunt double.11 To prove the photograph was illuminated by the sun (and not by studio lights), the computer graphic chipmaker Nvidia created a three-dimensional model of the Apollo 11 landing site. With this model, the company was able to demonstrate that light bouncing off the surface of the moon kept us from seeing the stars. The same reflected light, bouncing off the irregular terrain and the astronauts' space suits, which were coated with mirror-like Teflon, created the various shadows seen in the photo.12
A significant proportion of the unvaccinated … are vaccine conspiracists, who believe the coronavirus vaccine is dangerous, or at least, unnecessary.
As for the flag, NASA scientists did not want the American flag to hang limply against the flagpole, so they added a crossbar to keep the flag unfurled. The crossbar was a little too short, so the flag had to be bunched up, creating the appearance of a permanently fluttering flag.13
Fifty years after the moon landing occurred, an additional piece of evidence was found: If you look closely at the iconic photo, you actually can see Buzz Aldrin's face, after all. By manipulating contrast and color, Andy Saunders was able to bring out the faint image of Buzz Aldrin, facing the photographer, smiling for the camera.14
Just for the sake of argument, let's say the moon landing was a hoax. How hard would it be to perpetrate such large-scale deception? Apparently, pretty hard. David R. Grimes, PhD, created a mathematical model to predict how long a group of people could keep a secret before it was revealed, either accidentally or deliberately. Assuming that all 411,000 NASA employees were in on the hoax, the plot would have unraveled in a little under four years.15
Given all of this evidence, why do one in 10 Americans continue to believe the moon landing is a hoax?
Born to Conspire
First, we need to acknowledge the obvious: Conspiracies exist. I would have never believed the U.S. government was illegally spying on vast numbers of people until Edward Snowden made the evidence public.16 Another example: The U.S. Public Health Service Syphilis Study at Tuskegee was a conspiracy that prevented 399 Black men from receiving treatment for syphilis, so scientists could record the natural history of the disease.17
Some date the loss of American innocence to the Watergate scandal. Prior to the Watergate break-in, most Americans assumed the government could be trusted. Afterward, widespread distrust of the government became commonplace.18 In fact, 55% of all Americans believe in at least one major conspiracy theory.19 The most popular? The 2007 global financial crisis was engineered by a handful of Wall Street moguls, who were trying to extend their stranglehold on the world's economy. One out of four Americans believe this conspiracy theory.
It is worth pointing out that there is a natural human tendency to see conspiracy all around us. Have you ever said, things happen for a reason? Have you ever thought the refs were obviously throwing the game for the other side? All of these are examples of conspiratorial thinking, writ small.
Human evolution may naturally favor those who are capable of conspiratorial thinking. At the dawn of civilization, the ability to pick out patterns from chaos may have provided our progenitors with an edge. When we first formed tribes, seeing those outside your group as potentially malicious may have helped our ancestors survive longer than most.20
Conspiratorial thinking is characterized by seven traits, which are summarized by the acronym CONSPIR:21
Contradictory: Conspiratorial thinking is often incoherent. Conspiracists may believe in ideas that contradict each other;
Overriding suspicion: Conspiratorial thinking is characterized by a profound distrust of official accounts;
Nefarious intent: Conspiracies are often assumed to be driven by malice, beyond simple greed;
Something must be wrong: Even when they acknowledge contradictory evidence, conspiracists often continue to maintain the official account cannot be true;
Persecuted victim: Conspiracists often see themselves as both hero and victim. Hero, because they call attention to the conspiracy, and victim, because they are persecuted by those who perpetuate the conspiracy;
Immune to evidence: Conspiracy theories are self-sealing: Any contradictory evidence is assumed to part of the conspiracy; and
Re-interpreting randomness: Sometimes a cigar is just a cigar? Not if you're a conspiracist. All events, no matter how small, can be interpreted as further evidence that a conspiracy is taking place.
Conspiratorial thinking is just one ingredient when you are cooking up a conspiracy theory. Long-lived conspiracy theories share two important elements:
The first element is plausibility. The conspiracy theory must seem like a reasonable explanation, at least at first blush. There is a reason that we have a conspiracy theory about the moon landing, but not a conspiracy theory about Martians selling burgers on the dark side of the moon. The best conspiracy theories have a grain of truth, no matter how small.
The second element is a benefactor. There is a certain irony in discussing the conspiracy underlying conspiracy theories, but in this case, it happens to be true. Conspiracy theories wither without regular recognition. For a conspiracy theory to survive, a benefactor must repeatedly draw attention to the conspiracy, and attract new adherents. The benefactor may benefit from the conspiracy in a variety of ways, including ad buys, merchandising, clicks and notoriety.22
COVID-19 Conspiracists
Vaccine hesitant is an umbrella term that encompasses many people, each of whom has their own reason for not having received the coronavirus vaccine. Some are vaccine procrastinators, who just haven't gotten around to getting vaccinated. Others are vaccine disinterested and are simply waiting for the right motivation, such as an employer who makes vaccination a job requirement.
A significant proportion of the unvacci­nated, however, are vaccine conspiracists, who believe the coronavirus vaccine is dangerous—or at least, unnecessary. Vaccines have always attracted a significant amount of distrust, but the coronavirus vaccine seems to have led to some very specific accusations: The vaccine rewrites your DNA. The vaccine makes you infertile. The vaccine includes a microchip that the government will use to track you. And—my favorite—the vaccine makes you magnetic.23
We have been dealing with moon landing conspiracy theorists for half a century. Has this experience taught us anything about how to approach those who think that the coronavirus vaccine is part of yet another conspiracy?
Buzz Aldrin came up with one approach. On Sept. 9, 2002, Bart Sibrel cornered Aldrin in Beverly Hills to accuse him of having faked the moon landing. In response, Aldrin punched Sibrel in the nose.24
As satisfying as that must have been, let's assume that violence is not the most productive approach. Some alternative strategies include the following:25
Stay calm: One of my patients mentioned that he was not going to get vaccinated because he knew that he could be cured with ivermectin.

Staying calm was not my first response. That said, becoming strident is the fastest way to end the conversation. Having the facts on your side will not be enough to win the argument.

Listen: Conspiracy theorists, as a rule, are not dumb. Instead of lecturing them (or rolling your eyes), try asking about their beliefs and whether they have considered alternate theories. Asking questions may be more effective than making assertions. Asking questions may also help the conspiracist recognize inconsistencies in their own theories.
Agree: Look for the grain of truth that may underlie the conspiracy theory. Finding common ground may make it easier to move the conversation forward.
Inevitably, some conspiracists are not ready to rethink their world view. If you sense that someone may be looking for the exit, however, these are some things to suggest:
Expand your sources: Encourage the conspiracist to seek out alternate media streams, which may represent other points of view. Ask them to notice how articles are referenced; if someone is quoted, they should try to find out if that person has the education or background to speak with authority;
Be wary of content that plays on emotions: Misinformation campaigns often play on emotions. Encourage the conspiracist to be suspicious of articles that seem to be written to induce emotions, such as fear or outrage; and
Get offline: It's no secret that social media is a major source of information. Decreasing one's reliance on YouTube, Facebook, Reddit and Twitter as news sources may be a good first step to leaving a conspiracy theory behind.
Moon landing conspiracy theories are rela­tively benign, as far as conspiracy theories go. Coronavirus vaccine conspiracy theories are not. Vaccine conspiracists flood our emergency departments, our intensive care units and our morgues. We need to find some way to change people's minds before they are at death's door.
Updating the Communications Decency Act of 1996 would be an important step in the fight against conspiracy theories. Section 230(c)(2) of the act prevents websites from being sued over content posted by a user.26 This one line of federal code is directly responsible for the deluge of mis­information that inundates our patients. If internet companies were legally (and financially) liable for the misinformation carried on their sites, they would surely find a way to turn off the spigot.
Until then, the battle to vaccinate must be fought patient by patient. In this battle, mere facts are not be enough. Each vaccine conspiracist needs to be approached with compassion and understanding. Putting an end to conspiracy theories is our generation's moonshot, and "that challenge is one that we are willing to accept, one we are unwilling to postpone, and one which we intend to win."27
---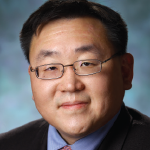 Philip Seo, MD, MHS, is an associate professor of medicine at the Johns Hopkins University School of Medicine, Baltimore. He is director of both the Johns Hopkins Vasculitis Center and the Johns Hopkins Rheumatology Fellowship Program.
References