Gratitude
I want to mention that writing my column has brought me closer to all of you. I am always interested to see how different columns seem to resonate with different groups of readers, and I am grateful that each column eventually finds its audience, even if that audience is only a portion of the total readership.
You Might Also Like
Explore This Issue
December 2019
Also By This Author
I am particularly grateful to those of you who contacted me after I published my essay on the unexpected passing of my mentee and friend, Nadia D. Morgan, MD, MHS, who was killed in a hit-and-run accident in Baltimore County late last year. I was truly touched by the number of you who had reached out to tell me how my essay mirrored your own experiences with grief, and generously shared with me your own experiences with loss.
ADVERTISEMENT
SCROLL TO CONTINUE
At the time I wrote that essay, I could still hear Nadia's clarion voice in my right ear, providing a constant commentary on my life. I don't hear her voice as often anymore. And when I do, it has a distant quality, as if she were speaking to me from far away or through a door that is starting to close. I find myself grieving for the loss of that voice. The quality of that grief is different, however; it is less painful, more bittersweet. And when that grief is gone, I will grieve for that loss, as well.
As I write this, I can hear her voice once again, telling me to move on before I lose my audience to my maudlin musings. And so I shall.
ADVERTISEMENT
SCROLL TO CONTINUE
---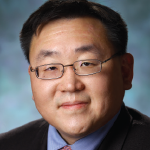 Philip Seo, MD, MHS, is an associate professor of medicine at the Johns Hopkins University School of Medicine, Baltimore. He is director of both the Johns Hopkins Vasculitis Center and the Johns Hopkins Rheumatology Fellowship Program.
References