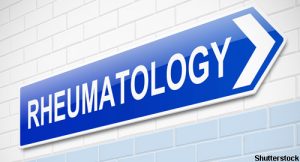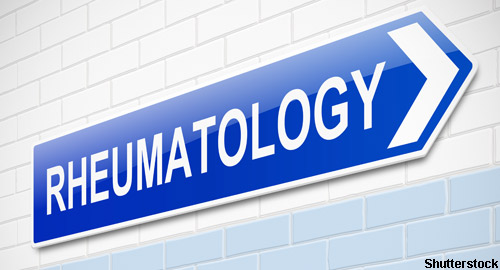 ACR CONVERGENCE 2020—The field of rheumatology is vast, with innumerable diseases to consider in each differential and with myriad possible presentations of each condition. Summarizing the key issues relating to specific diseases is quite challenging, yet the speakers in the Review Course discussed a diverse field of subjects: vasculitis, osteoporosis, liver disease, pregnancy and rheumatic disease, pediatric rheumatology, seronegatives and psoriatics, rheumatoid arthritis and lupus nephritis, and did so with a balance between details and the big picture.
You Might Also Like
Explore This Issue
January 2021
Also By This Author
Landmark Vasculitis Studies
Philip Seo, MD, MHS, associate professor of medicine and director of the Johns Hopkins Vasculitis Center at Johns Hopkins University, Baltimore, as well as the physician editor of The Rheumatologist, delivered a lecture focused on an in-depth understanding of several landmark vasculitis studies in recent years.
ADVERTISEMENT
SCROLL TO CONTINUE
On large vessel vasculitis, Dr. Seo discussed the finer points of the Giant-Cell Arteritis Actemra (GiACTA) trial, a phase 2, randomized, placebo-controlled study in which a significantly larger number of patients with giant cell arteritis (GCA) receiving tocilizumab, either every week or every other week, achieved steroid-free remission at 52 weeks as compared with placebo.1
This study provided the main evidence that supported approval of tocilizumab as a treatment for GCA by the U.S. Food & Drug Administration (FDA) in 2017. Dr. Seo noted several interesting findings from the study, including that although both weekly and every other week tocilizumab were efficacious for patients with a new diagnosis of GCA, weekly tocilizumab was associated with greater improvements in fatigue and quality of life and appears to be more efficacious for patients with relapsing disease.
ADVERTISEMENT
SCROLL TO CONTINUE
A long-term follow up study of the GiACTA trial has also demonstrated that one year of treatment with tocilizumab may be associated with decreased long-term rates of relapse.2
For anti-neutrophil cytoplasmic antibody (ANCA) associated vasculitis, Dr. Seo described the three MAINRITSAN trials. The first MAINRITSAN trial found that 500 mg of rituximab every six months is more effective than 2 mg/kg/day of azathioprine for remission maintenance in ANCA-associated vasculitis.3
MAINRITSAN-2 showed that 500 mg of rituximab every six months is as effective as an individually tailored regimen of rituximab—500 mg at randomization, then reinfusion only when CD19+B lymphocytes or ANCA had reappeared or ANCA titer rose markedly based on trimestrial testing until month 18.4
ADVERTISEMENT
SCROLL TO CONTINUE
MAINRITSAN-3 demonstrated that 500 mg of rituximab every six months is effective for remission maintenance for at least four years.5
Dr. Seo also discussed the Plasma Exchange and Glucocorticoids in Severe ANCA-Associated Vasculitis (PEXIVAS) study, which showed that, in general, plasma exchange does not benefit patients with ANCA-associated vasculitis, and the Mepolizumab in Relapsing or Refractory Eosinophilic Granulomatosis with Polyangiitis [EGPA] (MIRRA) study, which demonstrated efficacy of mepolizumab in the treatment of EGPA.6,7
Osteoporosis Update
Next, Abby Abelson, MD, chair of the Department of Rheumatic and Immunologic Diseases at the Cleveland Clinic, provided an update on osteoporosis. Dr. Abelson noted that 80% of individuals who have had at least one osteoporotic fracture are neither identified nor treated for osteoporosis and that the percentage increase in hip fractures from 1990 to 2050 is projected to be 240% in women and 310% in men.8
Much of her talk was spent discussing romosozumab, the newest osteoporosis medication on the market, which was approved for treatment of post-menopausal osteoporosis in 2019. In the FRAME study, more than 7,000 post-menopausal women with a T-score between -2.5 and -3.5 were randomized to receive 210 mg of romosozumab via subcutaneous injection monthly for 12 months or placebo, with both groups then treated with denosumab 60 mg via subcutaneous injection every six months for 12 months. This study showed that romosozumab was associated with a lower risk of vertebral fracture than placebo at 12 months and, after the transition to denosumab, at 24 months as well.9
In the ARCH trial, romosozumab treatment for 12 months followed by alendronate resulted in a significantly lower risk of fracture than alendronate alone for post-menopausal women at high risk for fracture.10 Together, these studies indicate the important foundational effect of romosozumab, meaning that treatment with this agent followed by treatment with another agent may provide important gains in bone mass and lower long-term risk of fracture.
Dr. Abelson noted that, given the potential for increased major adverse cardiovascular events with romosozumab treatment, it is unclear how far out from such events as stroke or myocardial infarction patients should be before considering this treatment. Other issues with romosozumab are that it is limited to women—fracture studies in men have not yet been conducted—and the monthly visits required for treatment may be challenging in the midst of the current COVID-19 pandemic.
The speakers in the Review Course discussed a diverse field of subjects: vasculitis, osteoporosis, liver disease, pregnancy & rheumatic disease, pediatric rheumatology, seronegatives & psoriatics, rheumatoid arthritis & lupus nephritis.
Liver Disease
Sidney Barritt, MD, MSCR, associate professor of medicine and director of the University of North Carolina Liver Center, Chapel Hill, gave a talk titled Liver Disease for the Rheumatologist. Dr. Barritt noted that nonalcoholic fatty liver disease (NAFLD) is very common and that up to one in three Americans may have evidence of hepatic steatosis. This is particularly important to note for patients with psoriasis and psoriatic arthritis, because both conditions are associated with metabolic syndrome and NAFLD is, in turn, associated with increased psoriasis severity.
As with many rheumatologic medications, the presence of NAFLD can complicate treatment options because of the concern for hepatotoxicity or the development of liver cirrhosis.
Dr. Barritt also discussed the rising rates of hepatitis C in the U.S. and pointed out that the Centers for Disease Control and Prevention now recommend universal screening among all U.S. adults.11 Luckily, if identified, nearly all patients with hepatitis C can be effectively treated with antiviral therapy and cured of the disease within 8–12 weeks with ledipasvir/sofosbuvir.
Dr. Barritt explained how hepatitis B infection can pose interesting problems for the rheumatologist. In patients with chronic hepatitis B infection, a significant risk exists of a potentially life-threatening flare of their disease if immunosuppressed, and these patients must receive suppressive therapy with an oral nucleotide or nucleoside agent, such as entecovir or tenofovir.
In a patient who has been exposed to hepatitis B but has cleared the infection, combination B and T cell immunosuppression can cause reverse seroconversion from hepatitis B surface antibody positivity to active hepatitis B infection with positive surface antigen.
Clinicians can identify these at-risk patients by making note of a positive hepatitis B core antibody in the patient's lab testing. Although risk of reverse seroconversion is low with most rheumatologic medications, any patient being treated with B cell depleting therapy (i.e., rituximab) in combination with steroids should receive prophylaxis with entecovir or tenofovir, including for 12–18 months after the last rituximab dose.
Pregnancy & Rheumatic Disease
Megan Clowse, MD, MPH, associate professor of medicine in the Division of Rheumatology and Immunology at Duke University School of Medicine, Raleigh, N.C., provided a talk about pregnancy and rheumatic disease. The main focus of this lecture was the new guideline from the ACR on the management of reproductive health in rheumatic and musculoskeletal diseases.12 This guideline provides a thorough and extremely helpful framework clinicians can use to think about and understand reproductive issues in partnership with their patients.
Dr. Clowse pointed out that unplanned pregnancies are a major issue in many patients with rheumatologic diseases, and in patients with high-risk features of systemic lupus erythematosus (i.e., patients with highly active disease including nephritis, uncontrolled hypertension or untreated antiphospholipid syndrome), pregnancy loss can occur in up to 40% of cases and preterm birth can occur in up to 60–70% of cases.
With regard to pre-pregnancy communication goals, Dr. Clowse urges clinicians to be accurate in the information and guidance they provide and encourage the patient to be honest about their feelings and actions, thus allowing for effective collaboration. A simple opening question along the lines of "Do you have any plans to become pregnant?" can allow for a robust conversation between doctor and patient.
Dr. Clowse also referred to the ACR guideline in discussing appropriate contraceptive options for patients, medications that are safe for pregnant or lactating mothers, and even how to counsel patients on the use of assistive reproductive technologies.
Pediatric Rheumatology
Eveline Wu, MD, MSCR, associate professor of pediatric rheumatology at University of North Carolina Children's Research Institute, Chapel Hill, provided a pediatric rheumatology review geared toward the adult rheumatologist. Dr. Wu began her talk by noting how important it is for adult and pediatric rheumatologists to collaborate, especially given the scarcity of physicians practicing pediatric rheumatology—in fact, about 10 states have no pediatric rheumatologists at present.
Dr. Wu next addressed the topic of juvenile arthritis-associated temporomandibular joint (TMJ) disease. Among the subtypes of juvenile idiopathic arthritis (JIA), patients who are rheumatoid factor negative and with polyarticular disease are at particularly high risk of TMJ involvement, although all categories of JIA are at risk and about 40–80% of patients with JIA will have TMJ arthritis. This is important because TMJ disease can cause abnormal dentofacial development and significant facial disabilities, including orofacial pain, reduced TMJ mobility and impaired mastication function.
The clinical evaluation should include palpating the joint to try to elicit tenderness, noting clicking or crepitus with joint movement and identifying asymmetry of the face at rest and deviation with mouth opening. Magnetic resonance imaging with contrast is the gold standard of imaging, and intra-articular corticosteroid injections and intra-articular lavage without corticosteroid are effective treatments.
The second main clinical topic Dr. Wu discussed was JIA-associated uveitis, which is the most common extra-articular complication of the disease. In the SYCAMORE study, patients with JIA-associated uveitis who were age 2 years or older and on a stable dose of methotrexate were randomized to receive either adalimumab or placebo. After two years of follow-up, patients receiving adalimumab therapy had lower rates of treatment failure (27% vs. 60%, respectively), indicating the efficacy of this treatment.
Dr. Wu concluded her talk with a discussion of multi-system inflammatory syndrome in children (MIS-C), a rare but serious condition that shares many features of Kawasaki disease and has emerged with the COVID-19 pandemic. The ACR clinical guidance document on MIS-C describes this disease as a condition characterized by fever, inflammation and multi-organ dysfunction that manifests late in the course of SARS-CoV-2 infection.13 Dr. Wu explained that much remains to be understood about MIS-C and that this disease will be one of the most important issues related to COVID-19 in the world of pediatric rheumatology.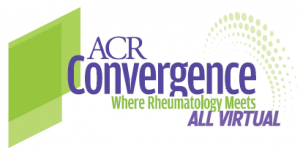 Seronegatives & Psoriatics: Navigating Therapy
Christopher Ritchlin, MD, MPH, MACR, professor and chief of the Allergy, Immunology, and Rheumatology Division at the University of Rochester Medical Center, N.Y., spoke on Seronegatives and Psoriatics: Navigating Therapy. In this wide-ranging presentation, Dr. Ritchlin discussed current and future treatment directions for psoriatic arthritis, inflammatory bowel disease (IBD) associated arthritis and reactive arthritis.
Dr. Ritchlin noted that psoriatic arthritis is a complex, heterogeneous disease that perhaps should be best understood through the lens of the different domains it can involve, such as skin, nails, peripheral arthritis, axial disease, enthesitis and dactylitis. The 2018 ACR/National Psoriasis Foundation Guideline for the Treatment of Psoriatic Arthritis provides a clear framework for how to approach therapy in this disease, as well as the means by which to determine severity of disease and the evidence to support treatment recommendations.14
Turning to enteropathic arthritis, Dr. Ritchlin noted that IBD prevalence in spondyloarthritis is about 7% and that ankylosing spondylitis prevalence in IBD is between 10% and 39%.
When thinking about treatment options, it is important to separate patients with IBD in the form of Crohn's disease from those with ulcerative colitis and, likewise, to differentiate between peripheral arthritis and axial arthritis. These distinctions are important because each may imply different types of effective therapy; for instance, methotrexate appears to be an option in Crohn's disease and peripheral arthritis, but not in ulcerative colitis or axial arthritis.
For reactive arthritis, the majority of patients will reach complete or near complete remission at 6 to 12 months regardless of therapy, but approximately 25% of patients develop chronic disease and require ongoing therapy. Such treatment for chronic disease may take the form of nonsteroidal anti-inflammatory drugs, intra-articular or systemic glucocorticoids, sulfasalazine, methotrexate or tumor necrosis factor inhibitors.
Rheumatoid Arthritis
Arthur Kavanaugh, MD, professor of medicine and director of the Center for Innovative Therapy in the Division of Rheumatology, Allergy & Immunology at the University of California, San Diego, discussed rheumatoid arthritis and reflected on the dramatic changes he has seen in the field over the past several decades. A number of studies were discussed, but perhaps most helpful were the larger questions that Dr. Kavanaugh pondered regarding future directions in rheumatoid arthritis: Will automated scoring systems for radiographic progression of disease replace human interpretation of X-rays and other imaging studies? Will big data and smart technology allow for methods by which to track patient compliance with prescribed medications? Will useful biomarkers of disease be developed and used to evaluate clinical activity in rheumatoid arthritis? Will biosimilars help to reduce the cost of biologic medications in the U.S. and around the world?
Dr. Kavanaugh spent time discussing each topic, the research related to each theme that exists currently, and the possible ways that these issues may evolve in the years to come.
Lupus Nephritis
Finally, Liz Lightstone, MBBS (Hons), PhD, FRCP, professor of renal medicine in the Centre for Inflammatory Disease, Department of Immunology and Inflammation in the Faculty of Medicine, Imperial College London, spoke on diagnosis and treatment updates in lupus nephritis. Three major trials were discussed in her talk.
In the NOBILITY phase 2 study of obinutuzumab, treatment with this type II anti-CD20 monoclonal antibody, when added to mycophenolate mofetil and corticosteroids, was found to result in increased complete and partial renal responses compared with placebo at one year of follow up and was not associated with increased rates of serious adverse events or serious infections.15
In the BLISS-LN study, more patients with active lupus nephritis who were receiving belimumab plus standard therapy had a primary efficacy renal response than those who received standard therapy alone (43% vs. 32%, respectively).16
Finally, in the AURORA study, the addition of the calcineurin inhibitor voclosporin to mycophenolate mofetil and low-dose steroids in active lupus nephritis patients resulted in a statistically superior and faster renal response rate vs. standard of care.17
Dr. Lightstone noted that standard of care for lupus nephritis still involves induction therapy with either mycophenolate mofetil or cyclophosphamide, along with corticosteroids, but that treatment options are expanding and that patient considerations, such as adherence to treatment, desire for pregnancy, level of renal function impairment and, to a certain degree, cost, should be taken into account.
With 2020 already making history, this excellent ACR Review Course was another reason why clinicians will not soon forget the past 12 months and, hopefully, continue to allow the field of rheumatology to advance.
---
Jason Liebowitz, MD, completed his fellowship in rheumatology at Johns Hopkins University, Baltimore, where he also earned his medical degree. He is currently in practice with Skylands Medical Group, N.J.
References