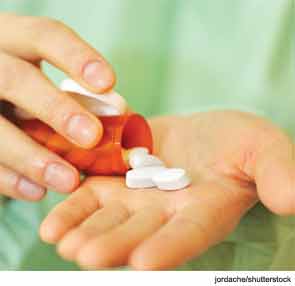 Prescribers need to be aware of new REMS for certain opioid analgesics.
Currently, there is no mandatory requirement that prescribers undergo the Risk Evaluation and Mitigation Strategy (REMS) training program as a precondition to dispensing medication to patients. However, the U.S. Food and Drug Administration (FDA) is in favor of a mandatory opioid-prescribing training program that would be linked to Drug Enforcement Administration registration. Additionally, extended-release and long-acting (ER/LA) opioid analgesic manufacturers will be required to establish goals for the number of prescribers trained, collect information about the number of prescribers who took the courses, and report the information to the FDA as part of periodic assessments.
ER/LA opioid analgesics are widely prescribed and carry a high risk of misuse, which can ultimately lead to death. According to estimates from the Centers for Disease Control and Prevention, in 2009, there were 15,597 deaths in the U.S. involving opioid medications.1
ADVERTISEMENT
SCROLL TO CONTINUE
In response to this issue, the FDA released its REMS training program for ER/LA opioid analgesics on July 9, 2012.2 The REMS exceeds requirements in the drug-prescribing information and aims to mitigate dangers associated with a medication. According to Allan Gibofsky, MD, JD, past president of the ACR, attending physician at the Hospital for Special Surgery, and professor of medicine and public health at Weill Medical College of Cornell University, both in New York, N.Y., "the new REMS program provides both important provider education and consumer information to address prescription drug abuse, our country's fastest-growing drug problem."
Learn More About the Opioid REMS
Don't miss the REMS for extended-release and long-acting opioid analgesics presentation given by Allan Gibofsky, MD, JD, at the 2013 State-of-the-Art Clinical Symposium in Chicago. This audio presentation will be available to all ACR and ARHP members at no charge through SessionSelect at www.rheumatology.org/SessionSelect after April 20.
The focal point of the opioid REMS is an education program for prescribers that teaches the risks of ER/LA opioid medications as well as safe prescribing and use practices. In an online consumer update, the FDA stated that the REMS, "is designed to ensure that healthcare professionals are trained in how to properly prescribe these medicines and how to instruct their patients about using them safely."3 The FDA expects this prescriber training to be conducted by accredited, independent continuing education (CE) providers—such as the ACR—and supported by unrestricted grants to accredited CE providers from companies that make ER/LA opioid analgesics.