You Might Also Like
Explore This Issue
August 2013
Also By This Author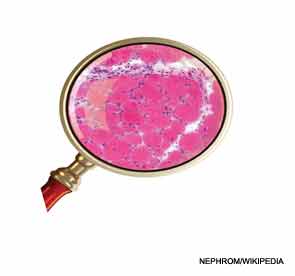 High-magnification micrograph of dermatomyositis
Tips for diagnosis and treatment of myositis and metabolic myopathies were highlighted in two presentations at the ACR 2013 State-of-the-Art Clinical Symposium, held April 20–21 in Chicago, with speakers underlining the need to recognize the clinical presentations of diseases that can mimic other conditions.
ADVERTISEMENT
SCROLL TO CONTINUE
Paul H. Plotz, MD, scientist emeritus at the Arthritis and Rheumatism Branch of the National Institute of Arthritis and Musculoskeletal and Skin Diseases in Bethesda, Md., reminded attendees that many diseases can appear to be myositis. Mistaken diagnoses can result in antiinflammatory therapy for patients who will not benefit and may even suffer from the treatment, he said.
The first step in diagnosis of myositis is determining the location of the illness, whether it is actually inside or outside the muscle, and whether it is inflammatory, structural, or metabolic. The inflammatory myopathies include polymyositis, dermatomyositis, and inclusion body myositis (IBM).
ADVERTISEMENT
SCROLL TO CONTINUE
Several clinical presentations should lead to a suspicion of the disease: Gottron's or heliotrope rashes, a gradual onset of weeks to months, symmetry (except in the case of IBM), proximal limb and truncal involvement, Raynaud's, arthritis, and idiopathic pulmonary fibrosis. Some myositic patients have musculoskeletal pain, but that is usually not the dominant feature of their illness, Dr. Plotz said. Most significantly, patients with myositis have elevated creatine kinase (CK), increasing weakness, and muscle edema that may be identified by magnetic resonance imaging (MRI). The MRI, however, will not identify the histology of the disease.
"Always biopsy a patient you suspect of having myositis. You are looking for lymphocytic information. Spend a moment and look at the biopsy yourself and convince yourself that there is truly inflammation and that there are some hints about whether it's dermatomyositis or a polymyositis," Dr. Plotz said, adding that dermatomyositis is a diagnosis made on examination of the skin for the characteristic rashes.
Several presentations should lead away from a diagnosis of myositis: a family history of a similar illness; weakness related to exercise, fasting, or eating; discrete episodes of reversible weakness; sensory, reflex, or other neurological signs; cranial nerve involvement; fasciculations; severe muscle cramping; myasthenia or myotonia; atrophy early in the disease or hypertrophy at any time; and CK that is normal or extremely high, he said.
ADVERTISEMENT
SCROLL TO CONTINUE
Screening for Cancer
Patients with myositis, particularly those with dermatomyositis and polymyositis, develop cancer more frequently than the general population, with lung, ovarian, cervical, colorectal, gastric, breast, bladder, and pancreatic cancer topping the list of the most frequent.1 A middle-aged woman with dermatomyositis has a 2- to 4-fold risk of cancer within a year of her diagnosis of dermatomyositis and 1.5- to 2-fold risk if she has polymyositis. Patients most at risk of developing cancer are older than age 45. The cancer risk falls back to baseline risk within about five years of diagnosis of myositis, he said.
"Almost all of the cancers are obvious and not obscure, and you don't need to do a total body MRI to find them," Dr. Plotz advised. "Follow up every abnormal test that you find that is not a part of myositis. Don't let it slip by, because that is where you will sometimes pick up a tumor that you didn't suspect."
Patients with dermatomyositis are at particular risk of interstitial lung disease, and high-resolution computed tomography (CT) should be used for diagnosis. "Lung disease can occur early or even precede myositis and, like skin disease, can be the first manifestation. You should be thinking about that possibility if you get a patient who has a dermatomyositis-like rash but you can find nothing else," he said.
First-line therapy for myositis is generally prednisone, and second-line therapy can include methotrexate or azathioprine, intravenous immunoglobulin (IVIG), and cyclosporine. "IVIG is often effective for dermatomyositis, is often a sensible choice in cancer-associated myositis, is sometimes effective for polymyositis and esophageal or lung disease, but it is not significantly effective for IBM," Dr. Plotz said. Results of treatment with biologics have been inconclusive, and stem-cell therapy has been ineffective.
"If therapy is failing, be prepared to rethink what you are doing, rebiopsy, and reevaluate from the beginning if the patient is not responding," he said.
Metabolic Myopathies
Kenneth S. O'Rourke, MD, professor of rheumatology and immunology at Wake Forest School of Medicine in Winston-Salem, N.C., said that physicians will be better able to diagnose and treat patients with metabolic myopathies if they understand muscle metabolism and how muscle energy systems work "because there is a direct relationship between that and symptomatology. A metabolic myopathy is, at its heart, a condition where there is some process with impaired production of cellular energy [adenosine triphosphate] in muscle," he said.
Glycogen storage disorders (GSDs)—for example, McArdle disease or muscle phosphorylase deficiency—present in several ways. The prototypical patient presents with muscle symptoms that develop after brief isometric exercise or less intense but sustained dynamic exercise such as sprinting, jogging several hundred yards, or ascending stairs or a slope. These patients fatigue quickly, but patients with McArdle disease may get a "second wind" about seven to 10 minutes into activity, which is "theoretically when the muscles are getting reinfused with more glucose and more free fatty acids," Dr. O'Rourke said. Those patients who cannot get that second wind will likely have an alternate glycolytic defect. Further distinguishing patients with McArdle disease is the presence of chronic elevation of CK, even at rest.
Several enzymes can lead to GSD. These can be categorized in two ways: those that present with symptoms of exercise intolerance, cramps, and myoglobinuria, and those that commonly lead to more fixed weakness, "even though these are all conditions of the ability to break down the same energy source," Dr. O'Rourke explained.
Lipid Disorders
Patients with lipid metabolism disorders may present with complaints of muscle pain or tightness induced by prolonged exercise and/or prolonged fasting, but they do not develop true muscle cramps or contractures and do not get a second wind. One common cause of myoglobinuria is a carnitine palmitoyltransferase II deficiency, which impedes the transport of long-chain fatty acids into mitochondria for energy and is characterized by dynamic exercise weakness, no second wind, and normal CK between attacks.
Mitochondrial myopathies present in adults as exercise intolerance with an exaggerated cardiopulmonary response to overcome the block in oxygen utilization, as well as extreme fatigue and dyspnea after little exertion.2,3 "These patients are breathing hard but just not making enough energy to move their muscles. When these individuals have a relatively high level of dyspnea at relatively low levels of exertion, that should be a clinical clue that they may have a mitochondrial myopathy," Dr. O'Rourke said.
Assessment should include not only blood and urine tests, but also an electromyography in some patients and muscle biopsy with immunohistochemical staining. A muscle biopsy can determine whether the condition is a glycogen storage or lipid storage deficiency, and an excess of ragged red fibers can indicate a mitochondrial myopathy. Patients should also be screened for respiratory muscle involvement, because patients with certain metabolic myopathies "are at risk of aspiration and its attendant morbidity," he said.
Drug therapy varies depending on the type of myopathy, but general recommendations include patient education, individualized physical therapy that can include resistance strength training to slow the rate of muscle strength loss, aerobic training for cardiovascular fitness, and avoidance of muscle lengthening or eccentric contractions, according to Dr. O'Rourke. Some physicians recommend dietary changes and supplements, depending on the type of myopathy.4
---
Kathy Holliman is a medical journalist based in New Jersey.
References