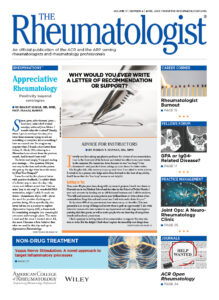 Mission/Vision: The Rheumatologist is an official publication of the American College of Rheumatology, and it supports the ACR's mission: empowering rheumatology professionals to excel in their specialty. A monthly news magazine, it helps rheumatologists and rheumatology professionals enhance their patient care and improve their practice management through concise reporting of practical clinical reviews, discussions of current research and legislative actions, updates in academic rheumatology, and presentations of quality improvement initiatives and developments. Each compelling issue contains actionable, evidence-based content.
The Rheumatologist reaches 11,500 rheumatologists, internists, orthopedic surgeons, nurse practitioners, physician assistants, nurses and other healthcare professionals who practice, research or teach in the field of rheumatology.
Wiley Research DE&I Statement and Publishing Policies
As a signatory to the Joint Commitment for Action on Inclusion and Diversity in Publishing, which aims to drive positive change within scholarly publishing, Wiley is committed to implementing sustainable and positive change to advance diversity, equity, and inclusion through the editorial processes and policies of its publications. This includes encouraging diversity, equity, and inclusivity within our editorial teams, reviewers, and authors as appropriate and consistent with local regulations. Our publications do not tolerate harassment or discrimination against an individual on the grounds of age, ancestry, color, religious creed, physical or mental disability, marital status, medical condition, genetic information, military and veteran status, national origin, race, sex, gender, gender identity, gender expression, sexual identity, sexual orientation, political affiliation, or any other category protected by law.