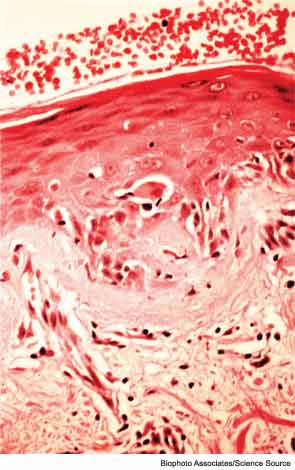 WASHINGTON, D.C.—Diagnosing myopathies—a group of diseases that includes polymyositis, dermatomyositis, and inclusion-body myositis—is a complex process. Patients may present with symptoms like unexplained muscle weakness or cramps. Further tests may detect elevated creatinine protein kinase levels or myositis-specific autoantibodies. Then, electromyogram (EMG) and muscle tissue biopsy may confirm the specific diagnosis, said a panel of experts in a session titled, "Diagnostic Assessments in Myopathy," at the recent 2012 ACR/ARHP Annual Meeting, held here November 9–14. [Editor's Note: This session was recorded and is available via ACR SessionSelect at www.rheumatology.org.]
You Might Also Like
Explore This Issue
April 2013
Also By This Author
Tests for Myopathy-Associated Autoantibodies
Testing for myospecific and myopathy-associated autoantibodies may aid diagnosis of these neuromuscular diseases, said Hector Chinoy, PhD, program director of clinical rheumatology at the University of Manchester in England. Seropositivity is found in as many as 70% of myositis patients and in about 60% of juvenile myositis patients, he said. Risk factors for myositis includes patients with human leukocyte antigen class genes, particularly the DRB1*03 haplotype. Both environmental and genetic risk factors come into play in assessing risk of myositis. "Smokers who are also DRB1*03 positive are at much higher risk" of developing anti-Jo1 antibodies, which are strongly associated with myositis, he said.
ADVERTISEMENT
SCROLL TO CONTINUE
Other environmental exposures, as well as certain drugs and infectious agents, play a role in triggering the development of or activation of these diseases, he added. Ultraviolet radiation exposure is one risk factor, and patients are more likely to have one or more of the 15 myositis-specific autoantibodies if they live near the equator, for example. In addition, 75% of patients with necrotizing myopathy in one study had been exposed to statins, Dr. Chinoy added.
Patients with anti-Jo1 autoantibodies may present obvious symptoms like dry, cracked fingers, Raynaud's phenomenon, interstitial lung disease, and abrupt fever, with or without myositis. In other conditions, like amyopathic dermatomyositis, a distinct rash may precede the development of myositis, Dr. Chinoy said. "If you've got a myositis-specific antibody, you've got your diagnosis," he said.
ADVERTISEMENT
SCROLL TO CONTINUE
In cancer-associated myositis, the most common autoantibody is TIF1γ, which is not found in other autoimmune diseases or in healthy individuals, Dr. Chinoy noted. One noteworthy sign of this condition is a shawl-like rash on the torso, he explained. For patients with TIF autoantibodies, malignancy association is dependent on age, and is more common in people over 45. "Children and juveniles tend not to get cancer, although you still need to be vigilant when TIF1γ is present," he said. Exclude nonspecific autoantibodies to help confirm diagnosis of myositis, he concluded.
Value of EMG Tests
EMG tests assess nerve and muscle function, but in diagnosing myopathy, they should be an extension of the clinical examination, said Devon Rubin, MD, director of the neurophysiology laboratory at Mayo Clinic in Jacksonville, Fla. An EMG should be performed by someone trained in neuromuscular conditions to avoid false-positive or false-negative diagnoses, he said.
EMG can aid physicians at various stages of patient evaluation, Dr. Rubin said, including initial diagnosis, etiology, narrowing differential diagnosis, determining which muscle to biopsy, or to assess response to treatments. EMG must contain both a nerve conduction study and a needle examination. The nerve conduction study electrostimulates the nerve and measures the potential action downstream, Dr. Rubin noted. It's performed at several different spots to assess amplitude, distal latency, and conduction velocity.
ADVERTISEMENT
SCROLL TO CONTINUE
Nerve conduction studies usually are normal in myopathies, he said. This test is more useful in diagnosing carpal tunnel syndrome, peripheral neuropathy, and neuromuscular junction disorders like myasthenia gravis. Therefore, the most important component of EMG is the needle exam. This test measures both resting and contracted muscle, Dr. Rubin said. Several muscles usually are tested, depending on the distribution of the patient's muscle weakness. The test is not painful, he added.
In patients with myositis, the needle exam may produce fibrillation potentials, marked by audible "ticking" sounds in resting muscles that would normally present without them, Dr. Rubin demonstrated. This may be a sign that muscle fibers are denervated, he said. Fibrillation potentials are reported in 45% to 80% of patients with inflammatory myopathies, he said. Myotonic discharges, waves of sound that resemble dive-bombing aircraft when the patient's muscle is at rest, and motor unit potential changes are also clues that myopathies may be present.
Muscle Biopsies
If EMG results indicate possible myopathy, the next step is a muscle biopsy, said David Lacomis, MD, professor of neurology and pathology chief in the division of neuromuscular diseases at the University of Pittsburgh Medical Center. "I would encourage you to make sure that the pathologist is provided with the clinical history, as this will impact how many stains and what stains the pathologist will look for" to confirm myopathy, he said.
There are many factors involved in acquiring an accurate reading of the biopsy, including specimen quality and even if it was mishandled or sent to the lab late in the day, Dr. Lacomis noted. "If your lab is not looking at frozen muscle tissue, then that is below the standard of care." Examine the pathology report for comments about the specimen quality, he suggested.
The battery of stains should include congo red for diagnosis of myopathy, especially inclusion body myositis, Dr. Lacomis said. Immunostains may indicate inflammatory conditions or dystrophies, he said. The lab will try to be very specific, but clinical correlation is advised. Various inflammatory myopathies present unique images on biopsy results. For example, in dermatomyositis, basophilic stippling may be seen in the cytoplasm of the perifascicular muscle fibers. One might also see dense, continuous staining of capillaries for membrane attack complex, Dr. Lacomis showed. In polymyositis and inclusion body myositis, invasion of nonnecrotic muscle fibers by inflammatory cells is often seen, although not always in polymyositis, making diagnosis tricky.
Rheumatologists should note that some myopathies may be triggered by drugs commonly used to treat rheumatic diseases, Dr. Lacomis said. Hydroxychloroquine may cause vacuolar myopathy, and glucocorticoids may also lead to a toxic myopathy, he noted.
---
Susan Bernstein is a freelance medical journalist based in Atlanta.