My patient's father is tall and stooped, his face creased with worry. He wears the flowing white dishdasha, and on his dusty feet are cracked leather sandals. He clutches his battered briefcase and holds the door open for his daughter. She limps in, obviously in pain, and I notice even beneath the voluminous black abaya that she is thin—too thin. I hold my hand out and we shake hands. In truth, we just briefly touch hands. I take care not to squeeze her swollen joints and, keeping with local culture, do not offer to shake hands with the father. My patient and her father have driven six hours across dusty desert roads to get an opinion about this young girl's arthritis. My clinic is located—quite incredibly for a musculoskeletal practice—on the 50th floor of one of Dubai's many new and swanky high-rise buildings. This young girl and her family are initially somewhat intimidated by the designer-furnished clinic, but they are soon at ease, and I listen carefully to their story.
You Might Also Like
Explore This Issue
September 2010
Also By This Author
What I hear is becoming all too familiar in my short time in this country, the United Arab Emirates (UAE). The majority of the population who live here are expatriate, and it seems that healthcare providers are also expat, providing care in government hospitals and the private sector. Like many others I have seen, my patient has rheumatoid arthritis (RA), a devastating disease. She was not diagnosed correctly for ages, and then was inadequately treated. This young girl cannot study, work, or even go out shopping anymore. The father furtively wipes away tears from his red eyes. I pretend not to notice—men don't cry, not in any culture. After I do the joint count and assess the damage, I say, "It is not too bad, she can be treated. She will be better, inshallah [God] willing." I have to give hope before enumerating the destruction the raging forest fire has left.
ADVERTISEMENT
SCROLL TO CONTINUE
This patient has had a long delay in diagnosis and treatment. Later, I would collect data on my first 100 RA patients seen at this clinic, where I have been practicing since moving here from Boston in the summer of 2005. I find that patients here have a delay in diagnosis of an average of 14 months and a further four months before disease-modifying drugs are started.1 We collaborated with Tuulikki Sokka's QUEST RA group and reported that, despite being a nation with a high gross domestic product (GDP), the Disease Activity Score 28 remission rate was only 18%, compared with 36% in the U.S., and only 10% of RA patients here are on anti–tumor necrosis factor (TNF) therapies, which is much lower than the 25%–40% of other high GDP countries.2 The reasons for delay in treatment and the inadequate use of biologics are many, and include lack of awareness about arthritis, inadequate numbers of rheumatologists, lack of adequate medical insurance for the largely expatriate populations, and a cultural bias towards complementary and alternative forms of medicine.
A Different Portrait of RA
Mohamed, another patient I see in my clinic, is different. He is wealthy, American educated, born into privilege. He wears a Yankees cap with his spotless white dishdasha. "I have been to Germany, Singapore, and the U.K. for treatment. Next month, I am going to the Mayo Clinic because you know America has the best treatment." He is 24, has just been diagnosed with RA, and is looking for a cure. In the process, he travels the world collecting rheumatology opinions, and when he ultimately ends up on a methotrexate–TNF combination, he goes promptly into sustained clinical remission. A year later, I attend the all-ladies party at his ornate wedding: a thousand nipped-and-tucked women crowd a massive ballroom, dripping diamonds and pearls, dressed in gowns worthy of the Oscars. Mohamed keeps his diagnosis a secret, feeling that there is a social stigma attached to arthritis.
ADVERTISEMENT
SCROLL TO CONTINUE
As rheumatologists in this country, we are fighting to change this common perception of arthritis as a stigma and have launched the Emirates Arthritis Foundation under the patronage of Princess Haya, wife of Sheikh Mohamed, ruler of Dubai and vice president of the UAE. The foundation has brought awareness programs in English and Arabic, public relations campaigns, walkathons, gala dinners, yoga, aqua-aerobics and wellness programs, and seen support groups being born. The most important achievement is the endowment fund for treatment, supported by donations from corporate bodies, private donors, and pharmaceutical companies. We are able to treat low-income patients with anti-TNF therapies and, in one particular success, were able to put a 30-year-old nurse back on her feet with a combination of biological treatments and bilateral knee replacements.3
War Ravages Joints as Well
I almost weep when I see another patient, Yassmeen. She is from Iraq and has been in a wheelchair for 10 years. I am devastated that wars and sanctions prevented her from getting methotrexate on a regular basis. Her hips and knees are frozen in permanent contractures. She is so curled up she cannot even use a bedpan. The orthopedic surgeon who is consulted feels she is inoperable. There is no muscle mass left to hold up artificial joints. We have lost this battle. She returns to Iraq.
In 2005, just two years after the start of the Iraq war, I would attend the Pan Arab Rheumatology conference in Cairo and listen to a rheumatologist from Baghdad describe his cohort of RA patients. With a war raging around him, he continued to collect data on anti–cyclic citrullinated peptide positivity in his lab. Ultimately, he, too, left Iraq and lives in the safety of a neighboring Gulf country. There is a shortage of well-trained rheumatologists in the entire region. In the UAE, only 15 trained rheumatologists serve a population of 4.5 million. There are not many formal training programs, and often a person can be deemed a specialist by having worked in a rheumatology department for three to five years without having to go through an accreditation process.
ADVERTISEMENT
SCROLL TO CONTINUE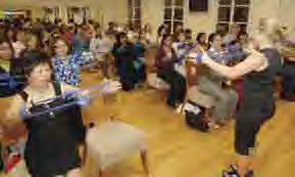 Patients at a support meeting.
Culture Brings Unique Challenges
During Ramadan, things are quiet and days feel languorous, waiting to awaken after sunset. At nights, the streets come alive with people who have broken their fasts, rushing to iftaar parties, buying food for the dawn meal, or having henna painted in their hands and having a leisurely smoke of shisha. Fasting from sunrise to sunset brings unique challenges. For instance, it is impossible to take Alendronate tablets first thing in the morning, wait thirty minutes, and complete the morning meal before 4:30 a.m. Similarly, it is not possible to do this in the evening. The fast is deemed broken if a fasting person bleeds, and many patients believe that they cannot have blood drawn for lab tests. They also believe they cannot receive intramuscular/subcutaneous injections. I go online to consult with religious authorities and can then reassure my patients that both blood draws and injections are, in fact, permitted. We need to take care to prescribe medications in a once daily or twice daily form.
I see the traditional Emirati women, who wear metal masks like old-fashioned sunglasses over their faces in Bedouin tradition, and I am convinced that the all encompassing robes are traditional ways of protection from the sun and unforgiving sandstorms. However, many women present for muscle pain, weakness, and deep-seated bone pain. Despite the sunny environment, there is an epidemic of vitamin D deficiency. Besides modest clothing, other factors account for this deficiency, including temperatures over 110º F in summer, encouraging a reliance on an air-conditioned, indoor environment. Rheumatologists in the region believe that more pigmented Arab and Asian skin probably prevents the absorption of UV light and leads to lower vitamin D levels. Our data show that high-dose vitamin D injections of 600,000 IU and correction of vitamin D levels to 30 ng/dl results in resolution of nonspecific muscle pains in 90% of our patients.4
Culture shock comes in many forms here. I had a five-foot-tall woman step on the scale. "Hundred kilos" [220 pounds], I announced, preparing to follow up with advice on how to lose weight. I was preempted, though, when the accompanying five family members said in unison, "Allhamdulillah" [Allah be praised]! The weight is due to abundance of food, a gift from God, and they are thankful. I have yet to see anyone anorexic here. People eat happily, without fear or guilt. They are somewhat overweight. Although obesity is becoming a growing problem, people wear the all-forgiving loose robes, live to a contented seventy years, and die without drama, surrounded by loving family members. Most women are brought to their appointments by their sons, brothers, fathers, or husbands. Likewise, most men are accompanied by a brother, wife, or family member. I see this as a welcome change and a sign of still-close family ties.
After five years, I feel lucky to be here as a participant and observer, enriched by yet another culture, absorbed, and am hopefully wiser in some respects.
Dr. Badsha is a rheumatologist in Dubai.
References
Badsha H, Kong KO, Tak PP. Rheumatoid arthritis in the United Arab Emirates. Clin Rheumatol. 2008;27:739-742.
Sokka T, Hetland ML, Mäkinen H, et al. Remission and rheumatoid arthritis: Data on patients receiving usual care in twenty-four countries. Arthritis Rheum. 2008;58:2642-2651.
Leibman C, Badsha H. Emirates Arthritis Foundation: The challenges of setting up the first Arthritis Foundation in the Middle East. Ann Rheum Dis. 2008;67(Suppl II):683.