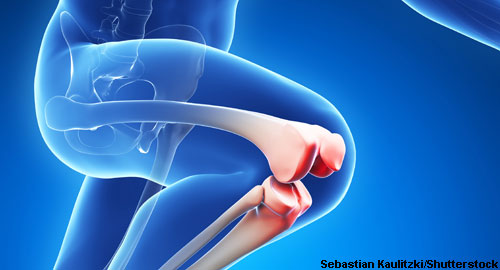 Revision total knee arthroplasty, or knee revision surgery, is more complex than primary total knee arthroplasty. In the next five to 10 years, the frequency of knee revision surgeries is expected to grow 600%, due to the rising incidences of obesity in the U.S. population and more knee replacements in younger populations.1 Approximately one-third of Americans are obese, with a body mass index (BMI) of 30 or more, and about 8% of Americans are morbidly obese, with a BMI exceeding 40.2
You Might Also Like
Also By This Author
In the past decade, the number of knee replacements performed in patients 45–64 years old nearly doubled. About 40–45% of total knee replacements in the U.S. are performed in patients under age 65.3 "These patients either tend to be heavier or more active," says Alexander S. McLawhorn, MD, MBA, an adult reconstruction and joint replacement surgeon at the Hospital for Special Surgery [HSS] in New York. "Both categories of patients place increased demand on their knee replacements, which can lead to premature failure."
ADVERTISEMENT
SCROLL TO CONTINUE
In general, 85% of knee replacements last for at least 20 years.4 Dr. McLawhorn estimates about a 0.5% chance of re-operation per year.
Given the uptick in these surgeries, Dr. McLawhorn says it's essential to deepen the understanding of knee revision surgery outcomes. A commonly used knee replacement survey, the Knee Injury and Osteoarthritis Outcome Score (KOOS), asks 42 questions and may leave physicians with partial and unusable information secondary to patient burden and fatigue, Dr. McLawhorn maintains. Consequently, researchers at HSS created the KOOS JR. Knee Survey, a shorter seven-question survey that aims to accurately measure knee health, reflecting aspects of pain, symptom severity and activities of daily living relevant to and/or difficult for patients with knee arthritis.
ADVERTISEMENT
SCROLL TO CONTINUE
Research presented at American Academy of Orthopaedic Surgeons (AAOS) showed that the KOOS JR. can be extended to knee revision surgery patients and is a validated and efficient tool for assessing knee health in this challenging patient population.5 "The shorter patient survey will help gain necessary data on pain and function for [revision] knee replacement, while reducing the data collection burden on patients and administrators," Dr. McLawhorn says. Validating the KOOS JR. was the first step to collecting more reliable patient-reported outcomes data on knee revision surgery.
Regarding the shortened questionnaire, Brian Keroack, MD, FACP, FACR, rheumatologist, assistant professor of medicine at Tufts University and Maine Medical Center, in Portland, Maine, says, "In general, long questionnaires are an obstacle to accurate results. Patients' attention spans wane after the first few questions, and they check boxes with little thought. The KOOS JR. will lend itself to more reliable responses by avoiding questionnaire fatigue. KOOS is somewhat redundant, while the KOOS JR. seems to emphasize the critical information required to assess function."
By collecting more data, Dr. McLawhorn says he hopes to accelerate understanding of risk stratification, infection prevention and treatment, and implant designs to improve patient outcomes after knee revision surgery.
ADVERTISEMENT
SCROLL TO CONTINUE
Risk Stratification
Increased focus on risk stratification involves identifying modifiable preoperative characteristics, such as diabetes control, preoperative weight loss (surgical and non-surgical) and smoking cessation. All these potential risk factors can be optimized to improve the likelihood of a successful total knee replacement.
"Optimizing patient management through the perioperative period is critical for those conditions, which can't be modified prior to surgery," Dr. McLawhorn says. "For instance, we have a better understanding of how to manage medications for inflammatory arthritis around the time of total knee replacement so we minimize the likelihood of disease flare and risk for medication-related complications, such as delayed wound healing and infection. Optimization for primary total knee [arthroplasty] will hopefully curtail the rate of growth in revision total knee [arthroplasty]."
Dr. Keroack says, "Weight loss and smoking cessation have been shown to improve the effectiveness of disease-modifying anti-rheumatic drugs—especially biologic response modifiers—for patients with rheumatoid arthritis. Orthopedists and rheumatologists should view total knee replacement surgery as an opportunity to change patient habits and behavior. Additionally, a major surgical intervention requires careful scrutiny of all the patient's medical issues. This careful pause-and-review strategy gives us a chance to make therapeutic changes that will benefit the patient over the long term."
With respect to osteoarthritis, the most common reason for a knee replacement, Dr. Keroack says weight is among the primary causes of the illness, and weight loss is critical for implant health and longevity. "We hope that behavior modification in the preoperative period translates into long-term success," he says.
As far as other preoperative characteristics that could be optimized for these patients, Dr. Keroack says a thorough oral examination to assess a patient's dental health is important. Gingivitis and chronic dental caries, which are potential sources of infection, should be addressed prior to joint replacement or revision. Examination of cardiovascular health, including auscultation and peripheral pulse assessments, as well as coordination of a thorough medical records review from a primary care physician, are critical to uncover occult surgical risks. Examination of skin integrity and diligently searching for ulcers, as well as a neurologic assessment for peripheral neuropathy, which increases the risk for skin breakdown, will help identify additional risks for infection.
Infection Prevention & Treatment
Preventing infection is paramount for preventing re-operation after primary and revision total knee replacement surgery. Current research is focused on preoperative and perioperative processes to reduce the incidence of surgical site infection. Research being performed at HSS and other partner hospitals is assessing ways to minimize the morbidity associated with treating periprosthetic joint infection.6
"We need to identify those patients and infections that can be treated with implant retention strategies vs. single-stage exchange surgeries vs. classical two-stage exchange surgeries," Dr. McLawhorn says. "We are also exploring the necessary regimens of parenteral and/or oral antibiotic treatments."
To manage patients who already have an implant infection, Dr. Keroack points to two options: chronic suppressive antibiotics and retaining the implant vs. removing the implant, treating the infection and reimplantation. "[Although] suppressive antibiotics carry less morbidity, we lack data regarding which infections are most appropriate for suppression and which require removal and reimplantation," he says. Additionally, acute bacterial infections that can become systemic need to be rapidly identified and treated to prevent seeding of the implant.
Improvements to Implant Designs
Dr. McLawhorn believes that eventually implants will be able to resist infection. Specifically, implant surfaces will disrupt the process by which bacteria form biofilm, which is a major problem in treating periprosthetic joint infections.
Other Areas
The collection of patient-reported outcome measures (PROMs), such the KOOS JR., is another important area. "In the literature, PROMs have come to the forefront in terms of assessing treatment success for nonsurgical management of arthritis and also for primary joint replacement," Dr. McLawhorn says.
The measuring sticks for revision surgery are still less patient focused and more focused on objective treatment outcomes, such as re-operation. "[Although] the latter is certainly an outcome of interest to patients, room for improvement exists in terms of identifying and measuring other outcomes that patients may rank as being important to treatment success," Dr. McLawhorn concludes.
Regarding room for improvement, Dr. Keroack says the subjective benefit in terms of pain control, function and overall satisfaction with primary total knee replacement surgery will help enable rheumatologists to counsel patients on what to expect from a total knee replacement. "[Although] it is critical that the radiograph indicate a successful procedure and the range of motion is optimal, what a patient really wants to know is, 'What percent of patients are happy with their implant?'" he concludes. "Ideally KOOS JR will give us the data to show accurate outcomes so we can relay this data to potential candidates, giving them insight into what they can expect."
Karen Appold is a medical writer in Pennsylvania.
References