The Osteoarthritis Research Society International (OARSI) held the 2017 OARSI World Congress in Las Vegas, April 27–30. Below, we report on two of the sessions held.
Retinoic Acid & Hand Osteoarthritis
Retinoic acid is a vitamin A derivative and hormonal signaling molecule with a role in cartilage and skeletal development. Retinoic acid has complex function, with prior studies implicating retinoids in osteoarthritis (OA) pathogenesis due to catabolic effects on mature cartilage, and other studies have harnessed the purported immunomodulatory effects of retinoids to delay the onset of experimental arthritis in animal models.1,2
ADVERTISEMENT
SCROLL TO CONTINUE
In his plenary presentation titled, "Is Retinoic Acid a Target in Hand Osteoarthritis," Helgi Jonsson, MD, PhD, of the University of Iceland, discussed work from Styrkarsdottir, et al, who identified a risk allele in the ALDH1A2 gene that increased the risk of severe hand OA by an OR of 1.48. The ALDH1A2 gene encodes retinaldehyde dehydrogenase 2 (RALDH2), the enzyme that converts retinaldehyde to retinoic acid.3 The association of ALDH1A2 and severe hand OA was first demonstrated in an Icelandic OA cohort and later replicated in British and Dutch cohorts. Interestingly no associations were seen with hip or knee OA.3
The risk allele is common, with around 77% of the population having one risk allele and 27% being homozygous.3 Since the risk allele confers reduced expression of ALDH1A2 and potentially retinoic acid, interest in retinoic acid as a treatment target in hand OA has increased. Although the teratogenicity of retinoids may be of less concern in the OA population, systemic toxicities and side effects are still limiting. Dr. Jonsson remarked that current treatment targets focus on inhibition of specific retinoic acid receptors.
ADVERTISEMENT
SCROLL TO CONTINUE
HERO trial
Sarah Kingsbury, PhD, of the University of Leeds, U.K., gave a presentation on findings from the Hydroxychloroquine Effectiveness in Reducing Symptoms of Hand Osteoarthritis (HERO) trial.
Recent estimates place symptomatic hand OA as a more prevalent disease than symptomatic knee OA. Yet research often focuses on treatment for knee and hip OA. Hydroxychloroquine (HCQ) has been used to treat hand OA clinically; however, a paucity of well-developed trials support its use. The HERO trial aimed to close this gap with a multicenter, double-blind, randomized, controlled trial comparing HCQ with placebo in patients with symptomatic, radiographic hand OA with inadequate response to acetaminophen, non-steroidal anti-inflammatory drugs (NSAIDs) and opioids.4
Dr. Kingsbury said the trial's aims were threefold, to: 1) assess HCQ as an analgesic treatment; 2) assess whether synovitis is associated with treatment response; and 3) determine effects on structural progression.
ADVERTISEMENT
SCROLL TO CONTINUE
Patients were randomized 1:1 to HCQ or placebo. HCQ was dosed at 200–400 mg according to ideal body weight. The mean initial dose at baseline was 320 mg (n=114). Outcomes were assessed at three, six and 12 months. There was no significant difference in the numerical rating scale (NRS) between HCQ and placebo at the primary endpoint of six months, nor was a difference noted at three or 12 months. Ultrasound was used to identify patients with synovitis at baseline (94% had ≥1 joint positive for greyscale synovitis and 59% were Power Doppler positive). Synovitis at baseline was not found to be a significant predictor of response. Structural progression from baseline to 12 months was assessed by change in the Kallman score on radiograph. No significant difference in radiographic progression was seen between the treatment groups.
HCQ was deemed not to be cost effective with a smaller quality-adjusted, life-year gain than placebo. The results of this trial argue against the use of HCQ for the treatment of symptomatic hand OA, yet highlight the need for therapeutics in this prevalent disease.
---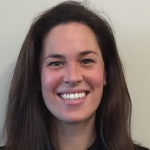 Lindsey MacFarlane, MD, MPH, is a member of the Division of Rheumatology at Brigham and Women's Hospital in Boston.
References