The changes in rheumatoid arthritis (RA) treatment, while of unquestioned benefit to patients, nevertheless come with a price for our specialty, and they could have a profound impact on our prospects for the future. Change is essential in a multitude of areas: the design of clinical trials; the development of new outcome measures, including reliable and relevant definitions of remission; the organization of practice; workforce projections; the structure of training programs; the finances of academic rheumatology; and the establishment of new priorities for the research. And that, friends, is just the tip of iceberg.
You Might Also Like
Explore This Issue
November 2008
Also By This Author
RA remains a disease as puzzling as it can be destructive. Indeed, the underlying pathogenesis is intricately complicated given the complex interplay of the genetics and the environment. As studies on genetics of autoimmunity show, a plethora of genetic variants can predispose to disease. The manner in which these polymorphisms can be sorted at the individual level is seemingly infinite. With an immense barrage of environmental triggers impacting on this genetic substrate, it is likely that each patient with RA is unique. Although revealing this genetic and environmental puzzle is feasible with today's technology, finding all of the pieces may seem less pressing in the face of therapy that is ever increasing in effectiveness.
ADVERTISEMENT
SCROLL TO CONTINUE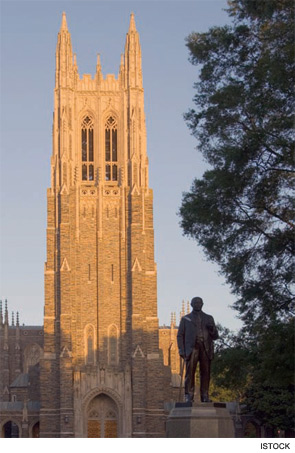 Duke University Chapel, Durham, N.C.
Reference to rheumatic fever may be informative. How many of you ever really used the Jones criteria in a real-life patient situation and, for that matter, ever saw a patient with bona fide rheumatic fever? Not surprisingly, research on this disease has dwindled not because it is uninteresting but because antibiotics have made rheumatic fever a rarity in the Western world. Unless Streptococcus stages a comeback, rheumatic fever is likely to remain history, although those criteria will always show up on exams.
Further complicating the research agenda in RA is the likelihood that, as more is learned about the immune system, the list of potential targets for new treatments will grow. The path to take ideas from the bench to the bedside has become increasingly well trodden, and investigators will have to determine which of many new targets is really worth shooting at, especially given the competition with existing agents. As one of my colleagues said to me recently, "The RA market is crowded."
ADVERTISEMENT
SCROLL TO CONTINUE
For many years in rheumatology, we have talked about the "unmet need" in RA, by which we meant the plight of patients who did not respond adequately to existing therapy. Because of recent advances, the unmet need is different, if not smaller, especially if remission rates continue to grow.
Perhaps, therefore, it is time to acknowledge the efficacy of current treatment and to look critically at patients with RA (and other diseases like psoriatic arthritis and ankylosing spondylitis) in whom the need is met. For starters, I would like to see clinical trials that address two salient questions: 1) Among existing disease-modifying anti­rheumatic drugs, which agents or combinations have the highest chance of inducing sustained remission? and 2) In patients in whom remission can be achieved, what is the optimal duration of therapy and sequencing of drug withdrawal in patients on combinations?
Funding Essential Research
An equally pressing question relates to the funding of these trials. Head-to-head comparisons of existing agents and drug-withdrawal trials are not industry's cup of tea. Indeed, I think that those at the helm in corporate board rooms look at such trials as cups of hemlock. These studies are essential, however, and they require big dollars. I think that it is time for the National Institutes of Health (NIH) to step up and take the lead in this type of research. I am a patriot and, as an American in Paris during the European League Against Rheumatism (EULAR) meeting there earlier this year, I was disappointed that NIH-sponsored research did not occupy a more prominent place in cutting-edge research on the treatment of RA.
ADVERTISEMENT
SCROLL TO CONTINUE
Back in North Carolina, Durham's Main Street is not the Champs-élysées, but the sky glistens with Carolina blue, the sun glows silver-white, and I need a walk.
A research agenda for the met need in RA would be large in scale and would galvanize investigative interest in concepts such as prevention and cure. Such an agenda could help stimulate academic rheumatology and forge the creation of cooperative research networks of the kind that have been so successful in specialties such as oncology and cardiology.
Although I think that we can improve upon the met need, I would be remiss in not mentioning a truly unmet need: a rational and equitable insurance system for funding treatment even with existing agents. In this country, we have created an adversarial system, driven by cost, in which doctors and insurers struggle over the use of effective therapy. Until America makes headway over this unmet need, RA therapy will likely be suboptimal.
Paris is a luminous place during the day as well as night, and being in a conference center when the sun shines brightly on that glorious place is not good for the soul. I therefore took several breaks during the EULAR meeting and, during one of these interludes, I meandered over to the Arc de Triomphe, which is one crown jewel in Paris's architectural treasure chest. This iconic structure was commissioned in 1806 after Napoleon's victory at Austerlitz and honors French war dead, especially those in the Napoleonic wars. A key link in the l'Axe historique, the Arc is at the center of the Place Charles de Gaulle, which I learned in high school as the Place de l'Etoile.
The Arc is a majestic and awe-inspiring structure, the kind that springs from the triumphant state of mind that seems to enthrall emperors. Suffice it to say, physicians do not think like emperors and, as great as the past decades in rheumatology have been, I seriously doubt that any of us wants to erect a marble edifice to herald our accomplishments. Physicians are also realists, knowing that side effects of any new treatment can always strike with a vengeance and, even if RA can be brought under control, a multitude of other diseases lurk to threaten our patients
Physicians are modest in celebration (ever see a high five after a successful code?), and I for one would like the money that could be used to build monuments to instead fund research and provide funds for patient care. I know that this thinking is dreary and mundane, but perhaps it is medicine's troubled state of affairs today that gives rise to such thoughts.
Back in North Carolina, Durham's Main Street is not the Champs-élysées, but the sky glistens with Carolina blue, the sun glows silver-white, and I need a walk, perhaps strolling to the Duke Chapel, our version of Notre Dame. I will therefore retreat from serious pondering, conclude these pensées and say to mes amis from EULAR, merci beaucoup, au revoir, and hope you had a great time in San Francisco.
Dr. Pisetsky is physician editor of The Rheumatologist and professor of medicine and immunology at Duke University Medical Center in Durham, N.C.