You Might Also Like
Explore This Issue
September 2013
Also By This Author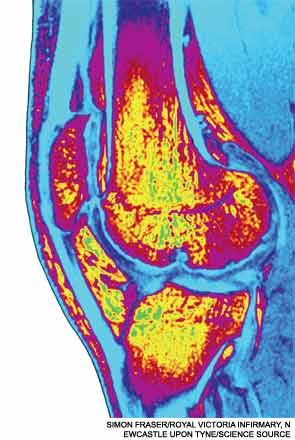 Osteoarthritis of knee. Color of a side view of the knee joint of a 33-year-old male with OA. Due to OA, the end of the femur is eroded and jagged; cracks causing weakening in both bones are also visible.
ADVERTISEMENT
SCROLL TO CONTINUE
MADRID—New imaging technologies in spondylarthritis (SpA)—from diffusion-weighted imaging to ultrasonography—are being studied and refined, but much is yet be understood, said Anne Grethe Jurik, MD, clinical associate professor of diagnostic radiology at Aarhus University in Denmark, here at the European League Against Rheumatism (EULAR) 2013 Annual European Congress of Rheumatology, held June 12–15.
Imaging in SpA
The mainstay, magnetic resonance imaging (MRI), is a sensitive technique, but normal variants can sometimes lead radiologists and physicians astray, resulting in false positives, she cautioned.
ADVERTISEMENT
SCROLL TO CONTINUE
Dr. Jurik's review came as part of a session on imaging techniques on SpA, osteoarthritis, and gout.
MRI activity changes in the sacroiliac joints (SIJs) that are consistent with SpA can also occurin individuals without SpA. Single lesions on MRI suggestive of inflammation have been reported in the SIJs in up to a quarter of young patients with mechanical back pain and healthy controls, studies have found.1
Normal variants can occur fairly frequently. Accessory sacroiliac joint has been seen in as many as 19% of subjects, iliosacral complex in 10%, and bipartite iliac bony plate in nearly 6%, Dr. Jurik said.
ADVERTISEMENT
SCROLL TO CONTINUE
The Assessment of Spondyloarthritis International Society (ASAS) criteria for sacroiliitis is bone marrow edema seen using short inversion time recovery (STIR) or osteitis on T1 postcontrast images located in typical subchondral or periarticular bone areas—but the criteria don't include structural changes, even though those can occur within the first two years of the disease.
"There is a need for revision of the ASAS MR criteria, with inclusion of structural changes," Dr. Jurik said.
As for other techniques, whole-body MRI (WB-MRI) of the sacroiliac joints and spine can reliably detect inflammatory SIJs and spinal lesions in SpA patients, compared with conventional MRI, she said. There also might be value in imaging the anterior chest wall and enthesitis with this method, she said.
Studies have found that WB-MRI, including postcontrast sequence, detects significantly more areas of synovitis and enthesitis in SpA than through clinical means, except in the hands and feet, she said.2
Dr. Jurik said diffusion-weighted MRI, based on the movement of water protons, might be a way to diagnose early active sacroiliitis and includes the possibility of objectively quantifying inflammation using apparent diffusion coefficient values.
As for ultrasound, color Doppler can be useful in diagnosing active inflammation in the ligamentous part of the SIJs at or posterior enthuses, but can't pick up intraosseous inflammation. Power Doppler, more sensitive than color Doppler, gives reliable detection of peripheral enthesitis in SpA patients, Dr. Jurik said.
Multislice computed tomography (CT), she said, can be useful in cases involving subtle radiographic SIJ changes or in detection of normal variants because it gives clear delineation of spinal structures. But, she cautioned that it has less sensitivity to soft tissue and bone marrow lesions than MRI, and involves a high dose of radiation.
She stressed that the review of these techniques is ongoing. "We have to analyze the value of new imaging techniques further," she said.
Imaging for OA
In imaging for osteoarthritis (OA), there's a strong correlation between symptoms and pathology from MRI, but radiology is probably good enough to guide treatment decisions in a normal clinical setting, said Frank Roemer, MD, associate professor of radiology at the University of Erlangen-Nuremberg in Germany and at the Boston University School of Medicine.
Both MRI and ultrasound can guide clinicians to targeted treatment based on tissue-specific pathology and anatomic location, and MRI can predict clinical outcomes, like total knee replacement, he said.
Ultrasound allows visualization of soft tissues in multiple planes, is inexpensive, and involves no radiation. Plus, no contrast agent is needed. At the same time, though, it is user dependent, the physical properties of sound limit how widely it can be applied, and documentation is difficult with this technique.
CT, however, gives high spatial resolution and isn't user dependent. CT-arthrography might be useful in OA assessment, he said, though it involves radiation exposure and poor soft tissue contrast.
As for usefulness in clinical trials, both X-ray and MRI are valuable tools for diagnosis and assessment of progression, although X-ray is limited in its ability to detect joint space narrowing, Dr. Roemer said.
MRI gives direct visualization of the cartilage and other OA features, such as bone marrow abnormalities, synovitis, effusion, and ligaments, and is reproducible in multicenter studies. Plus, MRI can detect OA features before they can be found on radiography. "MRI does overcome some of the limitations of radiography," he said.
Imaging in osteoarthritis is headed toward better early targeting of OA pathology, more than just cartilage damage, along with identifying patients at high risk, or those likely to be "fast progressors," Dr. Roemer said.
"Maybe advanced imaging technology will help us to monitor and target treatment much better," he said.
Imaging for Gout
In imaging for gout, Kay Hermann, MD, senior consultant in the department of radiology at Charite University Hospital in Berlin, cautioned that X-rays are not sensitive at the early stages.
In one study of 27 patients with gout, but with normal X-rays, MRI and ultrasound were performed on a symptomatic joint and an asymptomatic joint. Researchers found that a large percentage of patients with normal radiographs can have destructive arthropathy. Fifty-six percent of the patients were found to have erosions, with MRI much more sensitive than ultrasound.3
Dual-energy CT, with two X-ray beams used simultaneously, can be useful for specific detection of gouty tophi, while ultrasound is suited for finding faint gouty deposits on the surface of cartilage, Dr. Hermann said.
MRI, he said, can be used in more "unusual settings," with the advantage that tophus volume measurements are possible.
---
Thomas Collins is a freelance medical writer based in Florida.
References
Weber U, Lambert RG, Østergaard M, Hodler J, Pedersen SJ, Maksymowych WP. The diagnostic utility of magnetic resonance imaging in spondylarthritis: An international multicenter evaluation of one hundred eighty-seven subjects. Arthritis Rheum. 2010;62:3048-3058.
Weckbach S, Schewe S, Michaely HJ, Steffinger D, Reiser MF, Glaser C. Whole-body MR imaging in psoriatic arthritis: Additional value for therapeutic decision making. European J Radiol. 77:149-155.