We spend a good portion of our day in front of screens—televisions, computers, tablets, phones and more. Social media (#SoMe) use has been on the rise, and its marriage to medicine seems inevitable.
Merriam-Webster, aka America's most trusted online dictionary, defines social media as forms of electronic communication through which users create online communities to share information, ideas, personal messages and other content. I've seen this definition come to life in real time, stimulating collaborations for discussion, advocacy and learning while promoting camaraderie among doctors on social media (#SoMeDocs).
Social media use for professional purposes by students and doctors has risen dramatically. A growing number of patients has also found utility in social media as a tool for gathering information, connecting with others and as a platform to address issues. With the con­venience of accessibility to the Twittersphere, comes immense responsibility.
Welcome to Twitter
I discovered the emergence of rheumatology on Twitter when I attended the 2018 ACR/ARHP Annual Meeting in Chicago. Following other rheumatologists and the official meeting hashtag, #ACR18, on Twitter, filled my feed with headlines on topics of my interest. While I attended sessions, I tweeted take-home points for those who could not attend or those who were busy attending other sessions. The Annual Meeting even hosted a Tweet Up, an informal event that provided an opportunity for members who engage on Twitter to meet face to face—or in real life (IRL).
Through my first year in fellowship, I have come to greatly appreciate social media as an integral resource in my training. The best part is that you can spend as much time perusing as your schedule permits.
Where to Start
I recommend you start by following the official ACR account on Twitter (@ACRheum). It helps you stay up to date on the latest news, guidelines and information. For example, when the first psoriatic arthritis guidelines came out through the ACR, I was reminded to review them while scrolling through my feed. @ACRSimpleTasks is another great account to follow to raise awareness about rheumatic diseases.
The platform also makes it easy for me to retweet posts to share with my followers. Digital versions of the articles in The Rheumatologist are posted via links on the account as well.
Paul Sufka, MD (@psufka), a social media ninja and rheumatologist in Minnesota, coordinates a Rheumatology Journal Club once a month on Twitter (@RheumJC). This is a great place to discuss papers with others in the field. The sessions are sometimes visited by authors of the papers being discussed, providing an extremely useful tool (literally) at our fingertips. At one session, we discussed our favorite abstracts from #ACR18.
The New England Journal of Medicine (@NEJM), JAMA (@JAMA_current), The Lancet (@TheLancet) and Nature (@Nature) represent the many journals on Twitter that make staying up to date with research easy and fun.
The Centers for Disease Control & Prevention (@CDCgov), the U.S. Food & Drug Administration (@US_FDA) and other government departments provide followers with the latest announcements and infographics. Twitter was actually the first place that informed me of the multistate E. coli O157:H7 outbreak underway caused by romaine lettuce consumption. I willingly excluded salads from my diet for a few weeks following that announcement.
Participating in scheduled chats hosted on Twitter has been one of the most enriching parts of becoming a citizen of the Twitterverse. I usually participate in the Sunday evening #WomenInMedicine chat (@WomenInMedChat). This chat connects me with women in medicine from all over the world, offering a forum to discuss issues we face in medicine and medical education. The chats are well organized and cover an array of topics, including relationships and #QuestionsIveBeenAskedAsAWoman at the workplace. I've found the conversations invigorating and thought provoking. From the chat, I have discovered the Twitter accounts of many other inspiring women who are blazing their own trails. At the end of the chat sessions, I usually feel refreshed and ready to take on the workweek with renewed motivation. Not only is it a good learning opportunity, but it's also a tremendous way to avoid burnout.
Participating in scheduled chats hosted on Twitter has been one of the most enriching parts of becoming a citizen of the Twitterverse.
Speaking about your area of expertise and learning from experts in your area of interest has never been more accessible. By following specific hashtags, including #MedEd and #MedTwitter, you can personalize your feed to what piques your interest.
ACR Government Affairs Committee Chair Angus Worthing, MD, FACR, FACP (@AngusWorthing), brings patient advocacy straight to our screens. He efficiently uses the portal to keep us informed of pending legislation and provides us with opportunities to get involved. It is a great way for anyone interested in advocacy to take baby steps forward.
Founder of the #SpoonieChat, Dawn Gibson (@DawnMGibson), is another great person to follow. Spoonie can refer to any individual who suffers from a chronic disease or invisible disability. Ms. Gibson moderates a weekly chat. Reading the spoon theory helped me better understand how difficult chronic disease and pain can be. #Spoonies have inspired me to reflect on my own life and to be choosy with where I spend my spoons. Being there for people who are suffering from similar diseases as my patients has helped me gain perspective.
A Few Rules
I refrain from giving medical advice on social media, but I can answer and provide general information. Patient advocacy and safety are always the priority, and I urge budding rheumatologists to become active participants: We are the future of the field.
With the age of free open access medical education (#FOAMed) comes more responsibility as we disperse information at the click of a button. #SoMeDocs should take a pledge to make sure the information published remains high quality and accurate, because it can have a huge impact on others.
Always use #SoMe with care and caution. Social media platforms are public. Your page can be viewed by your patients, family, boss, co-workers and students. If you choose to maintain a public account, I would recommend reviewing your institution's policies. Read the American Medical Association's recommendations and the U.S. Department of Health and Human Services checklist for professional social media usage. The Health Insurance and Probability and Accountability Act applies to social media just as much as it applies to any work setting.
If you don't want your account to be public, make sure you have taken the necessary steps to change your privacy settings.
So to follow or not to follow? You decide.
---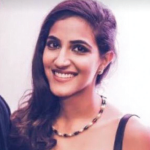 Kanika Monga, MD (@DrKanikaMonga), is a first-year rheumatology fellow at the University of Texas Health Science Center, Houston. She is a member of the Gold Humanism Honor Society and received an AMA leadership award.