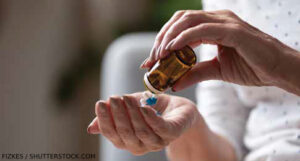 PHILADELPHIA—Amy Gietzen started feeling the pain when she was 19. Her forearms, elbows, wrists and fingers were constantly swollen and sensitive. Six months later, she saw a doctor and was diagnosed with systemic diffuse scleroderma—a particularly hard-to-manage rheumatic disease with wide-ranging effects.
You Might Also Like
Explore This Issue
January 2023
Also By This Author
Ms. Gietzen, who spoke at ACR Convergence 2022 and is a public speaker, patient advocate and writer, gave testimony on the profound life change that the disease wrought and about the transformation that can happen with well-executed collaborative care. She and two other people with rheumatic diseases shared their experience and the avenues they've found to cope—and that have, along the way, boosted others as well.
ADVERTISEMENT
SCROLL TO CONTINUE
After her diagnosis, Ms. Gietzen, who lives in Buffalo, was soon diagnosed with interstitial lung disease, hypertension and heart complications.
"My skin became hard and tight, my hands contracted inward, causing fingertip sores and ulcerations, which ultimately led to me having some self-amputations of my fingertips," she said. "My experience with doctors, more specifically scleroderma specialists, were extremely limited locally.
ADVERTISEMENT
SCROLL TO CONTINUE
"I felt lost and almost out of control, like my disease was overtaking my body, like I couldn't catch a break," she added.
Finding a Care Team
Her eyes opened, she said, when she was asked in 2016 to participate in a patient-centric interprofessional event (IPE) through the Ann Steffens Scleroderma Foundation in which patients would help educate an array of medical professionals—nurses, pharmacists, physical therapists—about scleroderma. This kind of team was what she'd been yearning for.
Eventually, she managed to find a scleroderma collaborative care team of her own.
"Once I did that, it felt like I was coming home—it changed the trajectory of disease," said Ms. Gietzen, who writes a column about her experiences called "Staying Alive with Scleroderma."
In 2019, she had a heart event and needed an implantable cardioverter defibrillator.
"As time passed, my symptoms were monitored by highly trained scleroderma professionals," she said. "They provided continual communication through multiple doctor assessments, offering a keen sense of security."
This approach, she said, "gave me complete confidence in my team and it allowed me to take an active role, which boosted my confidence even more."
She said she felt a deep sense of renewal once her care became comprehensive and open to her input and involvement.
"Finding my care team gave me hope," she said, "that there is a way to gain back the life that scleroderma took from me, that I can take an active role in decision making, that I can take my control back."
Learning Self-Advocacy at Camp
Kaye Anderson, a student at University of Wisconsin, River Falls, who was diagnosed with juvenile idiopathic arthritis at age 10, said an Arthritis Foundation camp helped her to be her own advocate.
The camp, at which Ms. Anderson has now been a counselor for three years, is similar to other summer camps, but with more accommodations, such as wheelchairs available in case of flares and medical professionals on hand to help with disease management and treatment, and with educational activities useful for children wrestling with the disease.
The camp's Seeds program, for example, focuses on self-advocacy and self-management. Children also learn about nutrition and low-impact exercise.
"I am so grateful for camp; it has taught me so many different advocacy skills," said Ms. Anderson, who confessed that, at first, she was reluctant to attend the camp.
She has continued to develop those skills and they have helped her with her care, she said.
"The last few years, I've been struggling with pretty debilitating fatigue and nausea. And it took a long time for me to figure out how to appropriately say that to my rheumatologist in words they understood, so they [would] understood the severity of it."
At one appointment, she needed to mention her fatigue three times, finally saying, "This fatigue is not manageable right now. I cannot keep functioning like this.' And finally they understood."
"I don't think I would have had that ability to keep talking to them and keep bringing that up without camp." She also credits the camp with helping her understand that, sometimes, her message doesn't get across on the first try.
Ms. Anderson is also a peer mentor at her university, helping first-year students navigate their conditions in their new setting.
"Once I was able to figure out how to use my story to help other people, and recognize how I could communicate with other people, that was really beneficial."
Sense of Humor Is Vital
In 2018, 20-year-old college student Catherine Ames was performing in the romantic comedy musical Crazy for You by George Gershwin. Her performance was nominated for a Kennedy Center award, but she couldn't attend the awards competition. She'd been having pain, fatigue and muscle soreness, and "in the span of a few months, my health fell apart—I had too many symptoms to count."
Ms. Ames, then at Bucknell University and now at the University of Southern California, was diagnosed with lupus, postural orthostatic tachycardia syndrome, fibromyalgia, chronic migraine and more.
As she dealt with eight hospital stays, 15 emergency department visits and "crippling, chronic pain," she found that a sense of humor was vital to "keep fighting to find treatment and to get me back to college."
Taking a cue from the Carrie Bradshaw character in Sex and the City—"She had this way of making fun of herself that utilized humor but didn't minimize her own emotions," Ms. Ames said—she started writing online for The Daily Trojan about her experience with chronic illness in a funny and clever student newspaper column she called "Chronically Catherine."
A recent column was a mock letter to Merriam-Webster saying she found their definition of chronic unsatisfactory and offering a new one, including "procrastinating showering by lying on the floor and scrolling through dog videos while in your towel because showering is utterly exhausting," and "having the same pair of pants in three different sizes because you never know if your new medication's side effects will result in weight gain or weight loss."
The amount of email responses, including notes of thanks from others with chronic illness, offers of friendship and television interview invites, has surprised her, she said. Finding her voice through writing led to a sense of empowerment in her medical care, she said.
"When I'm struggling with anxiety and depression, referring back to old columns, where I found hope or humor or resolution, reminds me that I can get back to that place again," she said.
She sprinkled jokes throughout her talk. While sharing photos taken during treatment, she described one of them as her "looking super cute and flirty with all my bruised injection sites and five failed IV sites. I took that picture because I figured it was an enticing sight for eligible bachelors."
But she also shed tears as she shared a photo of herself performing in Crazy for You, saying that was the last time she'd been in Pennsylvania before ACR Convergence 2022. In 2018, she flew home to San Diego out of the Philadelphia airport "thinking I'd be back here six months later to finish my senior year."
"Today I'm here for the first time in five years, a totally different person, physically and emotionally, but all the better for it," Ms. Ames said. "Today I'm in Philly with a new purpose and a new story."
---
Thomas Collins is a freelance medical writer based in Florida.