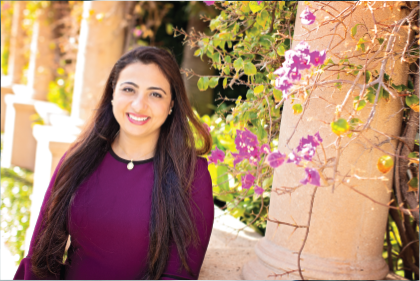 When Reshma Khan, MD, a rheumatologist at the Family Arthritis Center, Jupiter, Fla., relocated from Michigan three-and-a-half years ago, she missed the camaraderie and friendships she'd made in Michigan.
You Might Also Like
Explore This Issue
July 2019
Also By This Author
"I'm a very social person, and after finishing my research, residency and fellowship in Michigan, I missed those close friendships [when I moved to Florida]," Dr. Khan says. She decided to take action to remedy the situation.
ADVERTISEMENT
SCROLL TO CONTINUE
In December 2015, Dr. Khan invited 10 women rheumatologists to join a Facebook group (Women Rheumatologists Group; WRG) where members could share expertise, network, get input on difficult cases and empower each other in their careers.
"We're living in an era of technology, and as physicians, I think it's important that we use technology efficiently," Dr. Khan says. "In our Facebook group, we can ask general questions about cases without identifying patients and discuss current news related to the rheumatology field."
ADVERTISEMENT
SCROLL TO CONTINUE
Dr. Khan says members have also used the group to post job openings when they're looking to add a rheumatologist to their practice, look for a job opening when a member is moving and help patients locate a new rheumatologist when they're moving out of state.
"It's a grassroots organization that has grown organically," Dr. Khan says. "We celebrated our third anniversary as a group this past December, and now have 790 members from across the United States and in 17 countries around the world."
A Place to Connect
Dr. Khan says it's not unusual for rheumatologists to use the Facebook group as a sounding board, whether they are relocating to a new area and seeking salary and housing information or seeking empathy after a longtime patient dies.
ADVERTISEMENT
SCROLL TO CONTINUE
"The group is nonjudgmental, and if someone loses a patient or has a bad outcome, they know others in the group will be able to relate and offer empathy," Dr. Khan says.
Although the group is online, it hosted a dinner at the 2018 ACR/ARHP Annual Meeting and had 50 members in attendance.
"Currently, our group serves rheumatologists who are finishing their fellowships or are well into their careers," Dr. Khan says. "In the future, we'd like to look at mentoring residents and encouraging medical students to consider a career in rheumatology to help with the projected shortage of specialists."
Dr. Khan says one of the most valuable components of the group interface is the ability for members to go online and use specific keywords to search for information on difficult rheumatic conditions.
"It's easy to get a quick consult from a fellow rheumatologist and to learn their specific treatment plan for a certain condition," Dr. Khan says. "There may be a treat-to-target plan that one doctor has found works well, and the group offers them the chance to share best practices with their colleagues."
Road to Rheumatology
Dr. Khan's own path to rheumatology was initially inspired by her father.
"Growing up in India, I would often watch my father, who was a veterinarian, care for animals," Dr. Khan says. "I knew I wanted to practice medicine, but as a physician. I thought I would pursue a career as an internist."
That changed while Dr. Khan was completing medical school at the Government Medical College of Surat, India. After attending a lecture on rheumatology, she was intrigued and knew she had found her specialty area.
"The idea of having long-term relationships with patients really appealed to me, as well as working with patients to determine the best treatment plan to manage their condition," Dr. Khan says. "My grandma, Ba, had arthritis and although she died shortly after I finished medical school, I treat every patient as I would treat my Ba. She made me a better rheumatologist."
Often, Dr. Khan finds the best way to help her patients is through listening. Many of her patients are women who have specific concerns and questions about such issues as how to manage pregnancy and motherhood with a rheumatic disease.
"It's not unusual for my patients to inquire about my son (8) and my daughter (2), and to ask if they can see recent photos," Dr. Khan says. "We'll talk about families, and that often leads to questions about whether it's safe to take medication while pregnant or how perimenopause might affect their condition."
I often refer patients to my blog if they want more information on a certain subject, such as osteoarthritis, that's presented in an easy-to-read manner.' —Reshma Khan, MD
Launching a Physician Blog
An avid reader who also enjoys writing, Dr. Khan started a blog several years ago.
"There's a lot of fear and misconception out there when it comes to rheumatic diseases," says Dr. Khan. "I often refer patients to my blog if they want more information on a certain subject, such as osteoarthritis, that's presented in an easy-to-read manner."
Some of her recent blog posts include how autoimmune diseases, such as lupus, affect women differently than men, foods that help keep bones healthy and information on rheumatoid arthritis (RA) and osteoarthritis.
Although Dr. Khan is currently in the process of revamping her website and blog, she attempts to post on a monthly basis and to address common patient questions.
"My passion is helping patients with complex rheumatic conditions, such as RA and lupus," Dr. Khan says. "If I can help them manage their disease effectively and live their best life, that's very empowering."
---
Linda Childers is a health writer located in the San Francisco Bay Area.