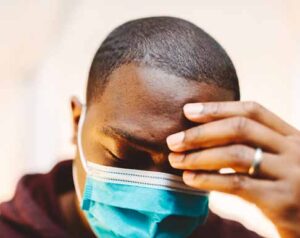 The COVID-19 pandemic exacerbated wide disparities that exist in the U.S. healthcare system. During the pandemic, the clinical practice in the Section of Rheumatology, Allergy & Immunology at Yale School of Medicine (YSM), New Haven, Conn., rapidly pivoted from face-to-face visits to telehealth to keep our patients and providers safe. Many patients quickly adapted and were thankful to still be able to see their doctors, discuss their fears and talk about disease management during the pandemic.
However, glaring disparities in access to care for minority and underserved populations also became apparent; access to telehealth was dependent on having adequate technological tools and Wi-Fi services. Lack of public transportation made it difficult to keep appointments and complete necessary blood tests. Language barriers and difficulty in adding interpreter services to telehealth visits compounded communication issues. Many patients became primary caregivers for family members, and young families struggled with meeting educational goals with school cancellations.
ADVERTISEMENT
SCROLL TO CONTINUE
The Need Defined
Lenore Buckley, MD, MPH, professor of medicine (rheumatology and pediatrics) and former clinical chief for Yale's Rheumatology, Allergy & Immunology section, is no stranger to challenges in delivering rheumatologic care. After arriving at YSM in 2013, Dr. Buckley noticed that other medical school departments had a presence at a nearby community health clinic, the Cornell Scott Hill Health Center (CSHHC). Dr. Buckley initially questioned whether it was necessary to treat patients at a clinic less than a mile from Yale New Haven Hospital, where people who are uninsured or receive Medicaid are also treated.
She soon determined it was. Many of the people Dr. Buckley treats at the clinic do not have adequate health insurance—or any insurance at all. Some are recent immigrants. Most have complex social, financial, and personal situations, and need assistance navigating the healthcare system. Dr. Buckley realized that for these patients, the CSHHC feels welcoming, with employees who speak to them in Spanish, and is less intimidating than a large hospital. Two years after helping institute the program, Dr. Buckley began seeing patients weekly at the clinic.
ADVERTISEMENT
SCROLL TO CONTINUE
About the Clinic
The CSHHC was founded in 1968 and is the first community healthcare center in Connecticut. It serves about 35,000 people from Greater New Haven and a nearby region known as the Lower Naugatuck Valley. Of its patients, 38% are Latinx, 34% are Black, and 44% are white. The center provides primary care, dental services, dia­betes prevention and education, as well as special programs such as HIV/AIDS outreach, education and treatment; medication-
assisted treatment for people with opioid use disorder; and a pharmacy that offers most drugs at significant discounts.
'We are teaching our fellows the ideal way to treat patients given the medical literature & guidelines, & then how to adjust that treatment for patient preferences & comorbidities. But we also have to adjust treatment around a patient's social situation and the barriers that they're going to experience when we try to implement the treatment plan.' —Dr. Buckley
Patients at the health center previously did not have access to a rheumatologist, a critical issue in the New Haven region with its large minority, underinsured population. The clinic now also offers specialty care, including an eye clinic, podiatry, otolaryngology, orthopedics, neurology, gastroenterology, dermatology, urology and gynecology.
"Patients can get services at the clinic without referrals to hospital buildings that might be hard to get to, and without the intimidation of walking into places where you don't speak the language," Dr. Buckley says. "Cornell Scott Hill Health Center is a place where people who don't have cars or transportation can walk or easily take the bus."
The health center also offers behavioral and mental health services. "When behavioral and mental health issues get in the way of medical care, which they often do, that can be very challenging within an academic health system because we're so large and complex," Dr. Buckley adds.
However, there are still significant hurdles in clinical care. Her patients do not necessarily understand the importance of early treatment for rheumatoid arthritis, lupus, and other inflammatory diseases in averting crippling disability, and even death.
Patient Perspective
Noemi Torres, 42, first received care at Cornell Scott Hill Health Center about 20 years ago when she was pregnant with her first child. Ms. Torres has continued to use the clinic's services for herself and her children.
"It's been convenient," Ms. Torres says. "I can walk in, and they take care of me right away. When I feel sick, I don't go to the emergency room because that can take up my whole day; I go to the walk-in clinic instead."
Two years ago, Ms. Torres began to experience pain in her joints. At first, she thought she was tired from working the overnight shift as a custodian, but when the pain worsened, she called the clinic and was seen by Dr. Buckley, who diagnosed Ms. Torres with lupus.
For Ms. Torres, the health center is a place where she has received convenient access to care, including the timely diagnosis of a chronic illness, and an individualized healthcare plan.
Ms. Torres, who has insurance, relies on the clinic for the blood work and prescriptions for the medications she needs to treat her illness. She sees Dr. Buckley for critical follow-up appointments and has managed to keep her disease from flaring.
"I feel fine," Ms. Torres says, "not 100% good, but I feel better so I can do my work, all my chores, exercise and continue with my life. I understand lupus is a disease I will live with forever, but I appreciate my doctor so much because she is there for me."
Challenges
There are challenges to working at the health center and to training new or young rheumatologists there, an important consideration for an academic medical center such as YSM, Dr. Buckley says.
"You have to see patients more quickly. You need to make decisions quickly,"
she says.
"I do think it's a good place to train fellows so they understand the barriers to care in that setting, compared to other clinical sites where people have better insurance that covers their medications and medical care, and a car for transportation.
"We are teaching our fellows the ideal way to treat patients given the medical literature and guidelines, and then how to adjust that treatment for patient preferences and comorbidities. But we also have to adjust treatment around a patient's social situation and the barriers that they're going to experience when we try to implement the treatment plan. That can get challenging," she says.
"For example, do I stop medication and let Mr. Smith's rheumatoid arthritis flare because he didn't complete the monitoring laboratory testing on time, knowing that his family depends on the income from his landscaping job? What are the health risks of a missed blood test vs. the risks of joint damage and the financial impact of lost work on the patient and family? These are difficult questions, and you have to make these decisions quickly."
Critical Access to Care
CSHHC has relationships with other federally qualified community health centers in the New Haven region, including one in Bridgeport where there's a large immigrant population. One of the first patients Dr. Buckley saw at the health center was a woman in her early 20s who had lived in the area since childhood.
"Her family came to the U.S. but was not documented. She was educated here, attended community college and worked a full-time job, but neither she nor her parents had ever gotten health insurance," Dr. Buckley says.
The young woman had scleroderma. She was diagnosed at the local hospital and referred to a resident-teaching clinic that offers care to people without insurance. "General medicine residents wouldn't know how to treat this rare condition," Dr. Buckley says. After two visits, the young woman did not return for follow-up care.
"Many rheumatic diseases impact young people who are at critical points in their illness where lack of treatment will lead to permanent damage. At the same time, their organizational skills and judgment have not fully formed, and they may have significant financial, social, and transportation barriers that interfere with care," Dr. Buckley says. "Many patients don't really understand what's at stake in terms of their future health if they miss care."
During the period when the young woman did not return for her follow-up appointments, she developed myocardial fibrosis. "She was unaware of this until her heart function dropped so significantly that when she got on the train every day to commute into New York City for work, she found she was very short of breath when she was walking," Dr. Buckley says.
The woman was later seen at the community health center in Bridgeport, which referred her to the CSHHC and Dr. Buckley. But her illness was too far advanced. She didn't survive, dying a year later.
"It really brought home to me this issue of access, especially for people who are uninsured," Dr. Buckley says.
The CSHHC is a critical resource for our community in other ways as well, says Lisa G. Suter, MD, professor (rheumatology) and vice chair for diversity, equity and inclusion in the Section of Rheumatology, Allergy and Immunology at YSM.
"Healthcare disparities are influenced by many social determinants of health—insurance and transportation access to name two—and often arise from the ways systemic racism impacts our healthcare system and society," says Dr. Suter. "By seeing the patient as a whole person and reflecting upon the community in which the patient lives, the Cornell Scott Hill Health Center helps reduce disparities in clinical outcomes. Not only does it rally resources to address patients' limited transportation or insurance, but the clinic has a diverse staff, ensuring patients are more likely to see similar faces when they meet with their clinician. The clinic also is an active leader in the community, including COVID-19 vaccination efforts."
Bottom Line
Working alongside a team of nurses, physician assistants, nurse practitioners and other specialists from CSHHC creates a camaraderie that helps Dr. Buckley cope with challenging cases, she says. "I think the personal relationships among the healthcare providers, the nurses and doctors who know each other really well, is a good thing. It creates bonds that are very good for the patients as well as the people who work there." Also, nursing staff are adept in assisting uninsured patients obtain certain biologic therapy through patient assistance programs.
As she has matured in her career, Dr. Buckley has learned to accept that she cannot cure all of her patients, especially people who are medically underserved and have limited resources.
"Rheumatologists can do so much more to control rheumatic diseases like rheumatoid arthritis and lupus than they could at the beginning of my career, but sometimes we care for patients with serious inflammatory illnesses whose social and financial situations prevent them from receiving the right treatment at the right time," she says. "The trainees struggle with this, as do the faculty, but after years of caring for people coming from all walks of life, we know that we're not going to get every patient to the best outcome," Dr. Buckley says.
"Community health centers are so important because they offer accessibility and the wrap-around services that allow us to get the best care possible to more people early in their illness."
---
Vaidehi R. Chowdhary, MD, is an associate professor and the clinical chief of the Section of Rheumatology, Allergy & Immunology, Department of Internal Medicine, Yale School of Medicine, New Haven, Conn.
Jane E. Dee, BA, MALS, is a communications specialist in the Department of Internal Medicine, Yale School of Medicine, New Haven, Conn.