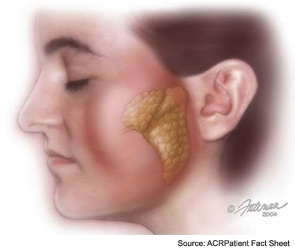 A swollen and inflamed parotid gland.
Sjögren's syndrome is an inflammatory disease that can affect many different parts of the body, but most often affects the tear and saliva glands. Patients with this condition may notice irritation, a gritty feeling, or painful burning in the eyes. Dry mouth (or difficulty eating dry foods) and swelling of the glands around the face and neck are also common. Some patients experience dryness in the nasal passages, throat, vagina, and skin. Swallowing difficulty and symptoms of acid reflux are also common.
You Might Also Like
Explore This Issue
July 2012
Also By This Author
"Primary" Sjögren's syndrome occurs in people with no other rheumatologic disease. "Secondary" Sjögren's occurs in people who have another rheumatologic disease, most often systemic lupus erythematosus and rheumatoid arthritis.
ADVERTISEMENT
SCROLL TO CONTINUE
Most of the complications of Sjögren's syndrome occur because of decreased tears and saliva. Patients with dry eyes are at increased risk for infections around the eye and may have damage to the cornea. Dry mouth may cause an increase in dental decay, gingivitis (gum inflammation), and oral yeast infections (thrush) that may cause pain and burning. Some patients have episodes of painful swelling in the saliva glands around the face.
Complications in other parts of the body can occur. Pain and stiffness in the joints with mild swelling may occur in some patients, even in those without rheumatoid arthritis or lupus. Rashes on the arms and legs related to inflammation in small blood vessels (vasculitis) and inflammation in the lungs, liver, and kidney may occur rarely and be difficult to diagnose. Numbness, tingling, and weakness also have been described in some patients.
ADVERTISEMENT
SCROLL TO CONTINUE
Source: Excerpted from "Sjögren's Syndrome," by Christopher Wise, MD.
To download the complete fact sheet, visit www.rheumatology.org and click on "Patient Resources" under "Popular Content."