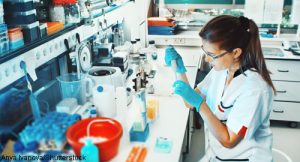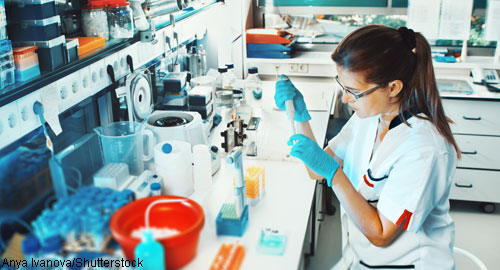 Protein convertase subtilisin/kexin type 9 (PCSK9) inhibitors safely lowered cholesterol in a small group of patients with statin-associated immune-mediated necrotizing myopathy, according to Lisa Christopher-Stine, MD, MPH, Division of Rheumatology, Department of Medicine, Johns Hopkins University School of Medicine, Baltimore, and co-author of a brief report in Arthritis & Rheumatology.1
You Might Also Like
Also By This Author
Often, treating high cholesterol in patients with statin-associated immune-mediated necrotizing myopathy is challenging because these patients have a high cardiovascular risk, the study authors write. Statins lower cholesterol by inhibiting 3-hydroxy-3-methylglutaryl coenzyme A (HMGCR). In rare cases, immune-mediated necrotizing myopathy can develop. The condition is associated with proximal muscle weakness, higher creatinine kinase levels and autoantibodies recognizing HMGCR.
ADVERTISEMENT
SCROLL TO CONTINUE
"Because statins are known to upregulate HMGCR expression, it has been proposed that the overexpression of HMGCR may play a role in breaking tolerance and initiating autoimmunity," write the authors. Although patients who develop statin-associated immune-mediated necrotizing myopoathy can be treated by stopping the statin and starting immunosuppressive therapy, statin reintroduction may lead to disease flares.
Given the availability of PCSK9 inhibitors, researchers wanted to find out if this drug class could help patients with immune-mediated necrotizing myopathy.
ADVERTISEMENT
SCROLL TO CONTINUE
The study included patients who were part of the longitudinal cohort of the Johns Hopkins Myositis Center, Baltimore. Among the 122 patients with immune-mediated necrotizing myopathy associated with anti-HMGCR autoantibodies in the cohort, eight patients with severe cardiovascular disease and/or diabetes were using PCSK9 inhibitors for hyperlipidemia. Researchers evaluated arm abduction and hip flexion strength and assessed serum creatine kinase, data that were available from the most proximal visits before and after the initiation of PCSK9 inhibitors. The patients' mean age at the start of PCSK9 use was 69.75 years, and the mean duration of statin-associated HMGCR myositis was seven years. The mean follow-up duration on PCSK9 inhibitors was 18 months, with a range of three to 37 months.
Seven of the eight patients, except one, were on a stable dose of immunosuppressive agents. Five patients were using evolocumab, and three used alirocumab.
The mean serum creatine kinase level before initiation of PCSK9 inhibitors was 956 IU/L, which lowered to 876 IU/L at the next follow up. At the final evaluation, the mean creatinine kinase had lowered to 419 IU/L. No decrease in hip flexion or arm abductor muscle strength was seen in all but one patient. That one patient was not using immunosuppressive treatment due to nonadherence.
ADVERTISEMENT
SCROLL TO CONTINUE
One patient using PCSK9 inhibitors showed improvement of his creatine kinase and muscle strength without additional immunosuppressive agents. Another one was able to taper their prednisone monotherapy from 70 mg to 4 mg.
"Although the mechanism underlying improvement remains unclear, we postulate the PCSK9 inhibitors may ameliorate autoimmunity in these patients by reducing HMGCR levels," write the study's researchers.
A Closer Look
Testing for anti-HMGCR autoantibodies enabled researchers to find this rare group of patients who seem to develop autoimmune necrotizing myopathy after exposure to statins, Dr. Christopher-Stine says.
"We were pleased to see that patients not only had excellent efficacy with regard to cholesterol reduction with the drug, [but] they also tolerated the drug well and there was no obvious exacerabation of their underlying myopathy with the use of this new class of cholesterol medications," she says.
Dr. Christopher-Stine is also pleased that patients who may experience a potentially devastating side effect related to statin exposure may have the chance to effectively reduce their cholesterol with PCSK9 inhibitors as an alternative.
Anca D. Askanase, MD, MPH, director and founder, Columbia University Lupus Center, and associate professor of medicine, Division of Rheumatology, Columbia University Irving Medical Center, New York, thinks the findings are positive. "These data are intriguing and provide encouraging evidence for the more extensive use of PCSK9 inhibitors in high-risk patients," she says.
Dr. Christopher-Stine and fellow researchers plan to further explore the use of PCSK9 inhibitors in this patient group. "We are also interested in those patients who require cholesterol reduction and have these autoantibodies but are statin naive. It will be important to determine whether these patients are equally able to tolerate this class of drugs, which we would expect to be true," she says.
---
Vanessa Caceres is a medical writer in Bradenton, Fla.
Reference
Tiniakou E, Rivera E, Mammen AL, Christopher-Stine L. Use of proprotein convertase subtilisin/kexin type 9 (PCSK9) inhibitors in statin-associated, immune-mediated necrotizing myopathy: A case-series. Arthritis Rheumatol. 2019 Oct;71(10):1723–1726.