Pain in RA
Transdermal Fentanyl for Treating Pain in RA
Berliner MN, Giesecke T, Bornhövd KD. Impact of transdermal fentanyl on quality of life in rheumatoid arthritis. Clin J Pain. 2007;23:530-534.
You Might Also Like
Explore This Issue
September 2007
Also By This Author
Abstract
Objectives: The purpose of the study was to investigate the effectiveness and tolerability of transdermal fentanyl in a treatment regimen in patients with RA.
ADVERTISEMENT
SCROLL TO CONTINUE
Methods: Two hundred twenty-six patients (mean age 66) with severe pain caused by RA who had not previously been treated with transdermal fentanyl were included in this prospective, open-label study. Pain intensity, functional impairment, and well-being were documented prospectively for 30 days after treatment with transdermal fentanyl had been initiated. Patients evaluated pain on an 11-point numerical rating scale. Quality of sleep, daily and social functioning, and treatment satisfaction were rated using 5-point categorical rating scales. General well-being was assessed by the Marburg questionnaire.
Results: Adding transdermal fentanyl to the ongoing RA therapy reduced pain intensity significantly from 8.0 (7.82 to 8.18) to 4.0 (3.75 to 4.25). Mean functional impairment due to pain also decreased significantly from "severe" at the beginning to "mild to moderate." Treatment with transdermal fentanyl also led to a significant improvement by approximately 1.5 units for all items in the Marburg questionnaire on general well-being. At the end of the study, nearly all patients were satisfied with the pain treatment. Transdermal fentanyl was generally well tolerated. The most frequent side effects were nausea (9.7%) and vomiting (7.1%).
ADVERTISEMENT
SCROLL TO CONTINUE
Discussion: Patients with pain caused by RA improved in terms of pain intensity, sleep, function, and general well-being when transdermal fentanyl was added to the treatment regimen. Treatment satisfaction was high. Transdermal fentanyl also demonstrated good tolerability over a period of 30 days.
Commentary
Pain is a common symptom in RA, and many of those affected experience severe pain. Other common issues include sleep disturbance, activity impairment, and a decreased sense of well-being. The purpose of the study was to determine the effectiveness of transdermal fentanyl for reducing pain intensity and functional impairment and increasing feelings of well-being. Transdermal fentanyl continuously delivers fentanyl, a synthetic narcotic, through a patch applied to the upper torso; the patch is changed every 72 hours. While the dose varies with the individual, the generalized base recommended for all individuals as they begin treatment is 25 µg per hour (equivalent to approximately 2.5 mg of morphine/hour). This base dose can be raised by 25 µg per hour every 72 hours as needed, with recognition that 12 to 24 hours is required to reach peak plasma concentration and up to a week is needed to reach steady-state levels.1
Opioids are increasingly used to treat chronic pain. They offer a viable option for many patients who either have side effects (e.g., gastrointestinal upset and kidney damage) associated with the use of nonsteroidal antiinflammatories (NSAIDs) or are not attaining a level of relief that supports a desirable level of function. In some cases, opioids may be combined with an NSAID or a disease-modifying antirheumatic drug (DMARD) for treatment.
ADVERTISEMENT
SCROLL TO CONTINUE
The open-label study reviewed here was conducted with 226 patients from 55 private practices in Germany. All participants had a diagnosis of RA as defined by the ACR criteria. Their initial pain rating was 6 or greater on an 11-point scale; none had been previously treated with transdermal fentanyl, but 38 were taking another opioid. Transdermal fentanyl was started at 25 µg/h in 192 patients (85%), 50 µg/h in 33 patients (14.5%), and 75 µg/h in one patient, and 180 (80%) completed the study protocol.
Patients stopped taking other opiods prior to entering the study but continued other pharmacological (e.g., glucocorticoids, NSAIDs, and methotrexate) and nonpharmacological therapy (e.g., exercise).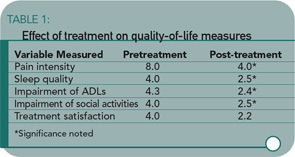 click for large version
The study results showed significant improvement in pain intensity, sleep quality, activities, treatment satisfaction, and perceived general well-being. All variables other than pain intensity were measured on 5-point scales. (See Table 1)
There were a total of 75 adverse events in 39 (17%) of the patients. The most common were nausea (22%) and vomiting (16%). Few (1.3%) experienced constipation, which is generally acknowledged as an issue related to the use of opioids.2
About half of the sample (58%) agreed to be contacted at the end of six and 12 months to determine whether the initial study findings remained stable. The mean dose of fentanyl for this subgroup had increased from 28.8 µg/h at the end of 30 days to 49.1 µg/h at the end of 12 months. With this moderate increase in dose, all of the findings remained stable.
The study's findings do indicate that transdermal fentanyl might be given consideration for pain management, as well as management of other symptoms (e.g., sleep quality and function) and of overall quality of life (e.g., coping with daily demands and feeling content). This is in keeping with the American Pain Society's recommendation that "Opioids should be used for patients with OA and RA when other medications and nonpharmacologic interventions produce inadequate pain relief and the patient's quality of life is affected by the pain."2
While a controlled study is needed with RA patients to make more definitive recommendations, these results suggest that transdermal fentanyl should be considered as a treatment option for RA patients who are not experiencing a reduction in pain intensity to allow participation in daily and social activities. Providers should remember that the effectiveness of opioids varies with the individual and the type of opioid, as well as the dose. Furthermore, some time may be necessary to establish the best treatment plan. An attractive feature of transdermal fentanyl is that it can used in combination with other agents.
References:
Auret K, Schug, SA. Underutilisation of opioids in elderly patients with chronic pan: approaches to correcting the problem. Drugs Aging. 1998;22:641-654.