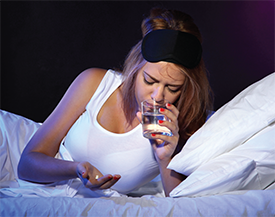 You Might Also Like
Explore This Issue
June 2015
Also By This Author
Sleep disturbance is an important medical problem, requiring intervention, not simply to reduce latency to its onset, but to ensure achievement of the depth of sleep that has been documented to restore homeostasis and prevent the falls that are responsible for so much morbidity and mortality.1
ADVERTISEMENT
SCROLL TO CONTINUE
Sleep disturbance is present in 50% of people over age 54.2,3 It is associated with poor health, altered mood, depression, anxiety, fatigue, fibromyalgia, deficits in daytime functioning, impaired short-term memory, inability to concentrate, impaired attention and motor skills, reduced quality of life, impaired social and family functioning, and falls.3-17 Lack of deep sleep makes individuals clumsy, impairs function, reduces quality of life and increases not just the risk, but the actual frequency of falls.1,18-20
Sleep disorders turn healthy glucose tolerance to prediabetic states and increase inflammation, sympathetic nervous system activity and development of hypertension, hyperlipidemia and other cardiovascular risks.18,21-27 Disturbed sleep reduces time for restoration and increases the demand on stability-related physiological resources.5,28 Sleep is important to clear interstitial waste products from the adult brain and for maintenance of orthostatic cardiovascular control, including blood pressure and heart rate.29-31 Sleep disturbance compromise of the latter represents a major source of falls.
ADVERTISEMENT
SCROLL TO CONTINUE
Two parameters are important in assessing appropriate interventions for sleep disorders: hypnotic and sleep stage.32 The former, characterized by sleep latency, duration and awakenings, does not seem pertinent to resolution of fibromyalgia and chronic fatigue.33 It is the second parameter, limited time in Stage IV and REM sleep, that appears to be a driving factor, especially for fatigue and fibromyalgia.33-36 REM and Stage IV sleep are important for consolidation of memory and processing of affective cognition.37
So how do we ensure restoration of REM and Stage IV sleep, which are critical for the resolution of fatigue and fibromyalgia?33-36 Hypnotic agents (e.g., triazolam [Halcion], zolpidem [Ambien], temazepam [Restoril] and eszopiclone [Lunesta]) have documented efficacy in both restoration of Stage IV sleep and in the treatment of fibromyalgia.33,36,38 Davies et al reported resolution of "chronic widespread pain" with effective reintroduction of restorative sleep, and 50% of individuals treated with a hypnotic had not just slight improvement, but resolution of fibromyalgia.36,39
Have falls been associated with use of such hypnotics? Yes, but there is no evidence that hypnotic-attributed falls are actually more frequent than those that normally occur in sleep-deprived individuals. Hypnotics certainly represent less risk of adverse events than the disorder(s) for which they are used to treat. Restoration of normal sleep patterns suggests that the overall frequency of falls would be reduced. This is especially true for untreated individuals with fibromyalgia, 63% of whom have poor balance.40
ADVERTISEMENT
SCROLL TO CONTINUE
Treatment Obstacles
Some insurance companies ignore this evidence-based approach and promote or even insist on the use of lorazepam, Silenor, trazodone and Rozerem. Please note that the inconsistent (alternative trade and generic) naming is that used and promoted by the insurance company. Those medication alternatives appear as illogical as the above linguistic inconsistencies:
Fifty percent of individuals treated with a hypnotic had not just slight improvement, but resolution of fibromyalgia.
Antidepressants are illogical for treatment of sleep disorders, because they directly suppress REM sleep.37,41 Lorazepam is not even approved by the FDA for sleep. It is an antianxiety agent, a sedative—not a sleep-restoration agent. It dulls mentation and certainly does not restore Stage IV sleep.42 It decreases REM sleep and even eliminates Stage IV sleep.43-45 It actually impairs next-day functioning, the opposite of the effect desired in individuals with fibromyalgia.46
Silenor (doxepin) is a tricyclic antidepressant promoted for difficulty maintaining sleep, not for ensuring Stage IV depth of sleep.20 It had no effect on Stage IV sleep, and its use was discontinued in 10% of patients entered into a study of its use for primary insomnia because of increased liver enzymes, leukopenia and thrombocytopenia.20,47 It is contraindicated in the presence of sleep apnea, depression, diabetes and those receiving the ever-present (at least in patients afflicted with musculoskeletal disorders or GERD) gastroprotective agents.
Trazodone shares those caveats and is additionally contraindicated in individuals with heart disease or seizure disorders. Indeed, trazodone was found not to exceed placebo effect on sleep.38 It is actually indicated for depression, not as a sleep aid—despite its wide prescription for the latter.48 Sedation, dizziness and psychomotor impairments are major high-frequency side effects.49 Trazadone does not augment Stage IV or REM sleep.50 Mendelson noted the dearth of efficacy data, suggesting an unacceptable risk–benefit ratio with its use.49
Rozeron (ramelteon) has "no clinically meaningful effect on sleep architecture" or any subjective sleep measure.51,52 It actually decreases the percentage of time in Stage IV sleep.53
If we ignore the depressive effect of chronic pain, it still should be noted that depression is a contraindication to the medications promoted by insurance companies. Not only are the promoted drugs dangerous by themselves, but they complicate patient care and place patients at greater and unnecessary risk.
To Think About …
Should insurance company "protocols" not be held to the same standards as the peer-reviewed literature? What are the qualifications of those doctors and pharmacists who insurance companies allege as having established these protocols, the "lists of acceptable medications," and why do insurance companies appear so reticent to identify these "experts"? It seems obvious that there needs to at least be a dialogue, but how does one effectively communicate with insurance companies that don't even have the courtesy to respond?
---

Bruce Rothschild, MD, is professor of medicine at Northeast Ohio Medical University and provides rheumatology services at the Indiana Regional Medical Center. He is a Fellow of the American College of Physicians, the ACR and the Society of Skeletal Radiology and was elected to the International Skeletal Society. He has been recognized for his research in musculoskeletal disease, but fundamentally remains a clinical rheumatologist seeking to remove impediments to the provision of quality care to the patients we serve.
References
Roth T, Ancoli-Israel S. Daytime consequences and correlates of insomnia in the United States: Results of the 1991 National Sleep Foundation survey. Sleep. 1999 May 1;22 Suppl 2:S354-S358.
Crowley K. Sleep and sleep disorders in older adults. Neuropsychol Rev. 2011 Mar;21(1):41–53.
Prinz PN. Sleep and sleep disorders in older adults. J Clin Neurophysiol. 1995 Mar;12(2):139–146.
The International Classification of Sleep Disorders, 3rd ed. Darien, Ill. USA: American Academy of Sleep Medicine. 2014.
Carroll JE, Irwin MR, Merkin SS, et al. 2015. Sleep and multisystem biological risk: A population-based study. Plos One. 2015 Feb;10(2):e0118467. doi 10.1371/journal.pone.0118467.
Foley DJ, Monjan AA, Brown SL, et al. 1995. Sleep complaints among elderly patients: An epidemiologic study of three communities. Sleep. 1995 Jul;18(6):425–432.
Foley D, Ancoli-Israel S, Britz P, et al. Sleep disturbances and chronic disease in older adults: Results of the 2003 National Sleep Foundation Sleep in America survey. J Psychosom Res. 2004 May;56(5):497–502.
Giancardo L, Sanchez-Ferro A, Butterworth I, et al. Psycho­motor impairment detection via finger inter­actions with a computer keyboard during natural typing. Sci Rep. 2015 Apr 16;5:9678.
Haig-Ferguson A, Tucker P, Eaton N, et al. Memory and attention problems in children with chronic fatigue syndrome or myalgic encephalopathy. Arch Dis Child. 2009 Oct;94(10):757–762.
Jordan KM, Landis DA, Downey MC, et al. Chronic fatigue syndrome in children and adolescents: A review. J Adolesc Health. 1998 Jan;22(1):4–18.
Kawatani J, Mizuno K, Shiraishi S, et al. Cognitive dysfunction and mental fatigue in childhood chronic fatigue syndrome—A 6-month follow-up study. Brain Dev. 2011 Nov;33(10):832–841.
McCrae CS, Rowe MA, Tierney CG, et al. Sleep complaints, subjective and objective sleep patterns, health, psychological adjustments, and daytime functioning in community-dwelling older adults. J Gerontol B Psychol Sci Soc Sci. 2005 Jul;60(4):P182–P189.
Moline M, daCosta DiBonaventura M, Shah D, et al. Impact of middle-of-the-night awakenings on health status, activity impairment, and costs. Nat Sci Sleep. 2014 Jul 23;6:101–111.
Nijhof SL, Maijer K, Bleijenberg G, et al. Adolescent chronic fatigue syndrome: Prevalence, incidence, and morbidity. Pediatrics. 2011 May;127(5):e1169–e1175.
Spira AP. Being mindful of later-life sleep quality and its potential role in prevention. JAMA Intern Med. Apr 1;175(4):502–503.
Sulheim D, Fagermoen E, Siversten ØS, et al. Cognitive dysfunction in adolescents with chronic fatigue: A cross-sectional study. Arch Dis Child. 2015 Mar 19. doi: 10.1136/archdischild-2014-306764.
Vitiello MV, Moe KE, Prinz PN. Sleep complaints congregate with illness in older adults: Clinical research informed by and informing epidemiological studies of sleep. J Psychosomatic Res. 2002 Jul;53(1):555–559.
Miller K. Wake-up call: Getting a good night's sleep is more than a luxury—It's a matter of life and death. Discover. 2015 Apr;(4):55–59.
Hart RP, Morin CM, Best AM. Neuropsychological performance in elderly insomnia patients. Aging Neuro­psychology and Cognition. 1995 Oct;2(4):268–278.
Krystal AD, Durrence HH, Scharf M, et al. Efficacy and safety of doxepin 1 mg and 3 mg in a 12-week sleep laboratory and outpatient trial of elderly subjects with chronic primary insomnia. Sleep. 2010 Nov;33(11):1553–1561.
Irwin MR, Wang M, Ribeiro D, et al. Sleep loss activates cellular inflammatory signaling. Biol Psychiatry. 2008 Sep 15;64(6):538–540.
Knutson KL, Spiegel K, Penev P, et al. The metabolic consequences of sleep deprivation. Sleep Med Rev. 2007 Jun;11(3):163–178.
Spiegel K, Leproult R, van Cauter E. Impact of sleep debt on metabolic and endocrine function. Lancet. 1999 Oct 23;354(9188):1435–1439.
Vgontzas AN, Liao D, Bixler EO, et al. Insomnia with objective short sleep duration is associated with a high risk for hypertension. Sleep. 2009 Apr;34(4):491–497.
Ekstedt M, Akerstedt T, Söderström M. Microarousals during sleep are associated with increased levels of lipids, cortisol, and blood pressure. Psychosom Med. 2004 Nov–Dec;66(6):925–931.
Cappuccio FP, Cooper D, D'Elia L, et al. Sleep duration predicts cardiovascular outcomes: A systemic review and meta-analysis of prospective studies. Eur Heart J. 2011 Jun;32(12):1484–1492.
Suzuki E, Yorifuji T, Ueshima K, et al. Sleep duration, sleep quality and cardiovascular disease mortality among the elderly: A population-based cohort study. Prev Med. 2009 Aug–Sep;49(2–3):135–141.
McEwen BS. Sleep deprivation as a neurobiologic and physiologic stressor: Allostasis and allostatic load. Metabolism. 2006 Oct;55(10 Suppl 2):S20–S23.
Xie L, Kang H, Xu Q, et al. Sleep drives metabolite clearance from the adult brain. Science. 2013 Oct 18;343(6156):373–377.
Muenter NK, Watenpaugh DE, Wasmund WL, et al. Effect of sleep restriction on orthostatic cardio­vascular control in humans. J Appl Physiol (1985). 2000 Mar;88(3):966–972.
Carrington MJ, Trinder J. Blood pressure and heart rate during continuous experimental sleep fragmentation in healthy adults. Sleep. 2008 Dec;31(12):1701–1712.
Roth T, Zorick F, Sicklesteel J, et al. Effects of benzo­diazepines on sleep and wakefulness. Br J Clin Pharmacol. 1981;11:31S–35S.
Rothschild BM. Zolpidem efficacy in fibromyalgia. J Rheumatol. 1997 May;24(5):1012–1013.
Mork PJ, Nilsen TI. Sleep problems and risk of fibro­myalgia: Longitudinal data on an adult female population in Norway. Arthritis Rheum. 2012 Jan;64(1):281–284.
Thomas RJ. Sleep as a window into the world of fibromyalgia syndrome. J Rheumatol. 2011 Dec;38(12):2499–2500.
Rothschild BM, Vu J. Retrospective assessment of fibromyalgia therapeusis. Comp Ther. 1994;20(10):545–549.
Thase ME. Depression and sleep: Pathophysiology and treatment. Dialogues Clin Neurosci. 2006;8(2):217–226.
Walsh JK, Erman M, Erwin CW, et al. Subjective hypnotic efficacy of trazodone and zolpidem in DSMIII-R primary insomnia. Hum Psychopharmacol Clin Exp. 1998 Apr;13(3):191–198.
Davies KA, Macfarlane GJ, Nicholl BI, et al. Restorative sleep predicts the resolution of chronic widespread pain: Results from the EPIFUND study. Rheumatology (Oxford). 2008 Dec;47(12):1809–1813.
Watson NF, Buchwald D, Goldberg J, et al. Neurologic signs and symptoms in fibromyalgia. Arthritis Rheum. 2009 Sep;60(9):2839–2844.
Sharpley AL, Cowen PJ. Effect of pharmacologic treatments on the sleep of depressed patients. Biol Psy­chiatry. 1995 Jan 15;37(2):85–98.
Pandharipande PP, Pun T, Herr SA, et al. Effect of sedation with dexmedetomidine vs lorazepam on acute brain dysfunction in mechanically ventilated patients: The MENDS randomized controlled trial. JAMA. 2007 Dec;298(12):2644–2653.
Roth T, Hartse KM, Piccione PM, et al. The effects of flurazepam, lorazepamand triazolam on sleep and memory. Psychopharmacology (Berl). 1980;70(3):231–237.
Kales A, Bixler EO, Soldatos CR, et al. Lorazepam: Effects on sleep and withdrawal phenomena. Pharmacology. 1986;32(3):121–130.
Cohen IM. The benzodiazepines. In: Ayd FJ, Blackwell B, eds. Discoveries in Biological Psychiatry. Phila­delphia: Lippincott, 1970. pp. 130–141.
Morgan PT, Malison RT. Pilot study of lorazepam and tiagabine effects on sleep, motor learning, and impulsivity in cocaine abstinence. Am J Drug Alcohol Abuse. 2008;34(6):692–702.
Hajak G, Rodenbeck A, Voderholzer U, et al. Doxepin in the treatment of primary insomnia: A placebo-controlled, double-blind, polysomnographic study. J Clin Psychiatr. 2001 Jun;62(6):453–463.
Roth AJ, McCall WV, Liguori A. Cognitive, psychomotor and polysomnographic effects of trazodone in primary insomniacs. J Sleep Res. 2011 Dec;20(4):552–558.
Mendelson WB. A review of the evidence for the efficacy and safety of trazodone in insomnia. J Clin Psy­chiatr. 2005 Apr;66(4):469–476.
Ware JC, Pittard J. Increased deep sleep after trazodone use: A double-blind placebo-controlled study in healthy young adults. J Clin Psychiatr. 1990 Sep;51(Suppl):18–22.
Zammit G, Erman M, Wang-Weigand S, et al. Evaluation of the efficacy and safety of ramelteon in subjects with chronic insomnia. J Clin Sleep Med. 2007 Aug 15;3(5):495–504.
Roth T, Stubbs C, Walsh JK. Ramelteon (TAK-375), a selective MT1/MT2-receptor agonist, reduces latency to persistent sleep in a model of transient insomnia related to a novel sleep environment. Sleep. 2005 Mar;28(3):303–307.
Erman M, Seiden D, Zammit G, et al. An efficacy, safety, and dose-response study of ramelteon in patients with chronic primary insomnia. Sleep Medicine. 2006 Jan;7(1):17–24.