Dr. Panush
The Yentl Syndrome Revisited
It's been nearly 20 years since Bernadine Healy, then the Director of the National Institutes of Health, gave the Yentl syndrome its name.1 Healy wrote eloquently about gender inequality in medicine. She titled this predicament after Yentl, a woman in a story by Nobel Prize–winning writer Isaac Bashevis Singer. Yentl had to disguise herself as a man to study Talmud. (Maybe you've seen the movie about this of the same name, directed, co-written, and co-produced by and starring Barbara Streisand as Yentl.)
You Might Also Like
Explore This Issue
May 2011
Also By This Author
The issue of women in science was recently revisited in several prominent journals.2-4 The reports and comments were fascinating. An article in Health Affairs examined starting salaries by gender of physicians leaving residencies in New York state from 1999–2008. They found that in 2008, male physicians made an average of $16,819 more than their female counterparts; in 1999, the difference was $3,600. The implication is that there remains significant and unacceptable gender inequality in medicine (and presumably elsewhere).
ADVERTISEMENT
SCROLL TO CONTINUE
The New York Times recently published an article about this as well.5 "I have always believed that contemporary gender discrimination within universities is part reality and part perception," said Charles M. Vest, MIT president in 1999, "… but I now understand that reality is by far the greater part of the balance."5 The authors in the Proceedings of the National Academy of Sciences article examined 20 years of data pertaining to assertions and perceptions that there was sex discrimination in grant and manuscript reviewing, interviewing, and hiring in math-intensive fields of science. They concluded that any differences observed were not a consequence of discrimination but rather of choices.
The commentary in Nature elaborated upon this. The issue, the Nature essay asserted, is no longer overt bias but tradeoffs women make while balancing careers and families, influenced by other societal factors. Women may choose certain careers or accept certain jobs that are more conducive with motherhood, child-rearing, and raising families, while most men are not confronted with or constrained by similar considerations; however, the data regarding salaries for men and women physicians completing residencies suggest that there still must be measurable gender bias.
ADVERTISEMENT
SCROLL TO CONTINUE
These issues are challenges for professional (and doubtless other) women and, really, for all of us. How can there not be equality of opportunities and rewards in medicine and, indeed, society?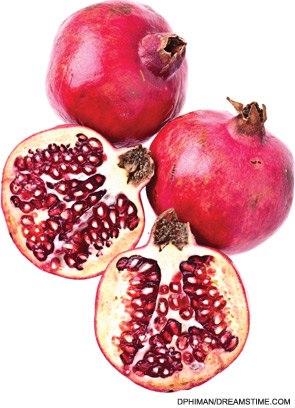 Recent research examined the effects of pomegranate extract on pathways of cartilage catabolism and studied it in an animal model of osteoarthritis.
Who Are We?
No, this isn't really intended to be an existential question. However, a recent publication at least touches on this.6 It seems appropriate to reflect on this as we are now, as I write this, in the midst of interviewing candidates for fellowship. We read their personal statements, ask them "Why rheumatology?", and try to discern what kinds of rheumatologists they will be from applications and interviews. I've done that for decades, invested time reading the relevant literature, and concluded it just isn't possible to predict accurately. For the most part, "what's past is prologue" (Shakespeare's The Tempest, Act 2 Scene 1 Line 279); success, achievement, and accomplishment augurs success, though occasionally I'm surprised. But the process is fun.
Our colleagues at Virginia Commonwealth University in Richmond, Va., surveyed fellows, medical residents, and medical students. They carried out a detailed analysis of a lot of data. Not surprisingly, they found rheumatology fellows tended to value intellectual activities; lifestyle and economic issues seemed less important.
ADVERTISEMENT
SCROLL TO CONTINUE
My all-time favorite perspective on this goes back to something I saved and pass on to residents interested in fellowships before they write their personal statements.7 Indeed, I just adapted this for part of my introductory remarks to our lectures on rheumatology for the first-year medical students.
The author wrote eloquently and timelessly, "Some years ago I spent many hours every year sitting on boards interviewing would-be medical students, and almost inevitably some member of the committee would round on the unfortunate boy or girl and ask what made them decide to take up medicine. The usual answer, thought up well beforehand as they knew this question was likely to be asked, was usually because they loved 'people' and wished to help them and so on. Members of the committee usually shifted uneasily in their chairs at this, as they had half-hoped for a rather more original (or possible truthful) answer. The best reply I every had was from an Arab youth who answered, 'Because it is not without interest and carries financial security.' I accepted him on that truthful answer, but alas, the political scene in his country changed and he never came back."
Hart went on to list seven points as to why be a rheumatologist, which I will share here. (This was 30 years ago, remember.)
"It runs through the whole field of general medicine. He who really knows the rheumatic disorders knows a very great deal of medicine."
"It is a huge clinical, therapeutic, social, and research challenge. Like Guinness, there's a lot of it about, and the field for research in all aspects is wide open."
"You meet such a nice lot of people as patients and colleagues. It is a constant wonder to me how brave and stoical most rheumatic sufferers are. In clinical medicine in general and perhaps in rheumatology in particular you can make two new friends every day."
"The world is your oyster. Rheumatology is everywhere but strikingly different in different races and countries, and in most countries the subject is virtually untapped, and the rheumatic disorders an unopened book."
"Therapeutically it covers a wider field than most specialties, dealing with pharmacology, physical, social and occupational medicine, surgery, nursing, immunology, chiropody, etc. The therapeutic team is a large one, the rheumatologist being the central figure and coordinator in chief, thought the general practitioner has the difficult job of making it all come together, as it were, in the patient's home."
"In the diagnosis and treatment of most rheumatic conditions, rheumatology makes great demands on one. There are around 180 conditions to be considered in the differential diagnosis of any so-called rheumatic disorder."
"In the management and treatment of the more chronic and intractable rheumatic diseases one has to be a mixture of a good psychologist, an applied pharmacologist, have a practical knowledge of physical and occupation methods, be a respected father confessor cum general physician, in fact be a wide-spectrum and sympathetic therapist. A cowboy could cure penicillin-sensitive pneumococcal pneumonia if he had access to the right drug, but it takes proper doctor to treat and manage rheumatoid arthritis."
Bravo.
Food for Thought, and Maybe for Arthritis
When I started to write this feature, I promised to try and include something clinical, something basic, and something else. So here's something "translational" that reflects on bench/basic science. I came across an interesting report about the potentially important biological effects of pomegranate extract.8,9
The authors included a long history attributing medicinal properties to pomegranate and noted its documented antioxidant effect. They examined the effects of pomegranate extract on pathways of cartilage catabolism and studied it in an animal model of osteoarthritis. They found that pomegranate extract affected intracellular signaling pathways that link receptor signals and nuclear gene transcription. Mitogen-activated protein kinases (MAPKs) and transcription factors (RUNX-2) regulate several processes (apoptosis, nitric oxide synthase) and mediators (cytokines, monocytes/​mac­rophages, neutrophils, T cells, matrix metalloproteinases) important in inflammation and cartilage damage. In animal models of arthritis, inhibition of the protein kinases was therapeutic. Thus, these pathways are of considerable interest as potential targets for intervention in human disease.
Should we be surprised that a food product has these biological effects?10 From whence came aspirin? Colchicine? (Willow bark and meadow saffron, respectively, if you've forgotten.) Other potent agents in our armamentarium? It was probably more serendipity than science that brought gold, antimalarials, and sulfasazine into our practice. There are other food products with potentially relevant biological effects (some of which I've discussed in previous columns)—resveratrol, chocolate, teas, curcumin, perhaps ginger, and others. And let's not forget the occasional patient with food sensitivity.11
We care not the source of an idea, only its experimental validity. There are not "complementary" and "alternative" medicines, only evidence-based medicine. We have seen and will see more therapies derived from food or food products. And it should not surprise us.
Dr. Panush is professor of medicine, Division of Rheumatology, at the Keck School of Medicine, University of Southern California, in Los Angeles.
References