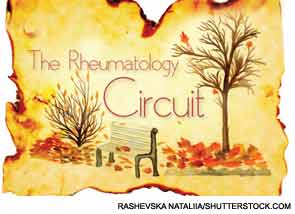 To help bring services to rural areas, some rheumatologists are taking a page from ministers and judges in the Old West. Circuit-riding physicians go from hospital to hospital to provide access to services in areas that might not have coverage any other way.
Robert Jackson, DO, is president of Premier Specialty Network (PSN) and a rheumatologist practicing at nine hospitals in Missouri and Iowa. PSN partners with local hospitals to establish satellite clinics staffed by top-level doctors. "I am a small-town kid who went to a small college," he says. "After medical school, I was drawn back to the rural lifestyle and the fact that the presence of specialists is crucial to maintaining their healthcare system. There is a valuable mission to be served."
ADVERTISEMENT
SCROLL TO CONTINUE
Long-term Commitments
Under the PSN model, long-term contracts are signed with the participating hospitals and doctors. Most places do not have the population to support a full-time specialist, but are able to justify expenditures on a part-time basis. These allow the physician and the hospital to develop and cement relationships in the community. PSN has had doctors and hospitals working together for more than 20 years.
"Sometimes, rheumatologists come to a local community, build up a practice, and then return to urban settings, hoping their patients will follow," says Dr. Jackson. "Our physicians insinuate themselves as much as possible into their communities, helping with staff and public education as well as simple things such as getting their oil changed locally."
ADVERTISEMENT
SCROLL TO CONTINUE
The Marshfield Clinic provides care at more than 50 locations and two hospitals in Wisconsin. They use a staff model where the specialists are directly employed and practice at Marshfield-owned clinics. Their physicians also see patients at outreach facilities in other areas.
Treating the Untreated
"Some of our patients don't have the wherewithal to drive even an hour to get to one of our clinics," says Jerry Goldberg, MD, a staff rheumatologist at Marshfield. "Before we came, many had long-standing rheumatic disease that was entirely untreated. They just lived with their illness and functioned as best they could."
Both models seem to provide satisfaction to the community, patient, and the physician.
ADVERTISEMENT
SCROLL TO CONTINUE

Dr. Winkler
"Most physicians in rural areas don't interact often with specialists," says Anne Winkler, MD, vice president for PSN based out of Springfield, Mo. "When we come in, we are able to help raise the quality of care in the area by not only seeing patients, but also interacting with local physicians. One of the advantages is that the practitioners are seeing how rheumatic disease might be treated differently. Hopefully, this helps them do a better job."
She points to the example of one place where outmoded techniques were still being used to screen for osteoporosis. After working in the community, the local doctors are doing a better job of screening their patients before referral.
Bringing Local Changes
Dr. Goldberg agrees, noting it was not unusual to have people come to him with prescriptions for methotrexate or other medications for diseases that did not require them. Basically, the doctor saw everything as rheumatoid arthritis and was treating patients accordingly.

Dr. Goldberg
In the PSN model, the physicians work with the hospitals to increase services that are available locally. This helps add fee-generating offerings to the facility while also improving patient care. "We partner with our hospitals so that a patient is able to just go down the street instead of driving three hours for their infusion therapy," says Dr. Jackson. "The hospitals have been able to expand use of laboratory, X-ray, and other services that would have otherwise gone somewhere else. Patient compliance with treatment has improved as the therapies become available much closer to home."
Challenges Seen
Rural areas can provide challenges not seen in urban settings. From the type of patient to the availability of modern equipment, there is a wide variation even between hospitals seen by the circuit-riding physicians. "Our patients are hard working and often can't or won't slow down," says Dr. Goldberg. "In some areas, it is 'give me disability or give me death.' Here we have to beg people to not work as hard and give their joints a chance to heal."
There are differences in what is available in the way of diagnostic modalities. Some places may not have a polarizing microscope or some kinds of X-ray imaging.
"Even without some of the bells and whistles, a lot of the rheumatologists' work can be done without the technology," noted Dr. Goldberg. "The history and physical is a lot like the MRI, but cheaper. You can still have a positive impact."
Going to multiple hospitals results in some problems not seen in urban settings. One example is the need to master multiple electronic health record (EHR) systems. There may be variations in the equipment available as a physician goes from one place to the next.
"I had to learn five different EHR systems," says Dr. Jackson. "It was a challenge to figure out how to use, and become efficient in, each one. The upside is that I now have a good idea of what does and does not work."

Dr. Jackson
On the other hand, the Marshfield physicians share the same medical records no matter where they go. They open up their laptops and have all of the information available to them in the field.
A physician also has to be able to let others take at least some of the control. Local staff will be a determinant of how well the program works. "If you are going to be at some place once or twice a month, you have to be able to make sure patients can talk to you if needed," says Dr. Winkler. "You depend more on your local people to see that messages are communicated, that abnormal results are brought to your attention, and refill needs are taken care of."
When working in rural settings, many physicians complain about being isolated from other rheumatologists. Loneliness can be a problem in rheumatology where, as Dr. Goldberg notes, it is better to "share the ambivalence and indeterminance that is intrinsic to the effort."
In both models, the ability to talk to colleagues in other affiliated clinics or hospitals has been greatly increased by modern technology. At Marshfield, there are dedicated fiber optic lines between the facilities, and the physicians are able to have face-to-face staff meetings while widely dispersed around Wisconsin. Although less formalized, PSN-affiliated physicians are also able to converse with their colleagues.
Overall, advances in technology have made many of the concerns easier to address. Mobile hotspots, smartphone apps, and tablet computers that let physicians access records from remote locations have lessened concerns about important information falling through the cracks. Skype and similar programs help the physician have face-to-face, if not hands-on, interactions with patients between trips to town.
Not for All
Circuit riding is not for every physician, however. "Not every doctor can be flexible in their practice, and that is a prerequisite for being successful in this setting," says Dr. Winkler. "You have to be able to get along with patients, administrators, and staff. Not everyone can do that."
There is also a need for flexibility in their personal lives. Rural areas lack some of the amenities seen in more populous areas. However, these are often offset by other plusses for the doctor and the family.
"If you want duck wonton at 11:00 at night, that isn't going to happen," says Dr. Goldberg. "But if you don't want to lock your doors, want your kids to grow up riding bicycles on dirt roads and climbing trees, this is the place to be."
All three doctors note that there are professional plusses that may not be readily available to those in "civilized" settings.
Perks of the Job
One of the perks comes from the patients themselves. There is a feeling among all three doctors interviewed here that the patients are very excited to see them and are grateful for the ability to have a doctor face to face in their "home." "It is amazing how happy they are to see us," says Dr. Winkler. "Some are patients I saw when I was still in an urban clinic. Now that I am coming to see them instead of the other way around, they think that is wonderful. There is a lot of gratification in that."
Some have expressed concerns that rural communities may see the physicians as outsiders who aren't connected to the town. The experience has been the opposite.
"The perception was that you had to come in, buy a home, and raise your kids there before the area would adopt you," says Dr. Jackson. "As long as they see a long-term commitment, dedication, and sincerity in staying with them, you are accepted."
One of the consistent themes across both articles in this series is the professional satisfaction that may not be as readily available any more outside of the rural setting. The ability to practice medicine with fewer concerns about the business side of medicine is an often-heard advantage. "I left a multispecialty group after 20 years because I felt I got to focus more on the practice of medicine in the country," says Dr. Winkler. "I think I ordered what was needed for the patient, but there was still a voice in the back of my head wondering if I wanted tests because the patient needed them or because it impacted on my bottom line. The little voice has stayed quiet since I left for rural areas."
She also points out that sometimes a physician can feel neglected in an urban setting. They can think that their voices are not heard. "When you go to a smaller community, our voice is a vital part of the healthcare system," she continued. "We are asked to give advice, and it is very satisfying to know you are needed."
Dr. Goldberg agrees. "My wife and I flew up from Houston and got off our small plane to –20-degree temperatures," he says. "We have been here 30 years because the practice is wonderful, I can put my hard-working and wonderful patients first, and give them high-quality care. All of that while still being able to have a great family life. As Neil Simon noted, on the west coast you have a lifestyle, while in the Midwest you have a life. "
---
Kurt Ullman is a freelance writer based in Indiana.