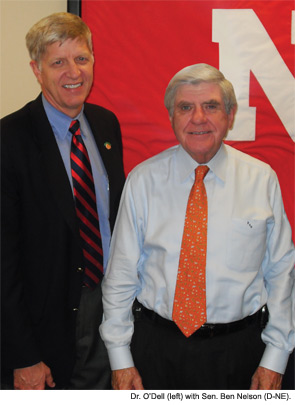 A recent Medscape poll of more than 292,000 physicians determined that rheumatologists were the happiest subspecialists! This, of course, was no surprise to many of us, unless you have been on the advocacy listserv lately. If we are so happy, then why are we not attracting more bright young people to replace all of us old guys and, to a lesser extent, gals (the mean age of rheumatologists is currently 57)? How can we get the word out about this apparently well-kept secret? Obviously, with a measly 2.8% of internal medicine residents electing to go into rheumatology and a projected shortage of 2,600 rheumatologists by 2025, we are not doing a very good job spreading the news (see Figure 1).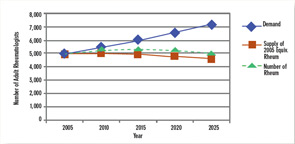 click for large version
Figure 1: Base Case: Adult Rheumatologists, 2005-2025 Supply and Demand: Adult Baseline Demand increase is attributed to: 40% population growth holding the age distribution constant, 11% population aging, and 49% per capita income growth.
How can we make sure the next generation knows that happiness is the most important thing and that it is not all about money? The median salary for a rheumatologist is $224,000, while the median salary of a gastroenterologist is almost double that. Rheumatologists were the happiest, while GI docs were tied with neurologists for the least happy. Some would question, Why wouldn't I want to make twice as much money? A little perspective is always enlightening—a rheumatologist's income is over five times the median income of U.S. households and over 10 times the poverty line for a family of four. Having the opportunity to know many rheumatologists around the country, I have not met any who are starving. Even if we doubled our income, half of it would go to some form of tax anyway.
In addition to reflecting on the question of what makes us happy, I have done an informal poll over the last several months. At the many dinners I get to share with rheumatologists (there are a few photos from those meals at the bottom of the page—don't we look like we're having fun?), I have asked, Why are we #1? Before I get any e-mails from you statisticians out there about the unscientific nature of either the Medscape survey or my even more unscientific dinner conversations, I get it. I fully realize that my dinner conversations are biased in several important ways. People at these dinners have first elected to be rheumatologists and, for the most part, have elected to get involved with the ACR. Yes, almost all the dinners I have recently attended involve some sort of ACR volunteers. Nevertheless, the answers I have received have been enlightening and largely consistent across many dinners.
The Constitution only guarantees the American people the right to pursue happiness. You have to catch it yourself.
—Attributed to Benjamin Franklin.
Top 10 Reasons
Here is a list of the top 10 reasons why rheumatologists are the happiest specialty:
10. We do not pay as many taxes as most other docs (OK, I was reaching a little here).
9. We see and care for patients of all ages.
8. We take care of the whole patient, not just an organ.
7. We practice the art as well as the science of medicine.
6. We get lots of hugs from our patients—both literally and figuratively.
5. Rheumatology self-selects happy people.
4. We have excellent therapies and get to see excellent results.
3. We are diagnosticians—the Sherlock Holmes of the clinic—often the court of last resort.
2. We get to take care of, and form long-term relationships with, our patients.
1. We are in control of our lives, practice, and time. Therefore, most of us know our children's names.
Numbers one through four on the list were a consistent theme across many dinners. Having control of one's time, establishing long-term patient–physician relationships, being called on to solve complex diagnostic puzzles, and having the ability to change lives with our skills and therapies were highly rated by all. Many appreciated the balanced life they had been able to lead compared with their colleagues in more acute care specialties. Some highly valued the relationships they had formed with their patients who have become a big part of their lives through the years. Many shared anecdotes about not only caring for their patients but their patients providing inspiration and care to them. Others took great pride in their evaluation and management skills and being the court of last resort—the specialty that others turned to when no one else knew what the heck was going on. The diagnosis of complex conditions, often not even rheumatological, is a source of great satisfaction. Still others—particularly those of my generation—marveled at the wonderful treatment responses we can now expect compared with what we were accustomed to only several decades ago. Who wouldn't be happy about changing lives in such a positive way?
Encouraging Others to the Specialty Usefulness is happiness, and all other things are incidental.
—Lydia Maria Child, 1829
For all of the above reasons and many more, rheumatologists are useful, and what we do makes a difference in patients' lives on a daily basis. It is easy to get caught up in the daily hassles of clinic or academic life, documentation, prior authorizations, insurance denials, demands from Chairs and Deans, and grant rejections, to name just a few. Believe me, I know about hassles—we recently went live with EPIC at the university! Even with all that, writing this column made me appreciate what I get to do on a daily basis. EPIC aside, my last clinic is a great example. I got to see eight rheumatoid arthritis (RA) patients (five are in remission, two have low disease activity, and the other is starting on combination disease-modifying antirheumatic drugs), two systemic lupus erythematosus patients (both doing well), and a couple of new patients (one who has been an enigma and we think has lymphoma and, to top it off, a male fibromyalgia patient who comes in to tell me his sleep apnea is being treated and his fibromyalgia is "cured"!). Then I got to go to a postclinic conference lunch and discuss with the students and residents all of the above cases. We really do have a great life!
The paradox is that while we are the happiest specialists, we are among the smallest of subspecialties and face severe shortages of rheumatologists in the near future. How then can we leverage these survey results and get the word out to medical schools and residency programs? How can we help the next generation catch happiness?
The good news is we have ramped up our efforts as a College in this area over the past several years. We have programs specifically designed to attract medical/graduate students and residents to our specialty. Programs include the Choose Rheumatology campaign, the Research and Education Foundation (REF) preceptorship program, and special events including the Pediatric Residency Program at the ACR/ARHP Annual Meeting.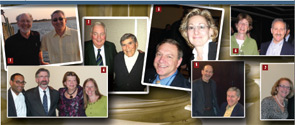 1. L–R: Drs. Robert Wortman and Stanley Cohen.
2. L–R: Drs. Arthur Weaver and Herbert Kaplan.
3. L–R: Drs. E. William St.Clair and Audrey Uknis.
4. L–R: Drs. William Harvey, Timothy Laing, Karen Kolba, and Erin Arnold.
5. L–R: Drs. Chad Deal and Eric Schned.
6. L–R: Dr. Lenore Buckley, Dr. Robert Yood, Steven Echard, and Dr. David Borenstein.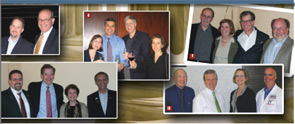 7. L–R: Drs. Abby Abelson, Peter Embi, Carlos Lozada, Rosalind Ramsey-Goldman, and Sharad Lakhanpal.
8. L–R: Drs. Ellen Gravallese, David Wofsy, James O'Dell, and Jane Salmon.
9. L–R: Drs. Kenneth Saag, Joan Von Feldt, Charles King, and David Daikh.
10. L–R: Drs.Gerald Moore, Alan Erickson, Michelene Hearth-Holmes, and Ted Mikuls.
Through Choose Rheumatology, students and residents can connect with the College to learn more about our specialty and access unique educational resources. They can interact with fellows-in-training, faculty, and staff through the ACR's social media outlets. Information about fellowship opportunities and REF funding is also available. Posters and flyers are in medical centers across the country, with more targeted outreach in the Washington, D.C., metro area to engage students and residents during the annual meeting this fall. For more information, please visit www.chooserheumatology.org. At this year's annual meeting, the ACR will once again host 25 pediatric residents to introduce them to rheumatology. Now in its 11th year, this program includes Q&A sessions with pediatric fellows-in-training and program directors and has led to over 75 graduates entering pediatric rheumatology.
The REF's preceptorship program introduces rheumatology as a career path by supporting a mentored one-on-one interaction and real-world learning experience focused on rheumatic disease. Applications are accepted year round, and the programs boast a 100% application success rate. For more information, or to apply for an award, visit the REF website at www.rheumatology.org/ref/awards/preceptorship.asp.
In addition to these targeted efforts, the ACR's current public relations campaign, Simple Tasks, also offers a unique way to promote rheumatology to medical/graduate students and residents. Simple Tasks (www.SimpleTasks.org), geared toward lawmakers, administration officials, advocacy groups, and other physicians and physician organizations, highlights the impact of rheumatic disease in the United States. It also promotes appropriate and timely referrals and legislation that ensures access to rheumatologists, and supports research and initiatives to grow the workforce. You can see bent forks, the Simple Tasks logo, being worn on the lapels of a number of the rheumatologists pictured here. By increasing the visibility of rheumatic diseases and the specialists who treat them, we champion the value of rheumatology as an attractive specialty to prospective rheumatologists.
Please take every opportunity that you have to share your happiness and your sense of purpose with all the medical students and residents with whom you come in contact. Let them see why we are happy—that we have control of our schedules (if not third-party payers), that we get to form long-term meaningful relationships with our patients, that we are valued by our peers for diagnostic skills, and that we change people's lives. Share the Top 10 list with them or, better yet, make your own. Let them know that the biggest house on the lake or the newest Porsche can never provide the satisfaction or happiness that you get from making an elusive diagnosis, putting someone's previously crippling RA into remission, getting a miraculous response when treating polymyalgia rheumatica, or controlling your schedule so you can be there for your daughter's recital or your son's ballgame. It truly is a great life. Keep smiling and make sure you pass it on!
---
Dr. O'Dell is director of the Internal Medicine Residency Program and division chief of rheumatology at the University of Nebraska, Omaha and the Omaha VA medical centers. Contact him via email at [email protected].