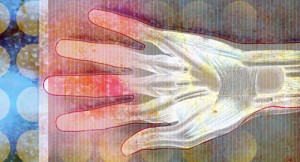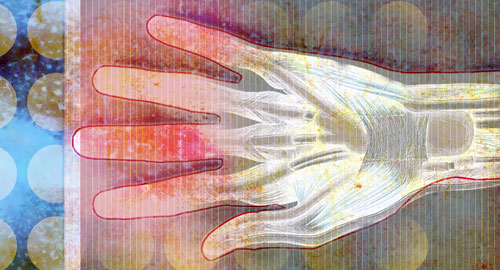 A 17-year-old woman presents with chronic finger pain experienced over six months that is worse in the mornings. On physical exam, the patient has no joint swelling, pain on range of motion or limitation of range of motion in any of her finger joints. She has a tender, subcutaneous, firm, flesh-colored nodule on the lateral volar aspect of her right third finger just proximal to the distal interphalangeal (DIP) joint. A radiograph of the hand was normal, and a musculoskeletal ultrasound was sub­sequently performed.
The ultrasound demonstrated an ill-defined hypoechoic lesion with prominent Doppler activity just proximal to the DIP joint, most consistent with a hemangioma.
ADVERTISEMENT
SCROLL TO CONTINUE
Discussion
Hemangiomas are one of the most frequent tumors of infancy and child­hood.1 They are an abnormal proliferation of endothelial cells and irregular vascular architecture. Superficial cutaneous hemangiomas are often easily diagnosed on physical exam as a bluish or red subcutaneous mass, but deep lesions can be more difficult to diagnose and typically require additional imaging for diagnosis. Hemangiomas can be classified into capillary, cavernous, arteriovenous or venous. Capillary lesions are the most frequent.
Hemangiomas are typically benign and most don't require further interventions. However, some cases require further intervention or evaluation:
ADVERTISEMENT
SCROLL TO CONTINUE
Lesions with high likelihood of scarring and disfigurement: large pedunculated masses with sharp margins or any hemangiomas on the face or lip;
Lesions with functional impairment or life-threatening complications: lesions in the airway, gastrointestinal tract or periorbital region; and
Patients with associated structural anomalies: PHACE (i.e., posterior fossa anomalies, hemangioma, arterial anomalies, cardiac anomalies and eye anomalies) and LUMBAR (i.e., lower-body hemangioma and other cutaneous defects, urogenital anomalies, ulceration, myelopathy, bony deformities, anorectal mal­formations, arterial anomalies and renal anomalies) syndromes are associated with hemangiomas.
Plain radiographs may be normal, but can demonstrate calcified phleboliths.
When lesions appear on the hand, they can present with intermittent swelling and pain and have symptoms that mimic inflammatory arthritis.2 Pain and swelling are exacerbated by physical activity and cold weather, but can be worse in the morning after waking up. Warm weather and rest often alleviate symptoms.
ADVERTISEMENT
SCROLL TO CONTINUE
Sonographic characteristics of heman­giomas can be variable. Keng et al. described sonographic findings of 43 soft tissue hemangiomas.3 Gray-scale findings of hemangiomas demonstrated that 46.5% of lesions had a well-defined margin. Heman­giomas do not have a true capsule, so the appearance of a rim or margin may be due to the difference in echotexture between the hemangioma and the surrounding tissue, as well as an acoustic interface between the lesion and surrounding tissues. Most lesions were heterogenous (86%) and hypoechoic (60.5%). In larger lesions, fluid levels and calcified phleboliths can be seen.
Doppler activity was present in 86% (37 of 43) of hemangiomas.3 A color Doppler enhancing maneuver (CDEM) can be helpful in lesions without Doppler activity. CDEM is performed by placing light compression on the mass or adjacent tissues to enhance blood flow. CDEM was performed in the six lesions without Doppler activity and four demonstrated Doppler activity after CDEM.
In Sum
Hemangiomas are one of the most common tumors of childhood. Point-of-care ultrasound is a valuable tool to better evaluate deep lesions that are difficult to diagnose by physical exam. Most lesions are heterogeneous, hypoechoic and exhibit Doppler activity, so they can be recognized and distinguished by ultrasound from other causes of soft tissue nodules encountered in the rheumatology clinic.
---
Clara Lin, MD, RhMSUS, is a staff pediatric rheumatologist at Children's Hospital Colorado, Aurora. Her clinical and research interests include ultrasound in rheumatology. She is also a board member of USSONAR, a society of rheumatologists, physicians and health professionals in North America who promote the use of musculoskeletal ultrasonography to advance the care of patients with rheumatic diseases.
References
Darrow DH, Greene AK, Mancini AJ, Nopper AJ. Section on dermatology, section on otolaryngology-head & neck surgery and section on plastic surgery. Diagnosis and management of infantile hemangioma: Executive summary. Pediatrics. 2015 Oct;136(4):786–791.
Drapé JL, Feydy A, Guerini H, et al. Vascular lesions of the hand. Eur J Radiol. 2005 Dec;56(3):331–343.
Keng CY, Lan HHC, Chen CCC, et al. Soft tissue hemangiomas: High-resolution grayscale and color Doppler ultrasonographic features in 43 patients. J Med Ultrasound. 2008 Dec:16(3):223–230.