On Dec. 17, 1903, at 10:35 a.m., the restraining wire was released.
The Wright brothers—Orville and Wilbur—owned a bicycle sales and repair shop called the Wright Cycle Exchange, in Dayton, Ohio. At the time, the popularity of bicycles was exploding, thanks to an innovation that made them much easier (and safer) to ride. The money from their lucrative repair shop funded the Wright brothers' other passion—flight.
The brothers conducted their experi­ments at Kitty Hawk, N.C., to take advantage of the consistently strong winds required to launch the glider. By 1902, they had succeeded in creating a glider that could both support a man's weight aloft and be steered.
None of this information immediately comes to mind when one thinks about the Wright brothers, but it is interesting to contemplate the role of happenstance in discovery. Their bicycle shop, in addition to funding their work, provided them with the technical skills necessary to construct aircraft. Their experiments with gliders taught them how to fly; this experience was crucial to the success of their later experiments.1
On Dec. 14, 1903, they brought their 40', 605 lb. flyer to Kitty Hawk. By a coin toss, it was decided that Wilbur would become the first man to achieve powered flight.
Except he didn't. In his eagerness, Wilbur Wright climbed too quickly. The airplane stalled, and then crashed into the sand. Flight would have to wait for repairs, after which Orville would have his turn.2
The important lesson here: In addition to the importance of happenstance in discovery, sometimes, it's better not to be first. Remember that.
On the morning of Dec. 17, the restraining wire was released, and Wilbur took flight. It wasn't pretty. Between the wind gusts and the unfamiliar controls, the airplane traveled only 120 feet before it crashed. Still, it was enough to make the Wright brothers famous for having been first in flight.
The story of the N95 mask is not the story of firsts. It is the story of two brilliant, creative thinkers who dedicated their lives to improving the lives of others.
At least, if you live in the United States.
Every student in the U.S. learns about the Wright brothers and their historic role in modern aviation. Each North Carolina license plate proudly proclaims, "First in Flight," while license plates in Ohio note it was the "Birthplace of Aviation."3
Both of them may be wrong.
If you grew up outside the U.S., you may have learned the story of Alberto Santos-Dumont, the coffee magnate who was fascinated by lighter-than-air crafts, such as hot air balloons. By 1901, he turned his attention to mechanized flight. On Oct. 23, 1906, he flew a biplane 200 feet in front of a large Parisian crowd.3
So how could he be first?
As always, the devil is in the details. The Wright brothers depended on the strong North Carolinian winds to take flight. That is, after all, why they chose to travel from Ohio to North Carolina in the first place. Santos-Dumont's airplane took flight without any such assistance. Further, Santos-Dumont's flight took place in front of many witnesses. The Wright brothers' experiments took place in front of no one but a lone photographer, tasked with documenting their work.3
La victoria trova cento padre, e nessuno vuole riconoscere l'insuccesso: Victory has a thousand fathers, and defeat is an orphan.4 This expression, coined by the Italian diplomat, Count Caleazzo Ciano and popularized by John F. Kennedy, applies to the story of first flight. As is often true, many minds have the same idea at the same time, and it is often difficult to discern who arrived at the finish line first.
The N95 mask, similarly, has more than one genesis story, which have largely come to light only with the increasing importance of the N95 mask to all our lives. So who invented the N95 mask, and, more importantly, who was first?
Genesis of the N95
In 2015, when Sara Little Turnbull was asked to reflect on how she approached design, she commented, "If I sit down to analyze a project, I start looking at the material as though I had never seen it before. It's a willingness to face one's own naivete."5
In the 1950s, Ms. Turnbull was known for her ideas. She started her career as an interior designer for a magazine, showing people how to maximize the limited space that city living provided. This eventually morphed into a career focused on the needs of women. She pointed out the irony of an entire manufacturing industry run by men who never bothered to solicit the opinions of the women who would be using their products.6
This surprisingly novel concept brought her to the attention of 3M, which hired her—for the gift wrap division. They recognized her talents, but had no idea how to nurture them.
Fortunately, she didn't require nurturing. On her own, she learned about a new material that 3M was developing—a polymer extruded from nozzles to create a non-woven material that could take on any shape. She created a presentation in which she outlined the amazing potential of this material to create any of a number of products. From this list, the executives chose one.
3M asked her to develop a bra cup.7
Just as her previous bosses saw a brilliant woman and immediately associated her with gift wrapping, her current bosses seemed confused by her talents and, again, tried to put her in a position they felt was appropriate for a woman.
Meanwhile, she was helping care for relatives with chronic illnesses and noticed how much time physicians spent fiddling with ill-fitting masks. She convinced her bosses that designing a better mask would be a more appropriate use of her time and talents.
In 1961, 3M patented the first light­weight medical mask, based on Sara Turnbull's design. Instead of ties, it had elastic bands that fit around the ears, and a nose clip to keep the mask secure.8
It was a dismal failure.
The problem was the material—it was too porous to protect against pathogens. It was not until 1995 that Professor Peter Tsai of the University of Tennessee, Knoxville, figured out how to create an electrocharged material that would trap 95% of all particles. The initial intent was to use the material for air filters, but in 1996, the Centers for Disease Control and Prevention (CDC) realized the material could also block tuberculosis and viruses. When 3M wanted to create its N95 mask with this new material, the company used Sara Turnbull's mask design to do it.9
Genesis Redux
1910 was also a time of plague.
Wu Lien-Teh was born in Penang, Malaysia, on March 10, 1879. At the age of 15, he moved to the United Kingdom and became the first ethnic Chinese to study medicine at the University of Cambridge.
He moved back to Malaysia after he completed his studies, but in 1910, the Chinese Imperial Court asked him to lead efforts to stop the spread of the pneumonic plague.
The Chinese were desperate. The plague spread quickly and killed all those who were infected within 48 hours of symptom onset. No one understood how it was transmitted; all they knew was that it had already killed 60,000 people in Manchuria.10
Wu Lien-Teh stopped the epidemic in months.
When he reached China, he realized he needed to understand how the plague was spread in order to figure out how to stop it. Through autopsies of the victims, he realized the pneumonic plague was not transmitted by rats, as had been widely believed at the time. It was transmitted through the air.11
This led him to implement changes that now seem anodyne: Travel outside the local region was restricted. Bodies were cremated rather than interred. Buildings were disinfected. He also developed a mask.12
Unlike masks already in use in the United Kingdom, which he had seen during his training, his mask used multiple layers of cotton and gauze. The mask was also designed to fit securely over the nose and mouth. This design allowed his mask to filter out almost all pathogens, which made it particularly valuable for healthcare.
Sound familiar?
At the time, his mask was ridiculed by his peers. No one believed his theory of airborne transmission. His poor command of Mandarin made it difficult for him to talk his colleagues into adopting his innovation. His successor in his post, Gérald Mesny, refused to wear the mask: "What can we expect from a Chinaman?" he asked, and continued to care for plague patients without wearing a mask.13
Wu's mask gradually gained in popularity. It had the benefit of being both cheap and effective. Gradually, even people not directly involved in the care of patients started sporting masks. Because the masks were so easily seen, their use became a form of virtue signaling, a way for the general populace to show they were doing their part.
Christos Lynteris, a senior lecturer at the Department of Social Anthropology at the University of St. Andrews, Scotland, who is an expert in medical mask history, called it a triumph of marketing: "The mask was a very novel thing … it had an effect of strangeness, which the press loved, but you imagine a black-and-white photograph with a white mask—it reads well."14
By the time of the Spanish flu outbreak of 1918, Wu's mask was widely accepted and was manufactured by multiple companies to help combat the pandemic. Wu's mask is seen as the direct ancestor of the N95 mask, particularly in China, where he is credited with modernizing China's medical services.
Revelation
Who is the true creator of the N95 mask? Whose contribution was the most important? Was it Wu Lien-Teh, who single-handedly conquered an epidemic and created a mask that helped save many lives during the last pandemic? Or was it Sara Little Turnbull, who saw the great potential of non-woven materials and created a design that is now recognizable worldwide as an N95 mask?
I hope by this time you realize that, as with the story of mechanized flight, being first doesn't really matter. With so many heartening stories surrounding the genesis of the N95 mask, it seems stingy to assign credit to just one person.
Sara Little Turnbull went on to work for multiple companies, including General Mills, DuPont, Ford, Pfizer, Revlon and Motorola, as well as for the National Aeronautics and Space Administration (NASA). At each company, she pioneered the concept of human-centered design, in which each stage of development is asked to address how the end product can best serve the consumer. She also helped develop the concept of biomimicry, in which designers turn to nature for solutions to human problems. Her work contributed to the design of housewares, medication delivery systems, cosmetics, furniture, toys, cleaning products, car interiors and space suits.7
Wu is revered throughout China and Malaysia, where multiple statues of him honor his contributions to public health. He founded the Chinese Center for Disease Control and Prevention, and continued to work productively well into his 80s. His work continues to be important, even today: In 2003, Singapore based its approach to severe acute respiratory syndrome (SARS) on Wu's notes from 1910, which documented his approach to containing the Manchurian plague.15
Unlike the Wright brothers, Turnbull and Wu had to combat sexism and racism. Wu's contributions were immediately discounted because of his race. Turnbull's contributions, on the other hand, were stifled by an environment that relegated women to womanly duties. It's hard not to wonder how much more both could have contributed if they were not simultaneously fighting for their place in society. It's also hard not to wonder whether racism and sexism may explain why many of you had not heard of their remarkable contributions to modern medicine, until today.
As an experiment, close your eyes. Imagine that you're looking at the true inventor of the N95 mask. You probably saw the face of a white man. Just something to think about.
I doubt either Turnbull or Wu would have spent much time contemplating that last point. The story of the N95 mask is not the story of firsts. It is the story of two brilliant, creative thinkers who dedicated their lives to improving the lives of others. More than their peers, they sought to grow and to stretch beyond the narrow roles defined for them by society. At the end, the true moral of their stories is the importance of stretching beyond expectations. As Ms. Turnbull famously said, "If you don't stretch, you don't know where the edge is."16
---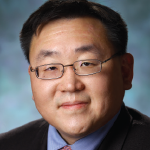 Philip Seo, MD, MHS, is an associate professor of medicine at the Johns Hopkins University School of Medicine, Baltimore. He is director of both the Johns Hopkins Vasculitis Center and the Johns Hopkins Rheumatology Fellowship Program.
References