As I write this column, we are preparing to meet in Boston for the 2007 ACR/ARHP Annual Scientific Meeting, and my year as the ARHP president is coming to end. It has been a remarkable year for the ARHP, as we have made significant progress toward achieving the goals identified in our Long-Range Plan:
Promote leadership through identification, placement, and mentoring of volunteers;
Market ARHP products, services, and member benefits internally (to membership) and externally (to other interested parties, including potential members) and increase membership by 15%;
Be recognized as a leader in interdisciplinary and interprofessional collaboration, education, research, and patient care;
Increase and stabilize funding for health professional research awards;
Ensure educational offerings are high quality, current, state of the art, streamlined, diverse, and varied for a worldwide audience; and
Ensure that ARHP services and products address the needs of the international members.
Specifically, I would like to highlight just a few of the ARHP's many accomplishments this year.
Membership:
The ARHP is on track to set a new membership record this year. We had 1,010 members in July, which accounted for nearly 14% of the overall ACR membership. The diversity of our membership is one of the ARHP's greatest strengths. Our members are clinicians, researchers, educators, administrators, and leaders from many different healthcare disciplines. (See Fig. 1)
Education:
Progress continues on the Nurse Practitioner (NP) and Physician Assistant (PA) Post-Graduate Rheumatology Training Program, which is scheduled to launch in early 2008. Interested parties can visit ACR Central during the Annual Scientific Meeting to view a sample online module and sign up to receive registration materials. This program, consisting of 19 online modules authored by leaders in the field of rheumatology, is designed to provide NPs and PAs with basic knowledge and clinical skills in the management of adults and children with rheumatic diseases.
Research:
Arthritis Care & Research continues to be the premier journal for disseminating relevant research findings to rheumatology health professionals around the world. The journal's success necessitated its expansion to eight issues this year; it will increase to 12 issues in 2008.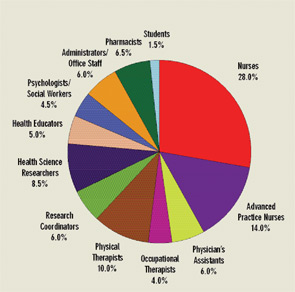 click for large version
Interprofessional collaboration:
The ARHP continues to work collaboratively with our ACR colleagues to advance the ACR's mission and strategic objectives. ARHP representatives to ACR and ACR Research and Education Foundation (REF) committees work to ensure an interprofessional perspective.
For example, ARHP representative Erica Stern, PhD, OTR/L, worked with the ACR Committee on Ethics and Conflict of Interest and the ARHP Executive Committee this year to revise the ACR Code of Ethics, Conflict of Interest Guidelines for Officers, and Guidelines for Expert Witness Testimony to be more inclusive of all health professional members.