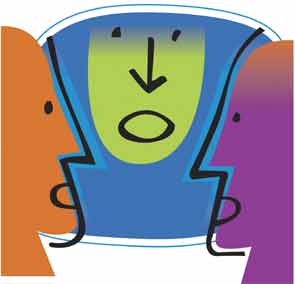 ADVERTISEMENT
SCROLL TO CONTINUE
What is freedom? It is first, the capacity to deliberate or to weigh alternatives.
—Martin Luther King, Jr.
SAN DIEGO—Across from the San Diego Convention center, running along a path from Market Street to PETCO Park next to the trolley line, is the Martin Luther King, Jr. promenade, a walkway interspersed with concrete slabs etched with sayings by Dr. King. I happened to walk by the concrete slab with the saying shown in the above epigram shortly after sitting in a session billed as, "The Great Debate: Biologics or Triple Therapy for the Treatment of Rheumatoid Arthritis," here at the 2013 ACR/ARHP Annual Meeting, held October 26–30. [Editor's Note: This session was recorded and is available via ACR SessionSelect at www.rheumatology.org.] During the session, the respective merits of biologics and triple therapy for the treatment of patients with rheumatoid arthritis (RA) were debated. James O'Dell, MD, and Ronald van Vollenhoven, MD, certainly fulfilled the billing as lively debaters, but in the end, the real news for the practicing rheumatologist is that they now have more good alternatives to weigh when deliberating on which treatment strategy works best for their patients.
ADVERTISEMENT
SCROLL TO CONTINUE
When asked who he thought "won" the debate, session moderator Eric Matteson, MD, chair of rheumatology and professor of medicine at the Mayo Clinic in Rochester, Minn., said, "I think that the big winners are our rheumatologists and patients, who now have carefully considered options for effective treatment."
"In my view," he continued, "the field is set to move to the next stage—namely, to determine from disease onset, and also at point of determination of the need to switch therapy, which therapy is most appropriate for which patient from a safety, efficacy, and cost standpoint."
The debate, he said, highlighted for rheumatologists the practical issues they and their patients face daily and offered an insightful appraisal of the best current knowledge and clinical science for triple therapy and biologics.
ADVERTISEMENT
SCROLL TO CONTINUE
Triple Therapy for RA
James R. O'Dell, MD, professor of internal medicine in the division of rheumatology at Nebraska Medical Center in Omaha, opened the debate by framing his advocacy of triple therapy for RA over biologics through two general, interrelated themes: 1) The importance of managing patients with a treat-to-target approach; and 2) The need to consider the high cost of biologics. Overall, he said that many patients will not need biologics if managed with a treat-to-target approach that incorporates the use of triple therapy for patients who need more aggressive treatment.