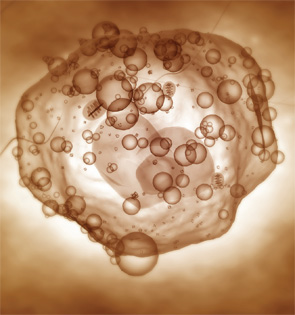 A conceptual illustration of a lymphoid progenitor cell.
BOSTON—In an overview of human innate lymphoid cells subsets, Hergen Spits, PhD, Department of Cell Biology and Histology, Academic Medical Center, University of Amsterdam, The Netherlands, discussed the development and plasticity of these subsets and their possible role in human diseases during the session, ACR Immunology Update: Innate Lymphoid Cells, at the ACR/ARHP Annual Meeting in Boston, November 2014.
Leonard Sigal, MD, adjunct professor, Department of Molecular Genetics and Microbiology, Rutgers Robert Wood Johnson Medical School, New Brunswick, N.J., who moderated the session, highlighted the emerging and growing recognition of the overlap in innate and acquired immune responses underlying rheumatic diseases and the importance this will have on future therapies.
"We are used to thinking about innate and acquired/antigen-specific immune responses as being separate, but in fact there is great interaction between the two and significant overlap in the cellular domain," he said.
A Better Understanding
A better understanding of the role of innate lymphoid cells (ILCs) has emerged over the past six years, one which defines a family of lymphoid cell subsets with properties that parallel T-helper cell subsets, said Dr. Spits. This family of ILCs can be divided into two major subsets: cytotoxic ILCs, which consist of NK cells, and noncytotoxic ILCs, which consist of ILC1, ILC2 and ILC3.
The importance of these ILC subsets in the pathogenesis of inflammatory diseases has emerged from a better understanding of their biology (see Table 1). From this understanding, it's now known that ILCs are flexible effectors of tissue immunity and homeostasis, said Dr. Spits.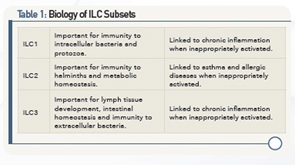 click for large version
Walking participants through recent research on the biology of ILC subsets, he summarized findings, saying these subsets have 1) a similar diversity of cytokine production profiles as T-helper cell subsets, but that the cytokine profile of ILC is developmentally regulated, but T cells depend on antigen stimulation; 2) a diverse ILC system allows for an optimal defense against invading bacteria, parasites and viruses; 3) the ILC3 subset is important for containment of commensals, maintenance of tissue homeostasis and tissue repair; and 4) ILC subsets play a role in autoimmune and inflammatory disease in models for acute inflammation.
Role in Human Diseases
Dr. Spits then discussed research looking at the composition of these cells that participate in homeostasis and disease in several organs in adult humans, including the skin (e.g., psoriasis, atopic dermatitis), airways (e.g., rhinosinusitis), liver (e.g., fibrosis), gut (e.g., Crohn's disease) and synovial tissues (e.g., rheumatoid arthritis and spondyloarthropathies).