The clinical relevance of this to the practicing rheumatologist, he said, is that the cause of MAS in each patient is likely related to the underlying rheumatic disease.
You Might Also Like
Explore This Issue
April 2015
Also By This Author
"As we learn more about the exact cytokines involved in each case and our diagnostics improve," he said, "personalized cytokine blockade strategies may become possible to treat MAS."
ADVERTISEMENT
SCROLL TO CONTINUE
Diagnosis of MAS

Dr. Ravelli
Angelo Ravelli, MD, associate professor of pediatrics, Department of Neuroscience, Rehabilitation, Ophthalmology, Genetics, Maternal and Child Health, University of Genova di Pediatria II—Rheumatologia, Istituto Giannina Gaslini, Genova, Italy, presented new classification criteria for MAS in sJIA, developed through a rigorous scientific method based on careful and accurate consensus and statistical analyses and using real patient data.
ADVERTISEMENT
SCROLL TO CONTINUE
"The new classification criteria will help standardize the design and conduct of future therapeutic and research studies," he said, "and contribute to enhancing the knowledge and awareness of the syndrome."
Table 1 describes the new classification criteria based on more than 80% consensus among the experts who developed the criteria.
He focused the bulk of his talk on recent analyses of the performance of the new classification criteria to diagnose MAS in patients treated with biologics, specifically with tocilizumab and canakinumab.
ADVERTISEMENT
SCROLL TO CONTINUE
Although the sensitivity of the new criteria was found to be good in patients treated with these biologic agents, he said that modifications of the criteria may be needed to improve specificity as the new criteria failed to detect MAS in some cases. "A modification of criteria may be needed as the instances of MAS observed in these patients did not display all the classical features of the syndrome, particularly fever, or had some typical laboratory abnormalities blunted, particularly a ferritin peak that was lower than the threshold included in the criteria," he said.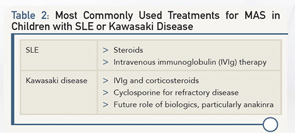 click for large version
Table 2: Most Commonly Used Treatments for MAS in Children with SLE or Kawasaki Disease
The suggestions to improve the performance of the classification criteria in patients who develop MAS during anticytokine therapy include eliminating fever as a mandatory criterion and reducing the threshold for ferritin level. However, Dr. Ravelli emphasized that more data are needed to establish whether modification of the criteria is needed to increase their performance in diagnosing MAS in this patient population.
MAS: Independent of sJIA
Rayfel Schneider, MBBCh, Department of Pediatrics, The University of Toronto, The Hospital for Sick Children, Toronto, Ontario, Canada ended the session talking about the occurrence, diagnosis and treatment of MAS in children with rheumatic diseases other than sJIA.