You Might Also Like
Explore This Issue
January 2015
Also By This Author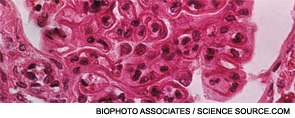 The pattern of lupus glomerular involvement in lupus is similar to that in membranous nephropathy, forming wire-loops lesions.
BOSTON—During a session titled, Systems Biology of Lupus Nephritis at the 2014 ACR/ARHP Annual Meeting, Nov. 17, participants heard from a panel of experts about a way to identify major pathogenic cell populations and pathways that lead to lupus nephritis (LN) based on the use of a systems analysis of renal gene expression in mice and humans. The ultimate goal of such an analysis is twofold: to enhance the understanding of the mechanisms of kidney inflammation and fibrosis in LN patients and to help identify and test novel disease biomarkers for LN to better predict which patients will respond to therapy.
ADVERTISEMENT
SCROLL TO CONTINUE
Anne Davidson, MBBS, investigator at the Feinstein Institute for Medical Research, Manhasset, N.Y., who opened the session, emphasized the need to better identify the disease process of LN in individual patients so that therapy can be targeted to interfere with the biological mechanism currently damaging the tissue in each patient.
Although she said that medical intervention has changed the course and improved outcomes of people with LN, predicting outcomes remains difficult because of the unpredictable disease course and response to therapy in each patient. "This heterogeneity is not adequately reflected in the current descriptive clinical and histological disease classification," she said.
ADVERTISEMENT
SCROLL TO CONTINUE
As such, she emphasized that current methods of assessing LN from kidney biopsies are insufficient to predict the response to therapy by each individual patient and who will progress to renal failure.
From Mice to Men: Shared Molecular Features of LN
In her talk, Dr. Davidson described the work she and her colleagues have done looking at gene expression in the kidneys of mice models of LN and comparing the data with human biopsy samples.
ADVERTISEMENT
SCROLL TO CONTINUE
"Molecular analyses of kidneys from mouse models of lupus show a number of shared features, and there is considerable overlap with data from human renal biopsies," she said.
Focusing largely on research she and her colleagues have done on progressive disease and remission in NZB/W mice, she highlighted a number of relevant physiologic pathways activated at progressive stages of nephritis, as well as during remission and relapse in mice, that overlap with data from renal biopsies in humans (see Table 1).
Findings from these studies, she said, "are helping identify new pathways that contribute to kidney damage that are targets for therapy and … new biomarkers that can be used to help individualize treatment."