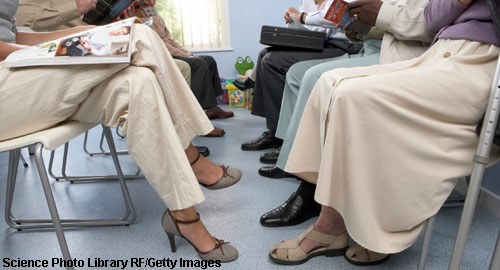 What happens during rooming time can be a black box for physicians, but understanding the information collected and the patient interactions that occur in this timeframe to check in a patient for a clinic visit can be very valuable, according to Christie Bartels, MD, MS, an assistant professor of medicine in the Rheumatology Division at the University of Wisconsin School of Medicine and Public Health in Madison, Wis.
"A closer look at this window we call rooming time can not only yield important care information, but also provide opportunities to streamline and standardize the process so new interventions can be added without creating time constraints," she says.
Dr. Bartels has been working closely with Edmond Ramly, PhD, an industrial and systems engineer who also works in the University of Wisconsin School of Medicine and Public Health. These two experts first led a project in 2014–2015 to apply a time study tool Dr. Ramly created to evaluate and establish a baseline for the frequency and duration of all visit-related tasks performed by clinic staff (i.e., medical assistants or nurses) between the waiting room and the entry of the rheumatologist.1
Conducted within three different rheumatology clinics in the University of Wisconsin at Madison medical system, the study involved developing a taxonomy of tasks based on policies and procedures, observation to establish additional tasks often completed and then more than 1,400 minutes of observation by trained engineering and medical observers using a paper checklist and a stopwatch, Dr. Ramly explains. They documented 18 additional actions beyond the 25 expected tasks, and observed rooming time varied widely from 2.5 to 22 minutes across visits among the three clinics.
"Variation is often difficult to quantify in medical practice," Dr. Ramly notes. "This time study gave us a way to establish baseline data to measure and assess differences in frequency of tasks and duration."
Findings from the study were then evaluated by clinic staff and providers, examining the data together to refine rooming in the three rheumatology clinics. Here are three important evidence-based changes made from the time study data that are improving patient rooming and overall scheduling efficiency.
1. Prioritized & Standardized Rooming Task Completion
Dr. Bartels says one key benefit from comparing tasks at the three different clinics was getting a good look at variation, as well as how tasks may be addressed most efficiently in one practice for widespread adoption. Example: The study identified that assessing a patient's pain score during rooming was handled differently between clinics and also within the clinics. In certain cases, this evaluation took additional time. As a result, each clinic now gives disease management worksheets to patients during waiting and rooming. The score is then quickly documented by clinic staff during rooming.