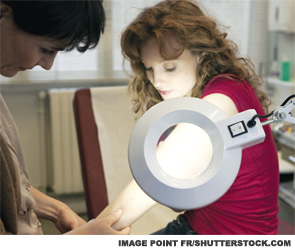 Dermatologists may diagnose and treat patients with conditions that span a variety of specialties, but rheumatology is at the top of the crossover list, says dermatologist Mark Lebwohl, MD, professor and system chair, dermatology, Mount Sinai Medical Center, New York.
Rheumatologists and dermatologists usually don't hesitate to refer to each other as needed, says rheumatologist Kelly Weselman, MD, WellStar Medical Group, Smyrna, Ga. "There's no reluctance to think about each other. It's always nice to keep the lines of communication open," she says.
The crossover reaches into three main areas, says rheumatologist Susan M. Goodman, MD, an associate attending physician at the Hospital for Special Surgery in New York. First, there's systemic rheumatic disease with major skin manifestations, such as systemic lupus erythematosus (SLE), dermatomyositis and scleroderma. Seventy percent of SLE patients will have a rash at some point, Dr. Goodman says. The other conditions can lead a patient to develop inflammatory skin features.
Next, there are inflammatory joint diseases, in which psoriatic arthritis emerges as the most prominent. "As many as 30% of patients attending a psoriasis clinic have evidence of psoriatic arthritis when systematically examined. In these conditions where systemic features may be prognostically significant, a collaborative approach is optimal," Dr. Goodman says. There's also rheumatoid arthritis, in which leg ulcers or splinter hemorrhages can indicate vasculitis as a complication of the disease, Dr. Goodman says.
Finally, infections can present with a rash that is a complication from a disordered immune system of the rheumatic diseases or because of the immunosuppressant medications used to treat these illnesses, Dr. Goodman added.
Rheumatologists and dermatologists also work collaboratively on skin biopsies, says rheumatologist Alan Baer, MD, director, Johns Hopkins Jerome L. Greene Sjögren's Syndrome Center, Johns Hopkins University School of Medicine, Baltimore. "Skin biopsies may be required for the definitive diagnosis of certain skin eruptions seen in the context of rheumatic disease, and these are often done by the dermatologist, although they can be done by rheumatologists if they have the expertise," he says.
The crossover between rheumatology and dermatology doesn't stop with patient care, Dr. Lebwohl says. The two specialties even align from time to time on regulatory agendas. "It's smart for us to work together on things like HIPAA, the Sustainable Growth Rate fix and other political issues," he says.
Even with the natural collaboration, there are still pearls rheumatologists can follow to improve care when patients have dermatological symptoms.
7 Tips from Dermatologists
1. Aim for collaborative care—and education—when possible. Dermatologist and rheumatologist Joseph F. Merola, MD, Brigham and Women's Hospital, and instructor, Harvard Medical School, Boston, has heard of more academic medical centers combining rheumatology and dermatology care in one area, enabling patients to get one-stop, holistic care, which he says that patients love. "It also opens up a lot of other opportunities for crosspollination between the fields," he says.