Who are the new medical consumers? These people behave like medical "shoppers" because they are more mobile than previous generations and are empowered by the Internet. They can research and form opinions about diseases, treatment options, and the best route to recovery—all before stepping foot in to an exam room. This emerging population has been taught that in order to be a health-wise consumer and to get the most value, a patient must take an active role in his or her care.
The new medical consumer actively researches, interviews, and forms opinions, and the day when physicians are rated in the same manner as hotels and restaurants has arrived.
Managed care organizations are now teaming with the Zagat Survey—famous for its rating guide to the world's best hotels, nightlife, and restaurants—to rate physicians within their networks. Wellpoint and Anthem BlueCross BlueShield members now have the opportunity to rate their physicians in the areas of trust, communication, availability, and office environment.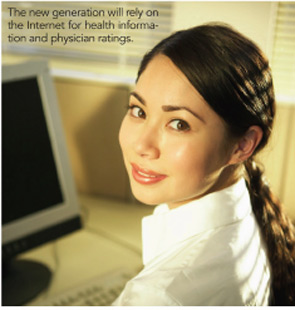 According to USA Today, "[The] Zagat survey will not include information about medical expertise or other factors, such as malpractice settlements," and Zagat does not claim to have the ability to rate the performance of healthcare providers. They do, however, have the capability to provide a forum for patients to rate their experiences.1
The new Zagat rating system is designed to provide peer-to-peer review based on the patient's perception of the medical encounter and does not have any basis in measurable healthcare outcomes. Under the Zagat rating system, a physician who has a high rate of medical errors but a wonderful bedside manner and a beautiful waiting room can receive a higher rating than a physician with a better professional record but who has trouble communicating with his or her patients or has an outdated waiting room.
The appearance of this type of peer-to-peer review confirms that patients believe they can distinguish optimal physician quality based on patient satisfaction ratings. From the physician's perspective, this may not be true, but it points to a reality that practices must recognize. The new medical consumer expects a certain environment when entering a healthcare facility and, when these expectations are not met, patients will seek care elsewhere and pass on a negative experience to others.
In a time when managed care reimbursement cuts are creating more industry competition for the patient's dollar, physicians will now be forced to embrace the new medical consumer. This trend is beginning with managed care organizations, but with the increase in consumer-driven healthcare—such as high-deductible health plans and flexible spending accounts—it can be expected to continue into the mainstream. As patients take more responsibility for their care and begin to see where their dollars go, they will be more apt to comparison shop and will seek what they perceive to be the best value for their money.