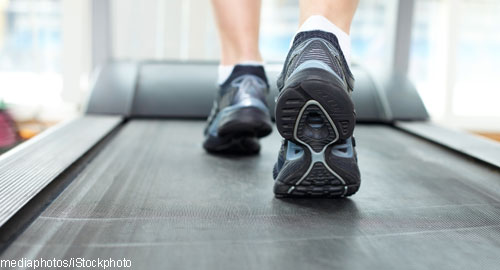 CHICAGO—The first-ever ACR/ARHP Annual Meeting Walking Challenge inspired 571 rheumatology professionals to track their steps during the 2018 Annual Meeting, competing to achieve the most steps taken in a four-day span.
You Might Also Like
Explore This Issue
February 2019
Also By This Author
Participants tracked their steps using their own personal devices, such as a Fitbit, Apple Watch or Garmin. Some used step trackers integrated into their smartphones (i.e., Apple Health or Google Fit). Altogether, participating attendees took 12.4 million steps from 8 a.m. Saturday, Oct. 20 through noon Tuesday, Oct. 23.
ADVERTISEMENT
SCROLL TO CONTINUE
And the Winners Are …
In this year's contest, four rheumatologists received the top honors by achieving more than 40,000 steps. The first place winner, Mark Phelan, MD, took 152,281 steps—a feat he describes as a fun change from climbing mountains in and around County Cork, Ireland, where he practices.
Sixty-year-old Dr. Phelan had already been walking more than usual to regain strength after knee replacement surgery. When he learned of the Walking Challenge at the Annual Meeting, he immediately signed up.
ADVERTISEMENT
SCROLL TO CONTINUE
"Jet lag helped me with the challenge," he says, "because I couldn't sleep during the night with the time difference from Ireland. So I hit the hotel treadmill and cross-trainer in the early morning and late evening to clock up steps for the challenge. During breaks at the meeting, I walked around the block."
After seeing his name among the top walkers on the challenge leaderboard, his friends began to cheer him on for the final push during the last days of the challenge. "Every 10 minutes, the step challenge app listed everyone's progress. Seeing my entry and the Irish flag creeping up the leaderboard [helped motivate me]. I got sucked in. I do have a competitive streak."
After a bit of rest upon returning home, Dr. Phelan is back at his daily trips to the gym when he's not mountain climbing, exercise he describes as the perfect antidote to a busy rheumatology career. His first-place award is free registration to next year's meeting in Atlanta.
ADVERTISEMENT
SCROLL TO CONTINUE
Three other Walking Challenge participants exceeded 40,000 steps each during the meeting and each received a $100 Visa gift card. They are:
Krati Chauhan, MD, MPH, assistant professor in the Division of Rheumatology at the Southern Illinois University School of Medicine, Springfield. Dr. Chauhan says participating in the step contest was a fun addition to attending sessions at the Annual Meeting. "Watching your steps add up while walking inside the convention center from session to session, or while reading posters at the poster session, made walking at the [meeting] joyful."
Carter Thorne, MD, FRCPC, FACP, assistant professor at the University of Toronto and consultant and medical director of the Arthritis Program at Southlake Regional Health Centre, Newmarket, Ontario, Canada. Dr. Thorne says the challenge continues to encourage more walking, despite his busy schedule. During the Annual Meeting, Dr. Thorne planned for his hotel to be a walkable distance from the convention center, which helped him get his steps in. He even found a colleague who was also keen to walk in the challenge.
Sarah Tansley, MBChB, an academic clinical lecturer at the Royal National Hospital for Rheumatic Diseases in Bath, U.K. Dr. Tansley also enjoyed the step challenge. "It encouraged me not to use the conference bus, but to walk and experience the beautiful city of Chicago," she says.
Walking the Talk
The Walking Challenge was created to inspire rheumatology specialists, allowing them to focus on the same physical fitness goals encouraged to help rheumatology patients stay active and healthy.
The ACR guidelines suggest people with arthritis who exercise regularly have less pain, more energy, improved sleep and better day-to-day function.1 Low-intensity exercises, such as walking, can improve heart, lung and muscle function and are beneficial for such diseases as osteoarthritis of the hip and knee.
The updated Physical Activity Guidelines for Americans, 2nd edition , indicate large health benefits can be achieved from short-duration physical activity of less than 10 minutes, such as reduced risks for disease and disability.2 The guidelines state new evidence points to specific health benefits of physical activity, including:
Improved cognitive function, reduced anxiety and depression risk, and improved sleep and quality of life;
Reduced risk of fall-related injuries for older adults; and
Reduced risk of all-cause and disease-specific mortality, improved function and improved quality of life for people with chronic medical conditions.
The authors also write that approximately 80% of U.S. adults are insufficiently active—motivation for healthcare professionals and patients alike to get moving.
---
Carina Stanton is a freelance science journalist based in Denver.
References
ACR Communications and Marketing Committee. Exercise and arthritis. American College of Rheumatology. 2018 Jun.
Piercy KL, Troiano RP, Ballard RM, et al. The physical activity guidelines for Americans. JAMA. 2018 Nov 20;320(19):2020–2028.