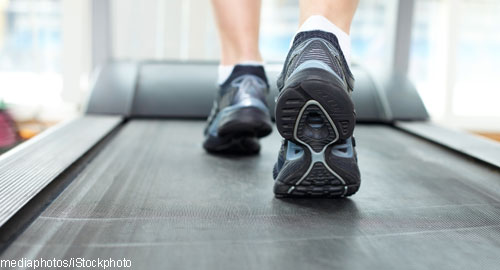 CHICAGO—The first-ever ACR/ARHP Annual Meeting Walking Challenge inspired 571 rheumatology professionals to track their steps during the 2018 Annual Meeting, competing to achieve the most steps taken in a four-day span.
Participants tracked their steps using their own personal devices, such as a Fitbit, Apple Watch or Garmin. Some used step trackers integrated into their smartphones (i.e., Apple Health or Google Fit). Altogether, participating attendees took 12.4 million steps from 8 a.m. Saturday, Oct. 20 through noon Tuesday, Oct. 23.
And the Winners Are …
In this year's contest, four rheumatologists received the top honors by achieving more than 40,000 steps. The first place winner, Mark Phelan, MD, took 152,281 steps—a feat he describes as a fun change from climbing mountains in and around County Cork, Ireland, where he practices.
Sixty-year-old Dr. Phelan had already been walking more than usual to regain strength after knee replacement surgery. When he learned of the Walking Challenge at the Annual Meeting, he immediately signed up.
"Jet lag helped me with the challenge," he says, "because I couldn't sleep during the night with the time difference from Ireland. So I hit the hotel treadmill and cross-trainer in the early morning and late evening to clock up steps for the challenge. During breaks at the meeting, I walked around the block."
After seeing his name among the top walkers on the challenge leaderboard, his friends began to cheer him on for the final push during the last days of the challenge. "Every 10 minutes, the step challenge app listed everyone's progress. Seeing my entry and the Irish flag creeping up the leaderboard [helped motivate me]. I got sucked in. I do have a competitive streak."
After a bit of rest upon returning home, Dr. Phelan is back at his daily trips to the gym when he's not mountain climbing, exercise he describes as the perfect antidote to a busy rheumatology career. His first-place award is free registration to next year's meeting in Atlanta.
Three other Walking Challenge participants exceeded 40,000 steps each during the meeting and each received a $100 Visa gift card. They are:
Krati Chauhan, MD, MPH, assistant professor in the Division of Rheumatology at the Southern Illinois University School of Medicine, Springfield. Dr. Chauhan says participating in the step contest was a fun addition to attending sessions at the Annual Meeting. "Watching your steps add up while walking inside the convention center from session to session, or while reading posters at the poster session, made walking at the [meeting] joyful."