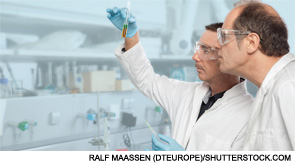 Collaboration should help identify targets for effective therapies more quickly.
An innovative partnership forged by the National Institutes of Health, 10 pharmaceutical companies and several nonprofit organizations is expected to improve the chances that the right targets will be found for development of new drugs to treat rheumatoid arthritis (RA) and systemic lupus erythematosus (SLE). Called the Accelerating Medicines Partnership (AMP), the alliance is using a model different from traditional drug development by funding collaborative efforts to find targets for effective therapeutics more quickly.
You Might Also Like
Explore This Issue
October 2014
Also By This Author
The "science is ripe," NIH Director Francis S. Collins, MD, PhD, said at a recent press conference. "We've come a long way in recent years in our understanding of disease. As a result of technological advances and genomics, proteomics, imaging and more, researchers have increasingly been able to identify fundamental changes in genes, proteins and other molecules that predispose to diseases whose causes have vexed us for all of history."
ADVERTISEMENT
SCROLL TO CONTINUE
The AMP will focus on RA and SLE, as well as Alzheimer's disease and type 2 diabetes, with the partners investing more than $230 million in the total project over the first three to five years. The budget for the RA/SLE portion is $41.6 million, with that amount split roughly 50/50 between the NIH and its partners in the pharmaceutical industry.
Chemical Pathways in RA & SLE
RA and SLE research will focus on genes, proteins, chemical pathways and networks involved at a single-cell level, according to the NIH. In addition to analyzing single cells and groups of cells involved in autoimmunity, the project will collect tissue samples from people with RA and SLE for molecular analysis, develop computational tools to integrate data types so that molecular pathways can be understood and make the data available to the broad research community for further analysis.
ADVERTISEMENT
SCROLL TO CONTINUE
Jennifer Bell, PhD, research director of the Lupus Research Institute (LRI), says she is hopeful that AMP will generate "big data" on human lupus that can speed up the validation of pathways and new targets for diagnostics and drug development. Dr. Bell says the LRI and the Alliance for Lupus Research (ALR) are represented on the steering committee of AMP's lupus/RA program and will have input about the governance, management and direction of research.
The ALR and LRI bring the unique perspective of nonprofit organizations that have been "an engine for discovery in lupus and, most importantly, the voice of lupus patients," she says.