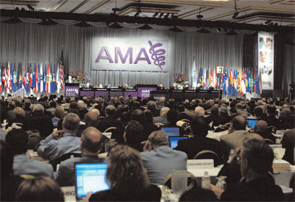 The AMA House of Delegates met in Chicago this June to discuss advocacy efforts.
On Saturday, June 23, 2007, the American Medical Association (AMA) House of Delegates convened in Chicago; the meeting's theme was advocacy. The ACR was represented by its delegate Melvin Britton, MD, and alternate delegate Gary Bryant, MD.
You Might Also Like
Explore This Issue
September 2007
Also By This Author
The AMA is strengthening its advocacy efforts to the general public and Congress. As part of its effort to prevent cuts in Medicare payments (one of its two major advocacy priorities), the AMA unveiled its "Faces of Health Care" ad campaign. The campaign encompasses television and radio spots urging seniors who will be hurt by looming Medicare cuts to contact members of Congress to tell them to stop Medicare cuts to physicians. The second major priority for AMA advocacy is the reauthorization of State Children's Health Insurance Program (SCHIP).
ADVERTISEMENT
SCROLL TO CONTINUE
These two issues are also ACR priorities, and we encourage members to contact Congress regarding these and other rheumatology-specific concerns. Visit the ACR's Legislative Action Center online at www.rheumatology.org, and click Political Advocacy for more information.
Quality in healthcare reporting was another noteworthy topic at the AMA meeting. Thomas Valuck, MD, medical officer and senior advisor to the Centers for Medicare & Medicaid Services (CMS), and Herb Kuhn, acting deputy administrator of CMS, answered questions on the 74 measures selected for the CMS Physician Quality Reporting Initiative and provided suggestions for obtaining the 1.5% reimbursement. "I want to make sure that as many physicians get the bonus as possible," says Dr. Valuck. The ACR offers tools to facilitate the quality-reporting process at www.rheumatology.org.
ADVERTISEMENT
SCROLL TO CONTINUE
The next AMA House of Delegates meeting will be November 10–13, 2007, in Honolulu.