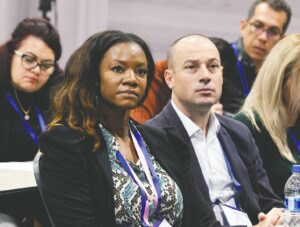 Have you ever wondered who plans the ACR annual meeting, State-of-the-Art (SOTA) Clinical Symposium, Pediatric Rheumatology Symposium (PRSYM) and the ACR Winter Rheumatology Symposium? Who chooses the topics? Who invites the speakers? You may be surprised to hear that it's ACR members—just like you. These members volunteer for the ACR Committee on Education and/or its various subcommittees. And next year, one of those volunteers could be you.
In summer 2023, ACR issued an open call for applications to the subcommittees of the Committee on Education. In the past, subcommittee members were appointed by sitting members of the Committee on Education; direct applications were not accepted for these positions. But under the leadership of committee chair Rebecca Manno, MD, MHS, adjunct assistant professor, Johns Hopkins University School of Medicine, Baltimore, and director of the Arthritis and Rheumatology Center of the Caribbean (St. Thomas/St. Croix), that has changed.
What Is the Committee on Education?
The Committee on Education is the largest ACR committee, comprising over 100 volunteers. They focus on policies and guidelines concerning rheumatology education for both specialists and primary care physicians. They manage the development of ACR's professional education products, such as the ACR Image Library, a clinical image database, and also oversee and plan all ACR-sponsored meetings and programs eligible for continuing medication education (CME) credit.
Ten subcommittees focus on different facets of rheumatology education:
Abstract Oversight Subcommittee;
Annual Meeting Planning Committee (i.e., ACR Convergence);
CARE (Continuing Assessment Review Evaluation) Vision Task Force;
CME Oversight Subcommittee;
Education Partner Program Subcommittee;
Musculoskeletal Ultrasound Planning Group;
PRSYM Planning Committee;
SOTA Planning Group;
Winter Rheumatology Symposium Planning Committee; and
Image Library Subcommittee.
The time commitment for these subcommittees varies. All include quarterly conference calls, and some require in-person meetings. "Some subcommittees require small bursts of time," says Dr. Manno. "For example, the Annual Meeting Planning Committee meets in person for one weekend to get a ton done. We can find a good fit for you based on your availability."
Registration is now open for ACR Convergence 2023, which will take place in San Diego Nov. 10–15.
Why the Open Call?
The shift to an open call was a deliberate effort to diversify subcommittee membership, as well as make getting involved with the ACR easier. Diversifying membership means engaging volunteers from all aspects of the rheumatology community, be it practice setting, region and/or racial/ethnic background.
Dr. Manno's enthusiasm for this change is undeniable. "We know there are so many ACR members who would be great additions to the team," she says. "We're looking for fresh perspectives. You don't need prior volunteer experience. You don't need an academic affiliation. You don't need to 'know someone' at the ACR to contribute and be considered a great candidate."
Why Volunteer?
Dr. Manno has served as the chair of the Committee on Education since 2021 and has been volunteering for the ACR since 2011. Admittedly, her initial involvement was a happy accident: A colleague was out on maternity leave and asked for coverage. She stepped onto the Annual Meeting Planning Committee and helped plan the Knowledge Bowl. After that, she was hooked.
"This is a unique opportunity to help create educational content and disseminate that material to other providers and trainees," she says. "It's also a great way to network with rheumatology colleagues from around the world, all of whom are doing different things. The people are what make the volunteer experience exceptional."
Personally, I've volunteered for the ACR's Insurance Subcommittee since 2021. I'll be honest: I applied to pad my curriculum vitae. But what I've gotten out of the experience far exceeds a checkbox on a résumé.
When I joined the Insurance Subcommittee, I knew next to nothing about insurance companies, healthcare policy or advocacy. That has changed. Last year, I even visited Capitol Hill to advocate on behalf of the ACR. It has been a pleasure to work with rheumatologists from across the country to advocate for patient access to rheumatologic care on a national scale. When my time is up on the Insurance Subcommittee, you can bet my next stop is the Committee on Education. Suffice it to say, the ACR has found a volunteer for life.
Whatever your motivation may be, volunteering for an ACR committee/subcommittee is a rewarding experience. Dr. Manno and I can't recommend it highly enough.
Conclusion
Applications to the Committee on Education subcommittees closed on Aug. 1. If you missed your chance this time around, don't worry. The ACR is always looking for volunteers. Keep an eye out for next year's application cycle. Updates can be found at https://rheumatology.org/committees.
---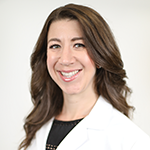 Samantha C. Shapiro, MD, is the executive editor of Harrison's Principles of Internal Medicine. As a clinician educator, she practices telerheumatology and writes for both medical and lay audiences.