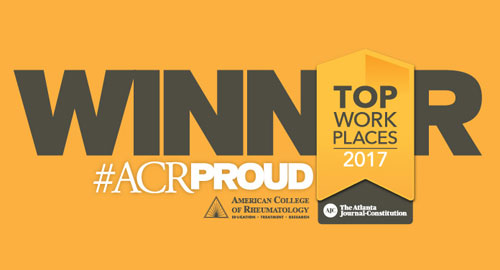 ACR members rarely walk inside the College's Atlanta offices, but the empowering, inspiring environment is distinctly appreciated by its 85 professional staff members. Their view is now official: This spring, the ACR was declared one of Atlanta's Top Small Workplaces by The Atlanta Journal-Constitution for 2017. The ACR is included in the overall Atlanta's Top Workplaces list in the small workplaces subcategory.
"This acknowledgement has been one of the high points of my career," says Mark Andrejeski, ACR executive vice president. "I'm pleased to know our employees feel appreciated and valued for their hard work. They are our greatest assets. Without them and our physician volunteers, none of the support we provide would be possible."
Founded in 1934, the ACR provides specialized education, practice support and advocacy to more than 9,500 rheumatologists and health professionals worldwide. Nearly 1,300 companies in the Atlanta area were nominated for the Top Workplaces honor. Out of 150 winners, the ACR was the only medical association selected and one of only three non-profits.
The naming of Atlanta's Top Workplaces is an annual honor and is based on the results of employee surveys. Although the minimum survey response rate to be considered for the honor is 35%, 80% of the ACR's employees responded with anonymous assessments about what it's like to work there. Camaraderie, mission-focused work, encouragement and the freedom to innovate were common themes cited by ACR employees when discussing their workplace.
"It's a forthright, ethical place to work—where employees are valued not only for their professional contributions, but also as people with families and lives outside of work," says one ACR employee in the survey. Another comments, "I truly enjoy my work each day and feel motivated to perform to the best of my abilities. I enjoy working with a team that allows for individuals to try new ideas."
The ACR also offers its employees comprehensive benefits, such as medical, dental and life insurance; long- and short-term disability insurance; a defined employer contribution retirement plan; vacation, sick leave and floating holidays; tuition reimbursement; and a flexible work schedule.
"Very simply, it is gratifying to go to work each day with purpose to have your efforts valued," says Joan Roth, senior director, Communications, Marketing and Technology. "ACR staff members are passionate about what they do, and they are committed to our mission to empower rheumatology professionals to excel in their specialty. To receive this honor further validates a team-oriented, collaborative culture."