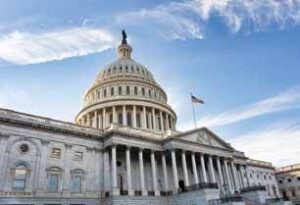 WASHINGTON, D.C.—On Sept. 14, the ACR praised the House of Representatives for overwhelmingly passing bipartisan legislation intended to make it easier for Medicare Advantage beneficiaries to access the timely care they need.
The Improving Seniors' Timely Access to Care Act (H.R. 3173) passed the House on a voice vote. If enacted, the bill will create more transparency and accountability under Medicare Advantage and establish important guardrails around prior authorization, an insurance approval that often results in delays or denials for doctor-prescribed treatments. To help ensure patient care is not needlessly disrupted, the legislation would establish an electronic prior authorization process and require the federal government to create a process for "real-time decisions" for treatments that are routinely approved.
"We applaud the House of Representatives for passing the Improving Seniors' Timely Access to Care Act by a wide margin," said Kenneth G. Saag, MD, MSc, president of ACR. "For too long, prior authorization policies have disrupted rheumatology patients' access to the care they desperately need, prolonging their pain and leading to worse health outcomes. In order to protect patients with serious, chronic diseases, prior authorization must be reined in and safeguards established."
Since its introduction by Representatives Suzan DelBene (D-WA), Mike Kelly (R-PA), Ami Bera (D-CA) and Larry Bucshon (R-IN), the bill gained broad support from both sides of the aisle and garnered over 300 cosponsors. The bill now advances to the Senate, where Senators Roger Marshall (R-KS), Kyrsten Sinema (D-AZ), John Thune (R-SD) and Sherrod Brown (D-OH) have already introduced companion legislation (S. 3018). ACR urges the Senate to quickly pass the bill and send it to President Biden's desk for his signature.
"The delays and disruptions to treatment caused by the arbitrary application of prior authorization is frustrating for patients and burdensome for the country's thousands of rheumatologists and their staff who spend several hours each week completing unnecessary forms and fighting insurance companies for approval," said Blair Solow, MD, chair of ACR's Government Affairs Committee. "By voting to streamline the prior authorization process under Medicare Advantage, the House of Representatives has signaled its support for patients and providers across the country. We applaud the many legislative champions who have worked to advance this important, long-needed reform and urge the Senate to quickly pass it for President Biden's consideration."
The House passage of the Improving Seniors' Timely Access to Care Act coincides with Rheumatic Disease Awareness Month. As part of ACR's advocacy efforts on behalf of rheumatologists and patients with rheumatic disease, nearly 100 advocates recently met with Members of Congress to discuss why legislative reforms, including H.R. 3173, are needed to ensure that necessary care is not disrupted by insurance practices such as prior authorization.