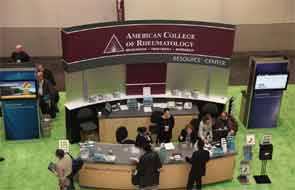 Visit the ACR Resource Center to find answers to your practice, advocacy, and research questions.
How will the 2012 election affect rheumatology? How do I code an infusion? Where do I start implementing my EHR?
While you are in Washington, D.C. learning about the latest advancements in rheumatology, stop by the ACR Resource Center to talk with the ACR's professional staff.
ADVERTISEMENT
SCROLL TO CONTINUE
Stop by the Advocacy kiosk to learn more about how you can make a difference in advancing the message of rheumatology. Hear about new initiatives from the College and the educational activities offered in 2013. Talk to expert coders at the Practice Management kiosk about compliance or coding issues, and attend free demos at the theater at the ACR Resource Center, given by the HIT staff, on various topics such as the Rheumatology Clinical Registry, HIT programs, and more! The schedule will be posted at the HIT kiosk on site.
Don't forget to enter the 4th Annual RheumPAC raffle. You could win complimentary registration or housing for the 2013 ACR/ARHP Annual Meeting in San Diego. Congratulations to our 2011 winners: Douglas Mund, MD, of New Hyde Park, N.Y., and Rajat Dhar, MD, of Toms River, N.J.
ADVERTISEMENT
SCROLL TO CONTINUE
Disclaimer: You must be a U.S. citizen or permanent resident to contribute to RheumPAC. All contributions are voluntary and must be made using personal, noncorporate funds. RheumPAC contributions are not tax deductible. Federal law requires RheumPAC to collect and report the name, mailing address, occupation, and employer of individuals whose contribution exceeds $200 in a calendar year.