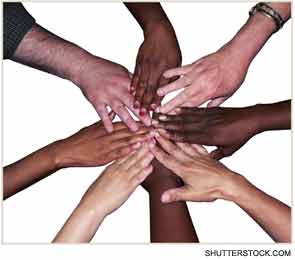 You Might Also Like
Explore This Issue
May 2013
Also By This Author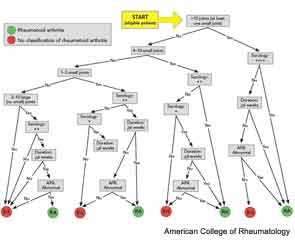 click for large version
RA Classification Tree: Tree algorithm for classifying definite rheumatoid arthritis (RA) (green circles) or for excluding its current presence (red circles) among those who are eligible to be assessed by the new criteria. APR=acute-phase response. Serology: + = low-positive for rheumatoid factor (RF) or anti–citrullinated protein antibody (ACPA); serology: ++ = high-positive for RF or ACPA; serology: +/++ = serology either + or ++.
The ACR is soliciting letters of interest from teams or individuals who wish to partner with the ACR in developing new clinical practice guidelines for rheumatoid arthritis (RA). The scope will broadly cover the use of corticosteroids, disease-modifying antirheumatic drugs (DMARDs), and biologics, including newer oral agents. The detailed questions to be answered by the guidelines will be decided by the ACR and project leaders once the guideline development team has been confirmed. ACR members will also be given an opportunity to publicly comment on the project scope and clinical questions via an online mechanism later this year.
ADVERTISEMENT
SCROLL TO CONTINUE
The guidelines will be developed primarily for specialists who care for RA patients, but may also be used by primary care providers and others who care for these patients. The guidelines will be developed in accordance with the ACR's standardized approach, which includes use of the Grades of Recommendation Assessment, Development, and Evaluation (GRADE) methodology.
Last March, the ACR posted online a public call for formal letters of interest, which are due no later than July 15, 2013. Guideline development partners who are chosen to work with the ACR will be expected to comply with all ACR policies and processes, as outlined in the ACR Guideline Manual.
ADVERTISEMENT
SCROLL TO CONTINUE
The new RA guidelines are expected to be published no later than early 2015, and possibly as early as December 2014. The ACR will post a confirmed publication date on the Clinical Practice Guidelines page of www.rheumatology.org/Practice as soon as that date is available—likely in late summer or fall 2014.
For information regarding the request for letters of interest and to download the ACR Guideline Manual, visit www.rheumatology.org/Practice and click on "Clinical Support."