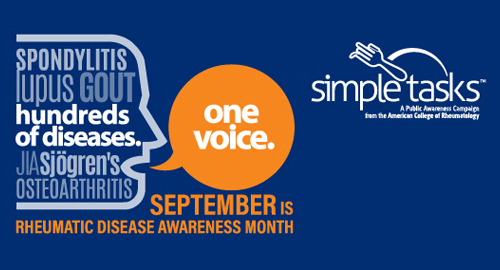 People have done walks to raise money for systemic lupus erythematosus or run 5Ks to support research on rheumatoid arthritis. But rheumatic diseases, as a whole, have never had a unified national health observance to educate stakeholders: physicians, patients, patient advocacy groups, government, pharmaceutical companies and the public.
Until now.
September marks the first Rheumatic Disease Awareness Month (RDAM), an initiative crafted by the American College of Rheumatology (ACR) and its public awareness campaign, Simple Tasks, to bolster public knowledge of lupus, gout and the more than 100 lesser-known conditions that fall under the umbrella term of rheumatic disease. The theme for the month is Hundreds of Diseases. One Voice.
The awareness campaign includes a comprehensive digital toolkit with materials to engage and get stakeholders involved. Some of the materials that are available include: 1) sample press releases that local or regional organizations can use to tout the initiative, 2) tips for contacting lawmakers and 3) materials to help you get involved on social media and in your community.
To kick off RDAM 2016, the ACR and Simple Tasks engaged actress and arthritis advocate Jennie Garth to film a public service announcement (PSA). As the parent of a child with Still's disease, Ms. Garth will speak to the struggles of a rheumatic disease patient and the need to raise awareness about lesser known rheumatic diseases. The PSA (see below) will run on national media television outlets beginning in late August and run through September. Other planned engagements include the use of Ms. Garth's name and likeness on the ACR and Simple Tasks websites during September and at the 2016 ACR/ARHP Annual Meeting, use of her name and likeness in the WebMD Arthritis Center and distribution of the PSA on social media channels.
Outreach to patient advocacy groups and like-minded organizations has helped spread the word about RDAM. Some of the resources shared and activities planned through this engagement include the new RDAM digital toolkit, weekly social media topics, weekly Twitter chats (#RheumChat) co-hosted by a different partner organization each week and highlighting one disease each day on social media channels.
Advocacy outreach is also occurring as part of this effort. The ACR is working to secure a mention of RDAM from a legislative champion on the U.S. House or Senate floor while Congress is in session. The goal is to time this mention to occur around the ACR's September fly-in meetings. Template proclamations have been created and are being sent to state societies for outreach at the local/state level, and media outreach to legislative champions in the U.S. House and Senate is also being performed.