Explore This Issue
May 2013
Also By This Author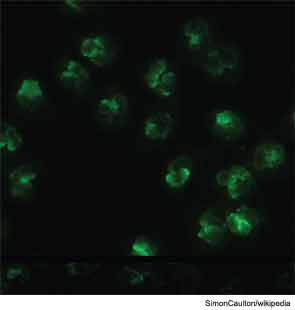 ADVERTISEMENT
SCROLL TO CONTINUE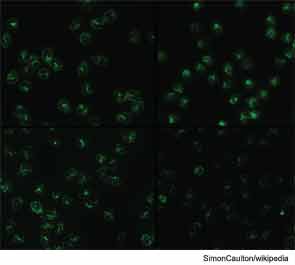 Immunofluorescence staining pattern of ANCA using FITC conjugate. Top left: PR3 antibodies on ethanol-fixed neutrophils (c-ANCA pattern). Bottom left: PR3 antibodies on formalin-fixed neutrophils (c-ANCA pattern). Top right: MPO antibodies on ethanol-fixed neutrophils (p-ANCA pattern). Bottom right: MPO antibodies on formalin-fixed neutrophils (c-ANCA pattern).
SNOWMASS, COLO.—Testing for antibodies to neutrophil cytoplasmic antigens (ANCA) can be clinically useful, but test results sometimes require further investigation, according to Ulrich Specks, MD, professor of medicine at the Mayo Clinic College of Medicine and chair of the division of pulmonary and critical care medicine at the Mayo Clinic in Rochester, Minn. "There is no perfect ANCA test. That is one truth that everyone needs to walk away with," Dr. Specks said during a session titled, "Clinical Utility of ANCA Testing," here at the ACR Winter Rheumatology Symposium, held January 26–February 1, 2013. "Not even a perfect test could give you a definitive answer to all clinical questions."
Various testing methods are used to identify types of ANCA with different specificities. Immunofluorescence microscopy is used to identify two major categories of ANCA—with cytoplasmic staining (C-ANCA) or with artifactual perinuclear staining (P-ANCA)—and these can have specificity for proteinase 3 (PR3) and myeloperoxidase (MPO). The most frequently used tests for antigen-specific detection are enzyme-linked immunosorbent assay (ELISA) methods, Dr. Specks said. These include direct ELISA and capture ELISA. With direct ELISA, there is always a tradeoff of analytical sensitivity versus specificity, he added, saying this is especially true with PR3, which is difficult to purify. Capture ELISA, on the other hand, is designed to get around the issue of specificity, but has the potential of a false negative because of competition for antigens in the target assay.
ADVERTISEMENT
SCROLL TO CONTINUE
Multiplex microsphere technology allows the detection of different antibodies against different target antigens simultaneously. With these bead-based multiplex assays, specific antibodies to different antigens are detected in a single tube, generating separate results for each antigen specificity. However, Dr. Specks noted, charges are for each separate test so it can be expensive.
Topics of controversy surrounding ANCA testing today are whether both methodologies are needed—immunofluorescence and antigen-specific testing—and whether the ANCA type (PR3 or MPO) really matters at the end of the day. Another area of controversy is the value of serial ANCA testing and whether the results have implications for patient treatment. "This is where opinions diverge dramatically," Dr. Specks said.
Troubleshooting Test Results
Often, ANCA test results can generate additional questions, said Dr. Specks, who is frequently asked to consult on "equivocal" or "inconsistent" ANCA test results and their clinical interpretation. Only C-ANCA/PR3-ANCA and P-ANCA/MPO-ANCA pairs have positive predictive value for small vessel vasculitis, so when test results appear mismatched, further investigation is advised.