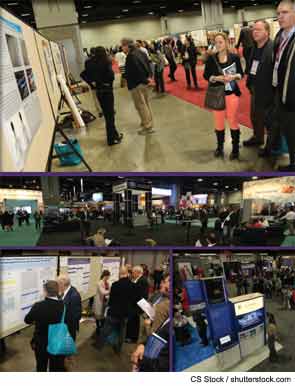 Annual meeting attendees visit the Poster and Exhibit Halls.
WASHINGTON, D.C.—In recent years, the ACR/ARHP Annual Meeting has been an international affair, attracting scientific attendees from more than 100 countries. Each of these rheumatology clinicians, researchers, fellows, and other health professionals came to the meeting, held this year in Washington, D.C., from November 9–14, for individual reasons.
"I am most interested in the scleroderma sessions," said Dilia Giuggioli, MD, a rheumatologist at the University of Modena Medical School in Modena and Reggio Emilia, Italy. She conducts research on connective tissue diseases and treats scleroderma patients. "But in this meeting, there are only a few sessions on scleroderma. I don't know why, but it's mostly rheumatoid arthritis (RA). I am here to see some news on scleroderma, but today there was only one session on animal models. But we are clinicians," she said.
ADVERTISEMENT
SCROLL TO CONTINUE
Despite the paucity of scleroderma-focused sessions this year, Dr. Giuggioli said the main reason she tries to attend ACR annual meetings is to talk with other rheumatologists and compare views on treatment approaches and patient care. However, travel expenses make attendance difficult. "It is very expensive, and in Italy right now, we are going through a very bad period."
Rheumatologist Malcolm Smith, PhD, traveled from Adelaide, South Australia to attend this year's meeting, and selects sessions that improve his practice with his patients, he said. Dr. Smith is a professor and researcher at Flinders Medical Centre in Adelaide, and also works in private practice. "I also choose sessions related to my own research. For example, I went to the Hench Lecture on synovial immunopathology, because it is of interest to me personally," Dr. Smith said.
ADVERTISEMENT
SCROLL TO CONTINUE
Since Adelaide is more than 10,000 miles from Washington, D.C., Dr. Smith combines his trip to the annual meeting with visits to friends who live in the area and stops at local museums. He also planned to visit his daughter in Los Angeles afterward. "I'm making the most of this trip because it is a long way from home," he said.
Traveling to the meeting takes less time for Nadia Gibson, MD, a rheumatologist at Via Christi Clinic in Wichita, Kansas. "I'm here just to update myself on what's going on. I'm attending a few sessions pertaining to lupus management, and I am also attending sessions on myositis and the use of infliximab," said Dr. Gibson, who finished her fellowship a year ago. She is a graduate of Howard University College of Medicine in Washington, D.C., so she's very familiar with the city. "I've liked the meeting so far, and I've only been once in the past. I guess in the future, I may not be able to come as often due to patients."