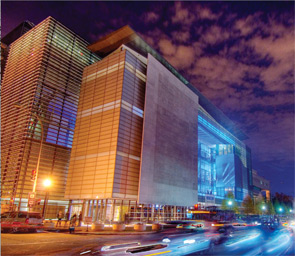 This year's opening event will be at the Newseum.
Think of the 2012 ACR/ARHP Annual Meeting as your opportunity to network with colleagues from around the world. Networking begins as a planned event, with the primary objective of meeting people or making personal connections. The annual meeting brings the rheumatology community together—all you have to do is seize the opportunity.
You Might Also Like
Explore This Issue
September 2012
Also By This Author
Many of the most informative and impactful moments of the meeting take place in the one-on-one exchanges between colleagues or perfect strangers. Step out of your comfort zone and seek out opportunities to create these moments. Take advantage of the various social settings and networking activities planned to enhance your experience at this year's annual meeting.
ADVERTISEMENT
SCROLL TO CONTINUE
Ambassador Program
A new annual meeting initiative is the Ambassador Program, which is designed to connect first-time attendees with annual meeting veterans who can help you navigate the meeting while introducing you to new people and helping you to make professional connections. If you are interested in being an ambassador or would like to have an ambassador assigned to you, please contact Nicole Cranston at [email protected].
The Opening Event
Saturday, Nov. 10; 7–10 p.m. Tickets: $50.
Enjoy an evening at the Newseum, the world's most interactive museum. The Opening Event is not only the inaugural event of the meeting, but it provides a social platform for engaging conversations in a relaxed atmosphere. The Newseum is filled with interactive games and activities that are sure to inspire memorable moments among attendees. Play reporter, television journalist, researcher, or editor and become immersed in the greatest news stories of our time, all the while enjoying food and beverage alongside your peers and colleagues from around the world.
ADVERTISEMENT
SCROLL TO CONTINUE
Study Groups
Monday, Nov. 12, 6:45–8 p.m.
Tuesday, Nov. 13, 1–2 p.m.
Study groups are priceless social gems of the annual meeting and are open to everyone. These sessions are designed by members and bring together colleagues with common interests in a disease, a group of related disorders, or a specialized field of study for the purposes of engaging in meaningful discussion and sharing information.
ARHP Networking Events
Networking Forum: Sunday, Nov. 11, 12:30–2:15 p.m.
Networking at Noon: Monday, Nov. 12, noon–2 p.m.
Networking Break: Tuesday, Nov. 13, noon–1 p.m.
The ARHP has perfected the art of lunchtime socials for health professionals to mix, mingle, and discuss topics of interest. The Networking Forum is designed to bring together attendees within discipline areas. Facilitators at the ever-popular Networking at Noon encourage participants to join in discussions on an array of hot topics. Lunch is provided on a first-come, first-served basis for both of these events; however, bring your own brown bag lunch to the Networking Break and enjoy lunchtime chats with colleagues from the around the world.
Maybe you are the kind of person that has your own social network of colleagues and peers. If so, use the seating and lounge areas in the poster hall, exhibit hall, and the new attendee lounge to spark conversation on the latest research or technological advances.
ADVERTISEMENT
SCROLL TO CONTINUE
Let us help you to get better acquainted with your colleagues. Learn more about these and other annual meeting social activities and networking resources at www.ACRannualmeeting.org.