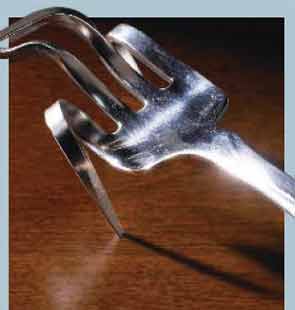 ADVERTISEMENT
SCROLL TO CONTINUE
Simple Tasks Online
Visit the members-only Simple Tasks page at www.rheumatology.org for resources to help you share the Simple Tasks message with:
Members of the media;
Referring physicians and health professionals; and
Members of Congress.
You can also visit SimpleTasks.org for:
ADVERTISEMENT
SCROLL TO CONTINUE
The Simple Tasks blog;
Case studies;
Videos, and more!
A little bit of PR goes a long way, at least in the case of the ACR Simple Tasks campaign (www.SimpleTasks.org). After only two years, the campaign has gained ground in Washington and among medical organizations. Launched in September 2011, the goal of the campaign was—and still is—to "increase the value of rheumatology," says Erin E. Latimer, ACR director of public relations. The strategies for achieving this goal are to educate "influencers," she says, such as legislators and referring physicians and health professionals.
Lawmakers are starting to recognize the bent-fork image, and by association, the field of rheumatology. This recognition positions rheumatology to be considered in the current evolution of healthcare law. Simple Tasks also has had success reaching referring physicians and health professionals, who are embracing the importance of rheumatology as a subspecialty. And, it's time to expand further—in year three, Simple Tasks will have an established presence in the United Kingdom and will begin a formal research program to discover when and how to best target the public.
We're providing materials and support and data so [rheumatologists] can talk about the importance of referrals and early treatment, so they can make a difference.
ADVERTISEMENT
SCROLL TO CONTINUE
Inroads in Washington
The first step in the campaign was on the streets of Washington, D.C., where Simple Tasks supports the ACR's ongoing advocacy efforts to ensure lawmakers understand that inflammatory rheumatic diseases are not a normal part of aging, and to garner support for legislation that supports rheumatologists, Latimer says. ACR advocacy volunteers set the stage for lobbying efforts in Washington, D.C., and Simple Tasks regularly supports those efforts.
Examples of actions in Washington, D.C., include sending campaign white papers to lawmakers, doing "Hill drops" by sending messaging and materials to specific lawmakers, holding briefings with other campaign stakeholders like the Society for Women's Health Research, and securing print and online advertising. A new tactic is to help lawmakers really feel what it is like to have a rheumatic disease. During meetings on Capitol Hill, volunteers ask lawmakers to don special gloves that simulate rheumatic disease and attempt simple tasks like opening a jar of peanut butter or turning a doorknob.